BOA Technology Dials In New Marketing Campaign, Expanding Consumer Outreach
May 9, 2022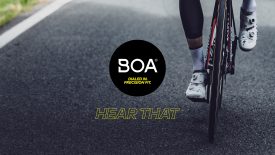 Denver, CO (May 9, 2022)/ENDURANCE SPORTSWIRE/ –BOA® Technology – makers of the BOA Fit System – dials in new global brand campaign, as it expands its marketing to speak more directly to consumers. The campaign focuses on pioneering athletes across the brand's key segments – snowboarders, road cyclists, trail runners, downhill mountain bikers, climbers, and ski mountaineers – dialing into peak performance with micro-adjustable precision fit.
The Campaign asks consumers if they "…Hear That?", connecting the performance benefits of the BOA Fit System with the signature clicking of the BOA dial.  After two decades of marketing primarily to the trade, BOA is now doubling down to build and develop their brand directly with end-users of BOA-powered products.  Vice President of Marketing, Derek Keller, who joined BOA last July, positions the campaign through the lens of performance.
"In our Performance Fit Lab, we are scientifically proving the benefits of BOA's dialed in precision fit for athletes, and we're excited to bring this message directly to our consumers," Keller says.  "The Campaign not only calls attention to BOA's unmistakable dial sound, but links it to the focused, confident, fearless mindset athletes experience when they dial in with BOA."
"I've been using BOA for years. Consistently, the fit is amazing.  BOA locks in my heel which I can translate into better power and control in my ride," BOA Brand Pioneer and UCI Downhill Racer, Luca Shaw says. "BOA really makes the difference – that's the significance of dialed in precision fit"
The campaign will kick-off with a high-energy Anthem, highlighting the BOA Fit System across broad variety of their brand partners; from Specialized to Crank Brothers, from La Sportiva to Adidas, and The North Face, to Burton, FootJoy, and Salomon. The Anthem can be viewed now on both BOAFIT.com and BOA's YouTube channel. As take-downs from the anthem, campaign spots will feature members of the BOA Trail Team, BORA-hansgrohe UCI World Team men's cycling team, CANYON//SRAM UCI World Team women's cycling team, Scott/SRAM MTB racing team, along with top mountain bikers, snowboarders, and alpinists. BOA's new campaign will run globally from May through October of 2022 on Instagram and YouTube.
About BOA Technology:
BOA® Technology Inc., creators of the revolutionary, award-winning, patented BOA Fit System, partners with market-leading brands to make the best gear even better. Delivering fit solutions purpose-built for performance, the BOA Fit System is featured in products across snow sports, cycling, hiking/trekking, golf, running, court sports, workwear, medical bracing, and prosthetics. The system consists of three integral parts: a micro-adjustable dial, super-strong lightweight laces, and low friction lace guides. Each unique configuration is engineered for fast, effortless, precision fit, and is backed by The BOA Guarantee. BOA Technology Inc. is headquartered in Denver, Colorado with offices in Austria, Hong Kong, China, South Korea, and Japan. For more information, visit BOAFit.com.
Media Contact: Akimbo Communications, Casey Raymer, casey@akimbopr.com