Boa Nutrition Teams Up with Star Triathlete and Top Ironman Competitor Sam Long
May 19, 2022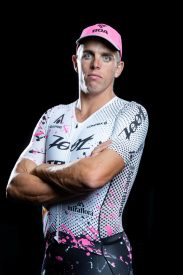 RALEIGH, N.C. (May 19, 2022)/ENDURANCE SPORTSWIRE/ – BOA Nutrition announced today the sports performance supplement company signed an endorsement deal with top American triathlete and IRONMAN champion, Sam Long. Long will serve as brand ambassador in the sport of triathlon for BOA Endure, a rapid hydration oral aerosol. The Boulder, Colo., native used BOA Endure throughout his training for the 2022 IRONMAN World Championship on May 7. He wore BOA-branded head gear at the event and used Endure during the competition to aid with hydration in the hot, dry conditionsof St. George, Utah.
The 26-year-old Long has gained a loyal following and widespread attention in the triathlon community for his outspoken personality and intensely competitive demeanor. He also has built one of the best performance records in the sport with nine first-place finishes in the last three years, including two in March 2022. His two full-length IRONMAN wins came at Coeur d'Alene in 2021 when he set a course record, and Chattanooga in 2019.
Despite being hit by a car while training just 10 days before this year's World Championship, causing hip and shoulder issues, Long displayed his characteristic focus and determination in St. George by not just finishing the race, but placing 15th and having the Fastest Combined Transition in the men's pro field.
"BOA Endure has made a big difference in my performance and preparation," said Long. "Knowing I have the protection that Endure provides to keep me fully hydrated through all three phases of an IRONMAN triathlon takes my confidence to an even higher level."
The BOA brand launched in 2020, working in collaboration with athletic training and sports nutrition experts at Duke University. Endure is the first ingestible aerosol, using the company's proprietary OraBlast technology designed to deliver sodium and other essential nutrients which are quickly absorbed. Endure was formulated to help protect athletes against the "sodium gap" where fluids can no longer effectively hydrate cells, leading to muscle fatigue and cramping among other hydration-related issues.
"Having the endorsement of a triathlon superstar like Sam Long gives BOA the opportunity to showcase how innovative Endure really is," said Jon Pritchett, CEO of BOA Nutrition. "We're truly grateful for the partnership with Sam and look forward to engaging with competitive triathletes across the country."
Endure is also endorsed by Duke University basketball star Wendell Moore, Jr., University of Georgia defensive tackle and first-round NFL Draft pick Devonte Wyatt, Los Angeles Football Club (LAFC) forward Christian Torres, No. 2-ranked UFC welterweight Gilbert Burns, and Obstacle Course Racing world champions Katie Knight and Hunter McIntyre, who Sports Illustrated named as one of the "50 Fittest Humans on Earth."
About BOA Nutrition
BOA Nutrition, Inc. is a sports nutrition and wellness company based in North Carolina. They develop unique products with novel ways to rapidly deliver essential nutrients so athletes of all ages and skill levels can optimize their performance. BOA's objective is to provide athletes with fast-acting, concentrated, great-tasting and convenient products to use no matter where, when, or what the sport. The company's technology, and many other innovations from BOA, are protected by 18 provisional patents and other proprietary trade secrets. To learn more about BOA Nutrition or BOA Endure, visit boablast.com and follow on Facebook, Instagram, LinkedIn and Twitter.
Media contact:
Charles Upchurch
(919) 395-1588