BikeFlights Makes It Easier To Ship E-Bikes
October 19, 2021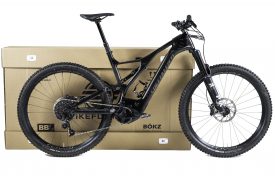 New Program Benefits Individual Consumers, Bike Shops, Events and Manufacturers
PORTLAND, OR (October 19, 2021) /ENDURANCE SPORTSWIRE/ – BikeFlights.com, a bicycle shipping service and bike box supplier, has just made it easier for individual cyclists and businesses to ship e-bikes within the contiguous U.S.
"As more people have purchased e-bikes, the need to buy and sell as well as travel with e-bikes has grown," said William Alcorn, President of BikeFlights. "We're excited to release a simple, new program for packing and shipping e-bikes safely and with more confidence."
Shipping an e-bike is similar to shipping a standard bike with a few key exceptions. The biggest difference is that e-bikes have a battery that is dangerous if damaged. E-bikes also tend to be heavier and more difficult to pack due to their wiring, so they typically require bigger, sturdier boxes like the BikeFlights Bike Box Large.
BikeFlights' e-bike shipping program is for shipping single e-bikes that have their battery either contained within the frame or fully installed. E-bike shipping is available via ground service within the contiguous U.S. Prior to shipping, all e-bike shippers must follow these five e-bike-specific packing instructions:
Lower your e-bike's battery charge to less than 30% to limit cell-to-cell combustion.
Power off your e-bike battery, remove any keys, and ensure that the battery cannot turn "on" during transit.
Protect your e-bike and its battery by using lots of extra-dense foam padding.
Pack your e-bike into a large and sturdy box rated for e-bikes such as the BikeFlights Bike Box Large (BBL).
Completely remove all bulk shipping hazmat markings such as the Class 9 sticker and UN3480 sticker.
BikeFlights' new e-bike shipping program makes e-bike shipping more accessible to more people by removing the financial and time costs associated with getting hazmat certified. Previously, BikeFlights allowed complete e-bike shipments only by shippers who had a current hazmat shipping certification. Such certification is no longer required, effective immediately.
For more information about e-bike shipping, visit https://www.bikeflights.com/e-bike-shipping, or watch our e-bike shipping video: https://youtu.be/z3X1DFIsZ7g.
Since its inception in 2009, BikeFlights has offered low bike shipping costs, on-time delivery and excellent customer service to individual consumers and business customers. The company recently celebrated a major milestone of serving one million people and earning more than 36,000 reviews on TrustPilot, with an average rating of 4.8 out of five stars. In the past year, BikeFlights has launched two new patented bike shipping boxes, Preferred Handling and improved monitoring of shipments.
To get started shipping your bike, go to BikeFlights.com. To stay up to date on all BikeFlights.com happenings, follow our blog at Blog.BikeFlights.com. To read TrustPilot Reviews, visit Trustpilot.com/review/bikeflights.com.
#ebike #ebikes #ebikeshipping #bikeflights #bikeflights.com #packshipride #shipitandripit #shipyourwhip