BikeFlights Celebrates One Million Served
September 15, 2021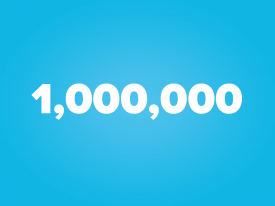 Bike Shipper Reaches Major Milestone
PORTLAND, OR (September 15, 2021) – BikeFlights.com, a bicycle shipping service and bike box supplier, is celebrating a major milestone: one million served.
"We're grateful for the opportunity to have helped ship so many bikes, wheels and gear for our customers over the past 12+ years," said William Alcorn, President of BikeFlights.com, "and we look forward to shipping even more bikes in the future."
Since its inception in 2009, BikeFlights has offered low bike shipping costs, on-time delivery and excellent customer service to individual consumers and business customers.
"Getting to one million served wasn't easy, especially in the midst of the COVID-19 pandemic, which brought so many challenges for our customers and for the shipping industry," said Alcorn. "But during this time, we've stayed home to focus on improving our operations so that we emerge from the pandemic better and stronger than when we entered it."
In the past year, BikeFlights has launched two new patented bike shipping boxes, Preferred Handling and improved monitoring of shipments.
BikeFlights currently has over 36,000 reviews on TrustPilot, with an average rating of 4.8 out of five stars.
To get started shipping your bike, go to BikeFlights.com. To stay up to date on all BikeFlights.com happenings, follow our blog at Blog.BikeFlights.com. To read TrustPilot Reviews, visit Trustpilot.com/review/bikeflights.com.
#bikeflights #bikeflights.com #packshipride #shipitandripit #shipyourwhip
ABOUT BIKEFLIGHTS.COM
BikeFlights.com is an easy-to-use bicycle shipping service and a supplier of easy-to-pack bike shipping boxes. You get low costs, preferred handling and on-time delivery with every shipment as part of our Best Way Guarantee. Join the over one million served – including individuals, bike shops, events and cycling industry businesses – who have used BikeFlights to ship their bikes, wheels, and gear with confidence since 2009. Our advanced online platform enables e-commerce and near real-time monitoring of shipments from pickup to delivery.
For more information, visit www.BikeFlights.com.
CONTACT INFO FOR MEDIA USE ONLY:
Sue George
Vice President
BikeFlights.com
(540) 746-8468
sue@bikeflights.com