BikeExchange Partners with Blaupunkt E-Bikes for DTC, Retail Sales
February 22, 2023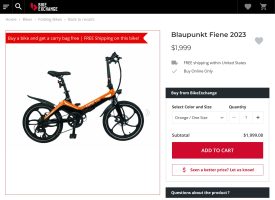 Iconic electronic brand's new e-bike line now available for purchase exclusively on BEX website
Asheville, North Carolina (February 22, 2023) /ENDURANCE SPORTSWIRE/ – In an effort to simplify the buying process while also increasing their North American (NA) presence, renowned electronics brand Blaupunkt has signed an exclusive agreement with BikeExchange, the world's biggest online marketplace for bikes and bike products: BEX is now the sole direct-to-consumer sales outlet in NA for Blaupunkt's recently launched line of foldable e-bikes.
BEX will provide a one-stop ecommerce platform with added marketing support and logistics through their subsidiary Kitzuma Cycling Logistics. A presence on BEX is also instrumental in building brand awareness, especially for newer brands: potential consumers may not know about the Blaupunkt e-bikes, so they wouldn't head directly to that website.
And by offering consumers a single site on which to search through hundreds of brands and retailers for their next bike, Blaupunkt bikes will pop up under BEX's wide variety of search options, as well as participating retailers' storefronts, introducing the bikes to potentially new consumers.
Blaupunkt sees this one-stop option as beneficial in many ways. "We know the Blaupunkt name is already well regarded in North America, but most of those folks probably don't associate it with e-bikes," says Brian Tedesco, President/CEO BP Technology Americas "Hopefully this new partnership will change that. BEX's unique platform will introduce us to a nationwide audience of consumers and retailers, while also streamlining the shopping experience for all involved, especially those who go through with the purchase."
Consumers looking to buy one of Blaupunkt's foldable e-bikes can start on either website, or, if using the brand's own site, the 'buy now' button will take them directly to the dedicated product page on the BEX website. All pertinent information on the bikes will live on BEX's site, including full spec, positioning, inventory, shipping options and more, and the remainder of the buying process will take place on the BEX website.
"We're excited to be working with an iconic brand like Blaupunkt," says Garret Becker, BEX Head of Sales, "and we're confident that their outstanding bikes, marketed and sold on our proven platform, will be the perfect combination to drive sales to a large audience in North America."
For more information on any of BEX's services, please email us at garret@bikeexchange.com. For MEDIA inquiries, please contact SIMBOL Communications: scott@simbolpr.com.
About BikeExchange:
BikeExchange Limited (ASX: BEX) is a leading operator of global online cycling focussed marketplaces that enable a dedicated and growing global audience of consumers to connect and transact with thousands of retailers and brands. The Company was founded in Melbourne in 2007, with the aim of bringing together the fragmented global cycling industry to trade and scale. BikeExchange listed on the Australian Stock Exchange (ASX) in February, 2021. Today, it hosts over 1500 brands, 1650+ retailers and 900,000+ products globally, with an annual audience of 28+ million consumers.
About Blaupunkt E-Bikes North America:
Blaupunkt and its blue dot symbol have been synonymous with German technology, innovation, and quality for almost a century. Blaupunkt's trust stems from its comprehensive, global brand licensing program backed by decades of passion and expansion for consumer electronics, car multimedia, and related consumer lifestyle products. Over 3½ years of dedicated German engineering and rigorous testing earned these eBikes the coveted "Blue Dot" seal of excellence in March 2022. The result is the launch of Blaupunkt eBikes North America, consisting of all lightweight foldable eBikes with magnesium frame construction, high-quality batteries, and a 350w brushless motor. In addition, Blaupunkt eBikes North America built a veteran team of brand builders, sales agencies, ambassadors, content producers, and customer services.