BikeExchange Offers Retail and Manufacturing Clients Free CDB Report
March 30, 2022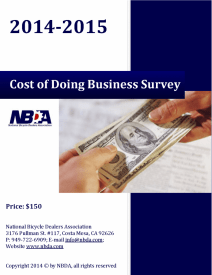 New initiative part of ongoing BEX effort to support, promote IBD's and Manufacturers; Long-awaited report from NBDA key for both in present climate
Asheville, North Carolina (March 30, 2022) /ENDURANCE SPORTSWIRE/ – In the second of their good-faith outreach to existing and potential clients, online bike marketplace BikeExchange (BEX) is again offering added value for its membership: All current and new North American based BEX clients will receive the eagerly awaited Cost of Doing Business (CDB) report from the National Bike Dealers Association (NBDA).
Long considered a benchmark report for doing business in the US cycling industry, the CDB Report will be released in July, after a seven-year hiatus. This further reinforces BEX's support for brick-and-mortar retailers as well as direct-to-consumer manufacturers, while also promoting the critical importance of deep-dive data in an ever-changing marketplace. The report is a $399 value.
The benefits of this offer are multifold, says Heather Mason, President, National Bicycle Dealers Association. "It is one of our most requested reports, and several members of our community who know it's coming soon are thrilled. We are thankful beyond words to BikeExchange for their generosity in helping distribute this valuable data.
"The CDB is the only data report of its kind. Retailers can use the information to compare their store with other retailers, both alike and of variant," adds Mason. "This can allow them to spot differences and make corrections as needed to improve performance. Bicycle retailers that have paid attention to the prior study data were guided in shifting and adjusting their businesses to make a net pre-tax profit on the sale of new bicycles – in some cases, for instance, by adding used bicycles to their merchandise mix. Suppliers and manufacturers can use it as a guide to what margins may work best for retailers. A brand that understands the real importance of taking action to help their authorized dealers earn a fair and equitable net profit will appreciate the CODB study data."
The BEX team is also eagerly awaiting the report and the chance to share it with their clients. "The CDB Report is renowned throughout the industry, and we can't wait to see this year's report, especially after the hiatus," says Derek Colfer, North American CEO for BEX. "But we also know that, especially in an unpredictable market, some businesses might need the money for more pressing expenses. So we thought this would be a nice way to get the report out to all our valued current and prospective retailers and DTC brands."
For more information about BikeExchange please email: sales@bikeexchange.com. For information about the NBDA and/or the CDB Report contact Heather Mason: heather@nbda.com. For MEDIA inquiries please contact SIMBOL Communications, BEX's Agency of Record: scott@simbolpr.com
ABOUT BIKEEXCHANGE: BikeExchange Limited (ASX: BEX) is a leading operator of global online cycling focussed marketplaces that enable a dedicated and growing global audience of consumers to connect and transact with thousands of retailers and brands. The Company was founded in Melbourne in 2007, with the aim of bringing together the fragmented global cycling industry to trade and scale. BikeExchange listed on the Australian Stock Exchange (ASX) in February, 2021. Today, it hosts over 1500 brands, 1650+ retailers and 900,000+ products globally, with an annual audience of 28+ million consumers.
About NBDA: The National Bicycle Dealers Association (NBDA) is the bicycle industry retailer association formed in 1946, representing and empowering specialty bicycle dealers in the United States through education, communications, research, advocacy, member discount programs, and promotional opportunities.