BibRave Partners with Blistering Pace Race Management to Reimagine Race Promotion
February 5, 2020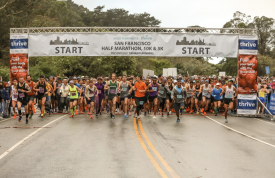 New campaigns stepped outside the box to create fresh race marketing ideas.
Portland, OR – BibRave, the running industry leader in grassroots digital marketing, recently partnered with race management company Blistering Pace Race Management (BPRM) to create two new programs that broke from typical race marketing strategies.
To increase the value for race sponsors, BibRave and BPRM created a custom digital campaign highlighting sponsors who proudly support the Kaiser Permanente Napa Valley Marathon and their connection to the running community. The campaign included social and blog content, powered by the BibRave Pros – BibRave's large network of running ambassadors, giving the race fresh content and new ways to demonstrate value for their sponsors.
"Blistering Pace Race Management's biggest focus is to provide runners with memorable experiences, which affects the way we promote races as well as the sponsors we look to attract" said Michelle La Sala, Founder and President of BPRM. "BibRave has a strong reputation for delivering creative, unique campaigns that move the needle for their race partners, and we're proud to work with such a like-minded marketing agency."
In addition to their unique sponsor campaign, BibRave and BPRM created a custom "Best of the Bay San Francisco City Guide" for the Kaiser Permanente San Francisco Half Marathon. The Guide shined a spotlight on the best things to do, places to stay, and foods to eat in the San Francisco area. Race organizers shared the guide with their audience via blog and social media posts, a Pinterest board, and a custom-curated, interactive map to boost excitement for the race and the race-cation experience. Innovative promotional materials like these helped BPRM expand their target marketing area beyond the Bay Area and establish the Kaiser Permanente San Francisco Half Marathon as a destination event.
"BibRave understands how difficult it is for races to quantify and maximize the value sponsors get from supporting their events," said Tim Murphy, Co-Founder of BibRave. "We're so excited to help BPRM deliver even more value for their sponsors while also helping them talk to runners in a new way."
About Blistering Pace Race Management
Blistering Pace Race Management brings years of knowledge and experience to deliver a world-class element to runners and races across the country. They work with race clients, large and small, on everything from full race management to custom packages that fit individual race needs.
About BibRave
BibRave works with races and brands to help them engage with runners and ultimately drive more sales and registrations. Through their large network of running bloggers (BibRave Pros), their popular Twitter event (#BibChat), and The BibRave Podcast (Apple, Android, or Spotify) BibRave helps endurance brands and races go beyond simple advertising and truly connect with more runners.
The company's consumer-facing product is a race review site where runners can learn about a race before signing up, and leave feedback after the event.