BibBoards and Race Announcer Fitzness Partner Up
December 14, 2022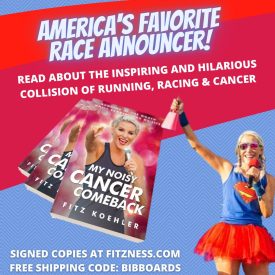 BibBoards and Race Announcer Fitzness Partner Up
/ENDURANCE SPORTSWIRE/ – BibBoards has partnered with Fitz Koehler to provide customized BibSNAPS for the Noisy Nation, a group of Fitz's followers that are using fitness to add ten years to their life. Fitzness International works to provide fitness education to anyone looking to live a healthier life, especially those who are on the comeback from fighting a cancer diagnosis.
Fitzness and BibBoards Provide fulfillment for Your Personal Journey
BibBoards and Fitzness International are partnering to provide exclusive BibSNAPS for Team Noisy and endurance athletes who are using fitness to reclaim their life after fighting cancer.
"I love that Bibboards don't put holes in my fingers or my favorite clothes I love that big words allow athletes to display designs that are meaningful to us on race day I adore that they're created by an American entrepreneur. Supporting small businesses is a high priority for me. Our Team Noisy BibBoards are hugely popular with our fan base the Noisy Nation and my new Comeback King and Comeback Queens boards are sure to be a source of joy for all cancer patients and survivors showing up to go the distance."
BibSNAPS are the best way to secure your bib onto your shirt during any race. Whether you are part of Fitz's Team Noisy or are participating in a race where she is the announcer, BibSNAPS from Fitzness is a great way to show your support for a journey to a better life through fitness. Not only are these BibSNAPS great for showing your support, but they won't damage your shirt like traditional safety pins.
"BibBoards has been to so many events including Wonder Woman, Big Sur, Monterey Bay half and Fitz has the people with the biggest smiles on their face and hugging thousands…and they are sweaty. She is in this for them" says Brian Goodell Founder of BibBoards
What is Fitzness International?
Fitzness International is a company that looks to educate people on the importance of fitness through mass media, children's programming, corporate speaking, and personalized teaching. Fitzness President Fitz Koehler is a fitness influencer, race announcer, endurance athlete, author, and cancer survivor with a passion for inspiring others to use fitness as the backbone for their personal journey.
Fitz wants to bring fun back into fitness by providing education for everyone to get moving and improve their health. Her brand works to inspire people from every background to add ten years to their life by focusing on health and wellness. In addition to supporting those who join her fitness team, Team Noisy, Fitz, the author of My Noisy Cancer Comeback, helps teach cancer survivors how to build strength and fitness on their comeback journey.
Fitz and BibBoards have partnered to provide everyone who relates to the Fitzness brand with high-quality personalized BibSNAPS that they can use on race day.
BibSNAPS are much more environmentally friendly and last much longer than other fastening alternatives. The Fitzness BibSNAPS look great and use patented technology to keep your bib secured. You can use a pair of Fitzness BibSNAPS time and time again and continue to show your Team Noisy or Comeback pride every time you race.
BibSNAPS are a wonderful way to support Fitzness and the journey back to being fit and strong. Made for runners, by runners, BibSNAPS is a perfect fit.