Balega Debuts 2020 Limited Edition 'Grit and Grace' Collection to Benefit Breast Cancer Prevention Partners
September 16, 2020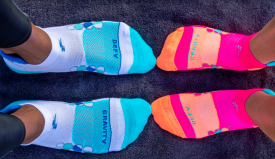 DURHAM, N.C. — Balega International, a leading sock brand in the run specialty market, is proud to announce its continued support of Breast Cancer Prevention Partners (BCPP) with the release of its Fall 2020 limited edition Grit and Grace collection. One dollar from every pair of Grit and Grace socks sold will benefit BCPP, which is a science-based advocacy organization that works to prevent breast cancer by eliminating exposure to toxic chemicals and radiation.
This year's collection of Grit and Grace socks includes three inspirational phrases that embody the Balega spirit of Ubuntu, which is the Zulu word for "shared humanity" or "I am because we are."  This year, the phrases: Embrace Kindness, Defy Gravity, and Brave Badass are embroidered on six unique and brightly colored socks. New for this year, the sock style featuring the phrase "Brave Badass" will also be available in size large.
"The three inspirational phrases in this year's collection represent the life of Balega Ambassador and lifelong runner,  Kim Stemple," explained Tanya Pictor, Vice President of Balega Marketing. "We were devastated by her passing last year, but she continues to inspire our Grit and Grace collection by having lived her life to the fullest and being a pure symbol of Ubuntu in sharing her love and goodwill. We dedicate our collection to Kim and her relentless efforts to make our world a better place for everyone."
In a world where socks can make a difference, Balega invites you to support our Grit and Grace initiative, and in turn support BCPP's mission at the intersection of breast cancer prevention and environmental health. For over 25 years, BCPP has been the leading science-based policy and advocacy organization working to prevent breast cancer by eliminating exposure to toxic chemicals and radiation.
The 2020 Grit and Grace collection will be available at your local run specialty store for a limited time, beginning September 15, and will retail for $14 per pair. For additional information about the collection, visit www.balegagritandgrace.com. To learn more about the Breast Cancer Prevention Partners, visit www.bcpp.org. To find a Balega retailer near you, please visit www.balega-socks.implus.com/locations.
About Balega International
A leading performance sock brand in the run specialty market, Balega is a designer and manufacturer of technical performance socks and part of the Implus family of brands. With a proud American-South African initiative, the company develops its product in both South Africa and North Carolina production facilities utilizing the best performance yarns produced in the United States. Crafted for a superior fit and unmatched comfort, Balega is committed to the technical excellence, quality, and performance expected in the Balega brand. A brand with 'sole,' Balega prides itself on its commitment to the community with projects aimed at enriching those less fortunate than ourselves. For more information, please visit www.balega.com.
About Implus
Implus is home to more than 20 brands in the footwear accessories, hosiery, specialty running, outdoor, fitness and medical categories. As an industry leader in consumer packaged goods, Implus is committed to enhancing healthy and active lifestyles, providing innovative products to more than 80,000 retail outlets worldwide. Distributing across more than 70 countries, Implus is headquartered in Durham, North Carolina, with five international offices and four domestic satellite offices. Key brands within Implus' portfolio include Sof Sole®, Balega®, Yaktrax®, SKLZ®, TriggerPoint™, RockTape® and Spenco®. To learn more, please visit www.Implus.com.
###