Back-To-Back: United States Taylor Knibb Defends Her Title at the 2023 Vinfast IRONMAN 70.3 World Championship Triathlon in Lahti, Finland
August 26, 2023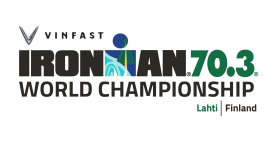 - Knibb puts in a dominant performance setting a new overall best IRONMAN 70.3 time of 3:53:02 - Great Britain's Kat Matthews and Switzerland's Imogen Simmonds round out the podium at the 2023 VinFast IRONMAN 70.3 World Championship triathlon
LAHTI, Finland (Aug. 26, 2023)/ENDURANCE SPORTSWIRE/ – American Olympian Taylor Knibb captured her second VinFast IRONMAN® 70.3® World Championship title in Lahti, Finland, on Saturday. After exiting the ROKA swim course in the top-3, Knibb quickly gained the lead on the FULGAZ bike course and never looked back. Putting in a dominating performance, Knibb successfully defended her title as World Champion and did so with a new IRONMAN 70.3 best time of 3:53:02, beating out the previous best time of 3:53:03 set by Germany's Laura Phillip in 2022.
On the shores of Lake Vesijärvi in Lahti, Finland today, triathlon fans worldwide got to witness the return of the IRONMAN 70.3 World Championship to European soil. Female professionals and age-groupers alike took to the waters of Teivaa Harbour, ready to test themselves not only against the world's best, but the region's beautiful swim, bike, and run courses.
Pre-race conversations were dominated by two women: The fast-rising American star Taylor Knibb, and the sport's reigning Queen—Daniela Ryf of Switzerland. Knibb is the youngest woman to ever represent the U.S. in triathlon at the Olympics (Tokyo 2020) and has wowed fans in each one of her appearances in triathlon since—yet she hasn't had the chance to race an "on" Ryf (the five-time IRONMAN 70.3 World Champion and five-time IRONMAN World Champion). Both Knibb and Ryf have enjoyed considerable success this year and came into this race flying high.
Taylor Knibb took off out of Teivaa Harbour, with a group of about six others forming behind her in a lead pack. Lucy Buckingham (GBR) took over the lead about a third of the way into the 1.93 km (1.2-mile) ROKA swim course in Lake Vesijärvi, with Knibb staying hot on her feet. Brazil's Pamela Oliveria was in the mix at the front of the swim as well.
Behind the lead pack of about seven, many of the pre-race favorites all formed the chase pack: Holly Lawrence (GBR), Kat Matthews (GBR), Paula Findlay (CAN), Daniela Ryf, Emma Pallant-Browne (GBR), and Laura Phillip. Lawrence swam aggressively, trying to bridge the gap to the lead swimmers, but they remained up front.
Buckingham was out of the water first in 24:43, with Knibb and Oliviera close behind her, just two seconds back. The second pack exited the water a minute and a half back, including Lawrence, Salthouse (AUS), Matthews, Ryf, Pallant Browne, Findlay, and Tamara Jewett (CAN).
After a lightning-fast transition, Knibb surged to the front almost immediately in her newly confident TT bike position. She continued to put on a show on the rolling, rural bike course taking in Lahti's pastoral countryside. Imogen Simmonds surprised with her aggressive move to the front and ability to hold second for much of the bike course. Ryf, Findlay, Matthews, and Pallant-Browne stayed together as a chase pack, but all began to lose time to the hard-charging Knibb as the 90 km (56 mile) bike course unfolded.
Simmonds held her own, but it was Knibb at the front of the race all day long. The chasers' gap only increased as the kilometers clicked by, to well over three minutes at the end of the bike. As Knibb began to repeat just what she did in St. George last year, fans began to wonder how large her buffer would be this year.
Knibb jumped off the bike with a split of 2:07:52, with Simmonds 2:09 back and Matthews, Pallant Browne, Ryf and Findlay rolling in at just over 5 minutes back.
Knibb made short work of T2 and was off in under 40 seconds—almost 30 seconds faster than Simmonds, next in line. She demolished the first 5 kilometers of the two-loop, 21.1 km (13.1-mile) HOKA run course in under 19 minutes, setting a blistering pace from the get-go. Her run form was spot-on, despite having struggled with a foot injury late last year.
With only Matthews and Pallant-Browne running in Knibb's ballpark, the two Brits battled it out for third. Matthews held her own and then, with her strong, consistent pace, was able to overtake Simmonds late in the run for second.
Knibb surely knew the crown was hers long before she turned towards the famous Salpausselka Ski Jumps. The final taste of victory was sweeter though as she entered the finish chute knowing a repeat title was hers. On the heels of a 1:18 half marathon split, Knibb finished with an impressive 3:53:02 (her fastest IRONMAN 70.3 finish time yet) and heaps of pride on a day that rewarded her hard work, patience, and determination.
Top five professional women's results:
| | | | | | |
| --- | --- | --- | --- | --- | --- |
| | | SWIM | BIKE | RUN | FINISH |
| 1. Taylor Knibb | USA | 00:24:45 | 02:07:52 | 01:18:05 | 03:53:02 |
| 2. Kat Matthews | GBR | 00:26:06 | 02:11:42 | 01:16:38 | 03:57:05 |
| 3. Imogen Simmonds | CHE | 00:24:53 | 02:10:00 | 01:20:29 | 03:57:56 |
| 4. Emma Pallant-Browne | GBR | 00:26:17 | 02:11:47 | 01:17:52 | 03:58:35 |
| 5. Paula Findlay | CAN | 00:26:12 | 02:11:45 | 01:19:58 | 04:00:32 |
It's a long day, it's an IRONMAN 70.3 and I'm just grateful to make it to the finish line and grateful to be here," Knibb said at the finish line. "Some people were questioning my decision to race, but racing excites me and I'm just happy to be here."
"I had a really good day. They don't come always," said Kat Matthews. "I'm a little disappointed that Taylor just 'ticked off' this race. I'm excited to see what she does next! I had full focus on this race, but all I'm thinking about now is [IRONMAN World Championship] Kona next month."
The men take to the 2023 VinFast IRONMAN 70.3 World Championship Sunday. The racing gets underway at 7:30 a.m. EEST with the professional men taking to the water first followed by the PC/ID and Handcycle division at 7:32 a.m. then the age-group athletes will begin at 7:40 a.m. Live race day coverage of the professional men will air on Outside Watch starting at 7:00 a.m. EEST (12:00 a.m. ET). Be sure to also follow along all of IRONMAN's official social media channels.
For more information about the 2023 VinFast IRONMAN 70.3 World Championship event, please visit www.ironman.com/im703-world-championship-2023. To learn more about the IRONMAN and IRONMAN 70.3 brands and series of events, please visit www.ironman.com. Media inquiries may be directed to press@ironman.com.
For more information about the 2023 VinFast IRONMAN 70.3 World Championship event, please visit www.ironman.com/im703-world-championship-2023. To learn more about the IRONMAN and IRONMAN 70.3 brands and series of events, please visit www.ironman.com. Media inquiries may be directed to press@ironman.com.
###
About the IRONMAN 70.3 World Championship
In 2006 the inaugural IRONMAN® 70.3® World Championship triathlon was held in Clearwater, Florida, becoming another test for the world's elite triathletes. Since that auspicious beginning, the IRONMAN 70.3 World Championship triathlon has grown in stature and popularity moving first to Henderson, Nevada in 2011, where athletes encountered a more challenging terrain and then to Mont-Tremblant, Quebec—its first stop on the new "global rotation" for the IRONMAN 70.3 World Championship race. The event reached European soil for the first time ever in 2015, with Zell am See, Austria, hosting an epic and memorable event. In 2016, the race moved from the mountains to the beaches of the Sunshine Coast in Queensland, Australia. In 2017, the race returned to the United States, taking place in Chattanooga, Tennessee where it became a two-day event for the first time. In 2018, the event reached the African continent for the first time and was hosted in Nelson Mandela Bay in South Africa. Continuing the rotation, 2019 saw the French Riviera and Nice, France play host to the ever-growing IRONMAN 70.3 World Championship event. After a year in which the event was not able to take place due to a global pandemic, the race returned in 2021 with over 3,500 athletes competing in St. George, Utah. The event again took place in St. George, Utah, returning to a two-day format on October 28-29, 2022, and now shifts to Lahti, Finland on August 26-27, 2023 and Taupō, New Zealand on December 14-15, 2024. Historically, more than 200,000 athletes have participated annually in a series of qualifying races, consisting of over 100 global events. Hosting more than 5,000 athletes from around the world, participants in the IRONMAN 70.3 World Championship triathlon have ranged in age from 18 to 85-plus. For more information, visit www.ironman.com/im703-world-championship.
About The IRONMAN Group
The IRONMAN Group operates a global portfolio of events that includes the IRONMAN® Triathlon Series, the IRONMAN® 70.3® Triathlon Series, 5150™ Triathlon Series, the Rock 'n' Roll® Running Series, IRONKIDS®, World Triathlon Championship Series, premier running events including the Standard Chartered Singapore Marathon™ and City2Surf®, UTMB® World Series trail-running events including the Canyons Endurance Runs™ by UTMB®, Tarawera Ultra by UTMB® and Ultra-Trail Australia™ by UTMB®, Epic Series™ mountain bike races including the Absa Cape Epic®, road cycling events including Haute Route®, and other multisport races. The IRONMAN Group is the largest operator of mass participation sports in the world and provides more than a million participants annually the benefits of endurance sports through the company's vast offerings. Catering to the full athlete experience, the company portfolio also includes FulGaz® virtual cycling, the most realistic indoor riding experience connected fitness application aimed at preparing athletes for real-world events. Since the inception of the iconic IRONMAN® brand and its first event in 1978, athletes have proven that ANYTHING IS POSSIBLE® by crossing finish lines around the world. Beginning as a single race, The IRONMAN Group has grown to become a global sensation with hundreds of events across 55+ countries. The IRONMAN Group is owned by Advance, a private, family-owned business, and Orkila Capital, a growth equity firm focused on building great brands. For more information, visit www.ironman.com/about-ironman-group.
About Advance 
Advance is a private, family-held business that owns and invests in companies across media, entertainment, technology, communications, education and other promising growth sectors. Our mission is to build the value of our companies over the long-term by fostering growth and innovation. Advance's portfolio includes Condé Nast, Advance Local, Stage Entertainment, The IRONMAN Group, American City Business Journals, Leaders Group, Turnitin, and Pop. Together these operating companies employ more than 17,000 people in 29 countries. Advance is also among the largest shareholders in Charter Communications, Warner Bros. Discovery and Reddit. For more information visit www.advance.com.