Athletic Brewing Company Expands Canadian Retail Presence
March 15, 2023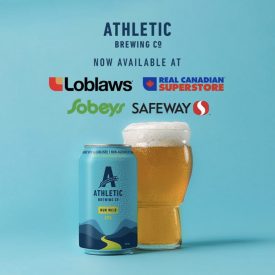 Leading U.S. non-alcoholic craft beer brand lands in Sobeys, Safeway, Loblaws, and Real Canadian Superstore
MILFORD, Conn. and SAN DIEGO (March 15, 2023) /ENDURANCE SPORTSWIRE/ – Athletic Brewing, America's leading producer of non-alcoholic craft beer, is proud to announce an expansion of its Canadian retail presence. A growing number of key retail partners across Canada – including Sobeys, Safeway, Loblaws, and Real Canadian Superstore – are now carrying Athletic Brewing's award-winning non-alcoholic craft beer.
"We're thrilled to be partnering with some of the most influential grocers in Canada and can't wait to introduce our full-flavoured brews to more shoppers," said Athletic Brewing Co-Founder & CEO Bill Shufelt. "Destinations like Sobeys, Safeway, Loblaws, and Real Canadian Superstore will help us reach a wider audience, and make it easier for shoppers to find our award-winning non-alcoholic beers."
Since its launch in Canada at the beginning of 2021, Athletic Brewing has steadily expanded its retail presence to include over 400 locations. The expansion into the four additional chains will more than double the company's growing retail footprint.
"We've seen a huge uptick in the interest and acceptance of non-alcoholic beer in recent years, and we're super excited to continue growing this category," Shufelt added. "Our brews can be consumed anytime and anywhere. Consumers no longer have to choose between avoiding alcohol or skipping out on a great-tasting craft brew experience."
The expanded availability of Athletic brews comes as the Canadian Centre on Substance Use and Addiction has issued new guidance stating that no amount of alcohol is safe, encouraging Canadians to reduce their consumption¹.
Non-alcoholic beer is expected to grow at a CAGR of 7% in 10 key global markets, including Canada, over the next five years².
All four retailers will offer two of Athletic Brewing's flagship non-alcoholic brews, Run Wild IPA and Upside Dawn Golden, in a 6-pack format. Free Wave Hazy IPA will also be available in select Sobeys and Safeway stores.
Athletic Brewing Company is a proud partner of the TCS Toronto Waterfront Marathon & Tamarack Ottawa Race Weekend. The company donated to five trail organizations in Canada in 2022 via its Two for the Trails initiative. These new retail partnerships will help accelerate Athletic Brewing's ongoing investment in the Canadian outdoors.
¹According to the Canadian Centre on Substance Use and Addiction
²According to a recent drinks market analysis by IWSR.
###
Press Contact: Jess Fiaschetti | jess@outsidepr.com | 415.565.9530
About Athletic Brewing Company
Athletic Brewing, founded in 2017 by Bill Shufelt and John Walker, is America's leading producer of non-alcoholic craft beer. In 2022, Athletic was ranked as the 26th fastest-growing private company in America by Inc. Magazine, named one of TIME's "100 Most Influential Companies," and featured on Fortune's "Change the World" list. Athletic was also selected as one of Ad Age's Top 20 Hottest Brands of 2022 and appeared on Fast Company's "Brands That Matter" list in 2021. The company has won dozens of prestigious brewing awards and was named the North American Brewer of the Year at the 2022 International Beer Challenge. Athletic has custom breweries on the east and west coasts and donates up to $2 million of all sales to protecting and restoring outdoor spaces across the globe via its Two For The Trails program. Plus, as a part of its IMPACT Program, 1% of revenue goes to non-profit organizations that support positive impact and opportunity from the ground up. As of 2022, Athletic Brewing is proudly a Certified B Corporation™. Its full-flavored non-alcoholic beers are available for purchase on www.athleticbrewing.ca.