Athletic Brewing and IRONMAN Create Limited-Edition Non-Alcoholic Brew, Personal Record™
August 10, 2022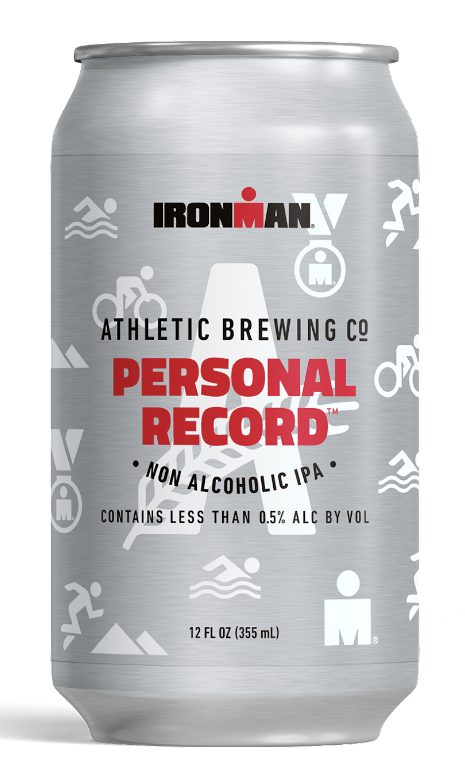 Stratford, CT, San Diego, CA, Tampa, FL. (August 10, 2022)/ENDURANCE SPORTSWIRE/ – Leading non-alcoholic brewery, Athletic Brewing Company, is the Official Non-Alcoholic Beer Provider of the IRONMAN® Global Series, and today released their newest limited-edition brew, Personal Record™, an awe-inspiring IPA crafted in collaboration with IRONMAN. Inspired by the IRONMAN athletes who prove that ANYTHING IS POSSIBLE® by crossing finish lines around the world, Personal Record™is a tribute to staying the course, chasing goals, and knowing a Personal Record is always within reach. Brewed with turmeric and boasting flavors of mango and tropical hops, Personal Record™ tastes like victory.
"Like athletes who compete in IRONMAN events, Athletic Brewing believes in being able to enjoy the little things, like kicking back with a brew, without sacrificing performance or passion," explains co-founder and CEO Bill Shufelt. "The new Personal Record™ IPA pays homage to this joint commitment to always striving for more, and is meant to symbolize the vibrancy of the athlete. We're excited to offer this brew as a compliment to athletes — and their supporters — as an option for a pre-or post-training and racing refreshment."
Personal Record™ is brewed with El Dorado and Sabro hops for fruity and tropical notes, and the addition of turmeric gives the brew a vibrant orange hue. At 45 IPU and 60 calories, this new non-alcoholic IPA is the perfect complement to goal chasing and striving for athletic excellence.
"We are thrilled to partner with Athletic Brewing to create a truly unique brew that reflects and embodies the athletes," said Matt Wikstrom, Chief Partnership Officer at The IRONMAN Group. "Our athletes can drink Personal Record™ as not only a complement to their commitment to persevere but to reward their IRONMAN achievements."
This limited-edition offering is available starting August 10, and can be purchased while supplies last at www.athleticbrewing.com and will be available at select IRONMAN events. Also make sure to follow Athletic Brewing on Facebook, Instagram, Twitter and YouTube!
For more information on the IRONMAN brand and global event series please visit www.ironman.com.
###
Press Contact: Morgan Williams | Morgan@outsidepr.com | 724-388-7167
About Athletic Brewing
Named as TIME's "100 Most Influential Companies of 2022", Fast Company's "Brands That Matter" in 2021, and to Adage's Top 20 Hottest Brands of 2022, as well as taking home Gold & Silver in the 2022 US Open of Beer Championships, Athletic Brewing Company is reimagining beer for the modern adult. Their great-tasting craft brews provide a refreshing taste of craft beer, without the alcohol or the hangover. With custom breweries on the east and west coasts, their lineup has earned accolades throughout the industry, even against full-strength beers, including the 2021 US Open Beer Awards Gold medal for Run Wild. Additionally, Athletic Brewing's "Two for the Trails" initiative donates 2% of all sales to trail and park cleanups and maintenance. Plus, as a part of their IMPACT Program, 1% of revenue goes to non-profit organizations that support positive impact and opportunity from the ground up in their communities. As of 2022, Athletic Brewing is proudly a Certified B Corporation™. Their full portfolio of flagships, seasonal, and specialty brews is available for purchase on the website, www.athleticbrewing.com, as well as the company's hop-infused sparkling water, DayPack, and subscription offering – The Athletic Club.
About IRONMAN Group
The IRONMAN Group operates a global portfolio of events that includes the IRONMAN® Triathlon Series, the IRONMAN® 70.3® Triathlon Series, the IRONMAN® Virtual Racing™ (VR™) Series, 5150™ Triathlon Series, the Rock 'n' Roll® Running Series, the Rock 'n' Roll Virtual Running™ Series, IRONKIDS®, World Triathlon Championship Series, premier running events including the Standard Chartered Singapore Marathon™ and City2Surf®, UTMB® World Series events including Tarawera Ultra and Ultra-Trail Australia™, Epic Series™ mountain bike races including the Absa Cape Epic®, road cycling events including Haute Route®, and other multisport races. The IRONMAN Group is the largest operator of mass participation sports in the world and provides more than a million participants annually the benefits of endurance sports through the company's vast offerings. Since the inception of the iconic IRONMAN® brand and its first event in 1978, athletes have proven that ANYTHING IS POSSIBLE® by crossing finish lines around the world. Beginning as a single race, The IRONMAN Group has grown to become a global sensation with hundreds of events across 55+ countries. The IRONMAN Group is owned by Advance, a private, family-owned business. For more information, visit www.ironman.com/about-ironman-group.
About Advance
Advance is a private, family-held business that owns and invests in companies across media, entertainment, technology, communications, education and other promising growth sectors. Our mission is to build the value of our companies over the long-term by fostering growth and innovation. Advane's portfolio includes Condé Nast, Advance Local, Stage Entertainment, The IRONMAN Group, American City Business Journals, Leaders Group, Turnitin, 1010data and Pop. Together these operating companies employ more than 17,000 people in 29 countries. Advance is also among the largest shareholders in Charter Communications, Discovery and Reddit. For more information visit www.advance.com.