'Ante Up' for the TransRockies Gravel Royale 2023 Event with Registration opening on Sept. 28
September 28, 2022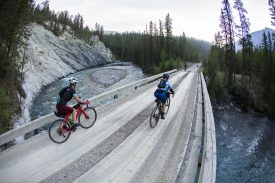 This epic alt-road adventure will be back in 2023
Panorama, B.C. (Sept. 28, 2022) /ENDURANCE SPORTSWIRE/ – TransRockies Race Series just completed a successful inaugural TransRockies Gravel Royale presented by Felt Bicycles. The event brought 200 athletes from eight countries and 22 states and provinces to explore the vast gravel roads of the Kootenay Mountains in British Columbia, Canada. The 2023 edition of the event will take place August 28-31 and the TransRockies team hopes to bring out even more athletes to the starting line for this four-day stage race.
The Gravel Royale Team is grateful to be returning to the four amazing host communities for this event. Panorama Mountain Resort, Nipika Mountain Resort, Canal Flats, and the town of Fernie were all welcoming to the TransRockies gravel community.
This unique gravel event takes riders on secluded gravel roads through the Canadian Rocky Mountains, the traditional home to the Ktunaxa Nation Indigenous people. With a large variety of terrain from pavement to technical singletrack, the full four-day course covers 400 km (200 miles) and around 7,500m (25,000 ft) of climbing. Riders can expect vast mountain views, native wildlife, crystal clear rivers, and a gravel adventure like no other.
One of the best aspects of any TransRockies event is the participant experience at camp after each stage. Gravel Royale is a camping stage race with camp set-ups in Nipika and Canal Flats. With 20 years of experience, the TransRockies team has the camp logistics dialed, a true royal flush. Participants don't have to worry about moving their gear or setting up their tents for each night, it's all covered by volunteers and the TransRockies team.
At camp participants enjoy catered meals, lounge chairs, cold beverages, and great conversations with fellow racers. Massage and athletic therapy stations are available along with mechanical support and a bike wash for participants. Each evening ends with a group dinner as well as a slide show and video from the day's events.
The 2023 edition of Gravel Royale will have limited spots available, riders will have to 'double down' early to get a spot at the table. Registration opens at 9am MT on Wednesday, September 28. The link to register can be found here.
For more on Gravel Royale follow along on Instagram, Facebook, and Twitter. For any additional information, please visit transrockiesgravelroyale.com.
It has been nearly 20 years since the first TransRockies Challenge mountain bike stage race first rolled out of Fernie, BC for an epic 7-day adventure taking riders over the Canadian Rockies to finish in Canmore, Alberta, helping to kick start the global mountain bike stage racing craze and the face of cycling in the Rockies. TransRockies Gravel Royale is the latest event produced by the company that brings endurance athletes the TransRockies Run and Singletrack 6, among other iconic events.
About TransRockies Race Series
The TransRockies Race Series operates 10 events over 32 days annually in the Western U.S. and Canada. Specializing in multi-day and endurance cycling and running events, TransRockies serves over 3,500 participants annually. The organization has operated over 200 days of stage racing since it was founded in 2002.