Antarctica Marathon® Race Directors Join Oceanites Board of Directors
May 10, 2022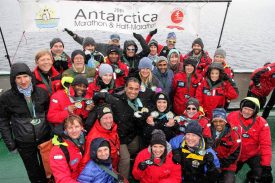 Marathon Tours & Travel Founder/CEO Thom Gilligan and President Jeff Adams Continue Efforts to Raise Awareness of Climate Change and Saving the Penguins
Boston, MA (May 10, 2022) /ENDURANCE SPORTSWIRE/ – Marathon Tours & Travel (MTT) is pleased to announce that Founder/CEO Thom Gilligan and President Jeff Adams were elected to the Board of Directors of Oceanites – a research based nonprofit organization focused on the effects of climate change and tourism on Antarctica. The relationship between MTT and Oceanites began more than a decade ago with the goal to raise awareness of these issues with participants of the Antarctica Marathon® & Half-Marathon.
"As Founder of the Antarctica Marathon®, I am very pleased to support the research and mission of Oceanites. Preserving the environment is part of our core values when organizing the events," stated Gilligan.
The Antarctica Marathon® & Half-Marathon, which was recently awarded the registered trademark through the US Patent and Trademark Office, is an annual event that takes place on King Georges Island. The first running was in 1995 and continues to be one of the most popular destination races on MTT's calendar with a waitlist through 2024. As a pioneer for taking runners to this pristine continent, the company has a 'leave no footprint behind' policy, which is strictly enforced.
Adams shares, "Growing up in the Pacific Northwest my parents believed in 'free range parenting', nature was my playground and my appreciation for the importance of environmental stewardship was born. Completing the Antarctica Marathon® in 2013 was the catalyst for my first trip to the seventh continent, where the overall Antarctic experience reaffirmed my belief that 'we don't inherit the earth from our ancestors, we borrow it from our children'. I am excited to be in a position to help Oceanites increase their many positive contributions and help create new stewards annually when hosting our Antarctica Marathon® participants."
In addition to becoming ambassadors for Oceanites, Antarctica Marathon® & Half-Marathon participants have raised more than a half-million dollars since the efforts first started in 2009. This is through sponsorships of Antarctica Marathon® Mile Markers, post-race auctions and ongoing personal donations. The collaborative efforts gives Oceanites the ability to continue its mission of scientific research and raising climate change awareness. More about the Antarctica Marathon® is available on www.antarcticamarathon.com and Facebook.
BIOS
THOM GILLIGAN
Thom founded Marathon Tours & Travel in 1979 and has been the front-runner in destination marathon travel ever since. His previous professional experience with British Airways, Air Canada and a tour wholesaler enabled Thom to start a career that combined his knowledge of the travel business with his passions for running and adventure.
Thom was featured in Runner's World, the front page of The Wall Street Journal, on the cover of Travel Agent magazine, and named the top specialist in running-related travel nine times by Condé Nast Traveler magazine. He personally leads groups to marathons in London, Madagascar, France's Bordeaux region and more, including Antarctica where he is the race director and expedition leader for the Antarctica Marathon® & Half-Marathon. A former president of the Greater Boston Track Club, Thom has run 62 marathons around the world with a personal best of 2:30:45. An avid golfer, he holds a 6 handicap and admits that he is hopelessly addicted.
JEFF ADAMS
Jeff first found Marathon Tours & Travel as a client while pursuing his interest for international adventure travel. He is respected for being an innovative corporate and philanthropic leader with a passion for helping clients accomplish their goals.
Prior to joining Marathon Tours & Travel, Jeff enjoyed a 28-year career in various client centric leadership roles at Morgan Stanley. Having run 44 marathons in the last 10 years, Jeff is a middle of the pack runner who enjoys a good challenge – like earning the Abbott World Marathon Major Six Star Medal twice and becoming a Seven Continents Club® Finisher at the 2019 Cape Town Marathon.
He is also an avid climber, skier and paddler. Jeff is proud to have been a Founding Board Member and Past President of the Make-A-Wish Foundation in North Texas and recently concluded eleven years of service on the National Board of Back on My Feet.
About Marathon Tours & Travel
Founded in 1979, Marathon Tours & Travel (MTT) is one of the first global companies to specialize in travel services specifically for runners. Located in Boston, the home of the world's oldest marathon, MTT is the official North American travel agency for many of the world's most popular running events including the BAA Boston Marathon, TCS London Marathon, TCS New York City Marathon, Antarctica Marathon® and many others. www.marathontours.com.
About Oceanites
Oceanites is a 501C3 non-profit organization based in Washington, D.C. that operates internationally with the central mission of assisting science-based conversation recommendations in Antarctica and increasing the awareness of climate change worldwide. Oceanites values are grounded, in science, education, stewardship, and transparency. Ongoing scientific work is the springboard for Oceanites' climate change outreach, which uses penguins as avatars to explain how we humans, like all biological creatures may or may not adapt when the warming of the planet comes our way. www.oceanites.org.
Tags: Antarctica Marathon, Antarctica Half-Marathon, Seven Continents Club, Oceanites, Antarctica, Penguins, Climate Change, Boston Marathon
###
Contact: Jeff Adams
617.242.7845 phone
jeff@marathontours.com