Alistair Brownlee to make XTERRA debut in UK this Saturday
May 11, 2023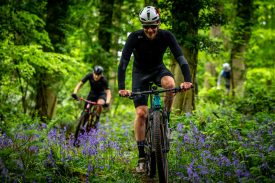 The inaugural XTERRA Weston Park off-road triathlon has attracted more than 500 competitors to the West Midlands region of England including home country hero, Alistair Brownlee, the only two-time Olympic gold medalist in triathlon history.
/ENDURANCE SPORTSWIRE/ – XTERRA returns to England for the first time since 2015 when the fifth stop on the XTERRA EMEA Tour descends upon the centuries-old Weston Park House in Staffordshire on Saturday, May 13, 2023.
The inaugural event has attracted more than 500 competitors to the West Midlands region of England including home country hero, Alistair Brownlee, the only two-time Olympic gold medalist in triathlon history.
"XTERRA has always been on my radar and with this one opening up in the UK, and only a few hours drive away, it made it hard to say no," said Brownlee, just four days removed from a sixth-place showing at the PTO European Open in Ibiza, Spain, a race in which he was first out of T2 before falling back on the run.
"Recovery from Ibiza has been good so far, but I still have a way to go to feel fresh for Saturday," he said, noting that the off-road training to prepare for XTERRA has been a pleasure. "I've always run on the trails and ridden my mountain bike, but I've really enjoyed having the excuse to do more of it in the last few weeks."
As for his game plan and expectations going into his XTERRA debut, Brownlee is both measured and realistic.
"I'm going to say my strategy is a steady, controlled and well paced effort, but I'll probably just go for it."
It's safe to say he'll have to go for it to contend with Maxim Chane (FRA), one of off-road triathlon's premier elite racers and the reigning XTERRA Short Track series champion.
"I can't wait to race one of the biggest names in triathlon," said Chane, who finished fourth at the World Triathlon Cross Championships in Ibiza over the weekend, less than a minute off the top spot. "We all know his capacity to swim, bike, and run. And he lives in the UK, so he knows how to race in these conditions, which I'm sure will deliver typical British weather – cold, windy, wet, and muddy."
The question, Chane says, "is about his mountain bike skills?"
Doug Hall, XTERRA EMEA general manager and long-time XTERRA elite from the UK, is confident Brownlee will be able to hang with the off-road specialists on Saturday.
"While his extensive list of credentials are mainly on-road, Alistair is no stranger to off-road having grown up competing in fell races and mixing up gravel racing alongside his long-distance racing," said Hall. "I think we'll have a very entertaining battle on our hands with one of the best XTERRA specialists in the world vs one of the greatest triathletes of all time on a brand new course which could favor outright power over technical ability."
Scott Anderson from Germany is also hoping to be in the mix at the front on Saturday.
"The last few weeks I've been feeling really strong on the bike, which the numbers agree with as well, so the plan is to just go hard from the gun and see how the race develops," said Anderson, who is 24th in the XTERRA World Rankings. "Alistair and Maxim will definitely make it a tough race though, for sure!"
https://rankings.xterraplanet.com/world-performance-index.php
XTERRA Weston Park Elite Men
XWR – Name, NAT
7 – Maxim Chane, FRA
24- Scott Anderson, GER
81 – Quirijn Waaijenberg, NED
87- Morgan Rhodes, GBR
93 – Thomas Sauser, SUI
104 – Lewis Williams, GBR
NR – Alistair Brownlee, GBR
NR – Jonathan Benjamin, RSA
NR – Richard Stannard, GBR
NR – Kit Walker, GBR
NR – Thomas Bonnor, GBR
NR – Will Draper, GBR
NR – Benjamin Goodfellow, GBR
In the women's race, two home country favorites – Bonnie Van Wilgenburg and Kerri-Ann Upham – enter Saturday's race anxious to make their mark on XTERRA's return to Great Britain.
"I'm really excited to be racing XTERRA in the UK and to have this event as my debut elite race makes it even more special," exclaimed Upham. "There is a strong cross triathlon community here and I'm looking forward to catching up with the athletes I have met at European races over the years. Additionally, the race at Weston Park presents an exciting opportunity for new-comers to take on an XTERRA and I'm looking forward to seeing the sport evolve in the UK."
Upham finished 11th at the XTERRA European Championship against a stacked elite field to win the 30-34 EU title before going pro.
"I would love to see Kerri-Ann get a big result here," said Hall. "She's been a top age group athlete for many years and has committed to the pro ranks for 2023. She is universally liked by every British off-road athlete, so would be a popular winner if she can get past top ranked Lizzie Orchard."
Orchard, an XTERRA veteran from New Zealand, has two XTERRA World Championship podium finishes to her credit and is eager to build some momentum heading into next weekend's XTERRA World Cup stop in the U.S.
"Weston Park is a unique location and very close to our friends house, so it's only natural we wanted to support XTERRA being back in the UK and spend time together," she said. "The riding here has been amazing, just being able to reach quiet roads and paths from right out the front door."
Like the men's race, the women's race also has a first-time off-roader with big on-road credentials in Lydia Dant, who won Ironman Lanzarote last year in her full-distance debut.
Elite Women
XWR – Name, NAT
22 – Elizabeth Orchard, NZL
44 – Bonnie Van Wilgenburg, GBR
45 – Kerri-Ann Upham, GBR
64 – Louise Fox, GBR
NR -Lydia Dant, GBR
XTERRA Weston Park will award €7,500 equally to the top 5 men and women elite competitors and valuable points for amateurs chasing XTERRA EMEA Tour titles, along with 29 qualifying spots into the XTERRA World Championship to the winners of each age group.
The event combines a 1.5K lake swim with a 27K custom-designed bike course, and an 11K run that winds through the historic grounds of Weston Park, and the excitement of having Brownlee on the start line is matched only by the joy of once again having a home country race for the rabid XTERRA athlete base in England.
"It's a race that combines the rich history of England, the adventurous spirit of XTERRA, and unmistakable friendliness of the off-road community," said Hall. "I'm so excited to bring back XTERRA off-road triathlon to the UK. It's been a long time coming and I can't wait to welcome everyone to the beautiful Weston Park Estate for a day of adventure."
Read the full event preview here.
Find live event updates on XTERRA's instagram.
Follow the athlete tracker on Saturday here.
About XTERRA
X marks the unknown. TERRA is earth. United, we are XTERRA – a brand born to discover unknown territory. Since our inception in 1996, XTERRA has been inspiring off-road adventure by connecting people with nature through events with a fun, family vibe. We offer 13 off-road race options, from triathlon-to-trail running, for participants of all ages and skill levels in 47 countries worldwide. We have a global perspective, we aspire to protect where we play, and live the XTERRA lifestyle everyday, everywhere we roam. Join us off-road at xterraplanet.com.