80/20 Endurance Launches New Coaching Certification
June 27, 2023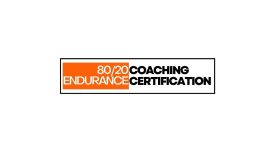 Nearly 250 students already enrolled
Lehi, UT /ENDURANCE SPORTSWIRE/ – 80/20 Endurance, a leading provider of online training resources for endurance athletes, today announced the successful launch of its own coaching certification program. Since its January rollout, nearly 250 students have enrolled in the course almost 100 have already successfully completed the course requirements. Designed for new as well as experienced coaches seeking to expand their knowledge and credentials, this self-paced interactive course covers topics ranging from managing training loads and balancing intensities to coaching ethics and the business of coaching.
Enrollees receive a free copy of the book 80/20 Endurance: The Complete System for High-Performance Coaching, written by acclaimed author Matt Fitzgerald, who instructs the online course alongside his fellow 80/20 Endurance co-founder David Warden and the company's Director of Training, Leyla Porteous. Other course benefits include access to the 80/20 Endurance Coaching Community portal, US Center for SafeSport certification, and access to the complete 80/20 Endurance workout library through the TrainingPeaks™ platform. To become certified students must complete a multiple-choice test and submit a practical athlete case study, along with completing the SafeSport Core training program. Successful students receive a certificate and will be included in a forthcoming online directory of 80/20 Endurance-certified coaches.
Unlike other coaching courses, the 80/20 Endurance offering covers all endurance sports, as does the optimal 80/20 intensity balance that underlies the company's training methodology. Another point of differentiation, according to Fitzgerald, is the course's emphasis on the core principles of endurance training. "The best coaches function as creative problem-solvers," he said. "Knowledge is important, but the ability to think critically is more important. Our program equips students with the deep understanding that's needed to coach the exceptions as well as the norm—and every athlete is an exception to some degree."
Early feedback on the course has been positive. "The principles of 80/20 have always resonated with me," wrote a five-star reviewer on the program's website. "This course combined the 80/20 approach to training with coaching philosophy in perfect measures. The content was interesting, logically set out, and concisely conveyed. The breakout tasks added further interest. Feedback on the assignments was thorough and has given me a lot to think about as I continue my coaching journey."
80/20 Endurance is committed to supporting coaches not only during the process of completing the certification course but well beyond. Currently, this support includes regular online calls with instructors and opportunities to gain paid coaching experience through the 80/20 Endurance platform. The cost of registration is $399, and annual recertification will be required. Learn more at learning.8020endurance.com/courses.
About 80/20 Endurance 80/20 Endurance is a leading provider of online training resources for endurance athletes and coaches. Products and services include training plans, subscriptions, workout libraries, coaching consultations, original books, and a podcast. Learn more at 8020endurance.com.
Media Contact:
Leyla Porteous
Director of Operations and Training
Phone: (561) 329-2208
Email: leyla@8020endurance.com