2023 Air Force Marathon Registration Opens Cyber Monday
November 21, 2022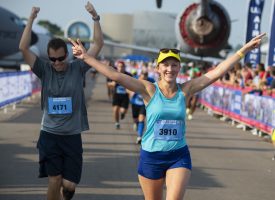 LOCK IN YOUR REGISTRATION WITH EXTENDED EARLY BIRD PRICING
/ENDURANCE SPORTSWIRE/ – Holiday shopping deals will not end after Thanksgiving weekend as Air Force Marathon participants will have the chance to earn early savings on their 2023 event registrations Cyber Monday.
Registration opens for the Air Force Marathon at 9 a.m. Nov. 28 with participants receiving an early bird discount through Dec. 5. Active duty, reservists, veterans, Guard members, military retirees and ROTC cadets can receive an additional discount up to $10 off their registration.
This marks the first year that marathon registration will open as early as November.
Rachael Ferguson, marathon director, said that she and her staff are hard at work implementing the various suggestions that past runners have made to create another top event.
"We are very excited to launch the 2023 Air Force Marathon events," Ferguson said. "We have heard what runners had to say and look forward to bringing an excellent experience for each of them next year."
Ferguson said that while extensive changes will not be made to the event's schedule, they plan to make slight changes to some group events and create training experiences throughout the year.
"Our team looks forward to engaging more with participants and being immersed in the community to deliver an excellent race experience for 2023," she said.
The Air Force Marathon events are set for Sept. 14-16 at Wright State University and the National Museum of the United States Air Force.
The weekend also includes a two-day Health & Fitness Expo, , Gourmet Pasta Dinner and after-party.
Runners have the option to compete in the marathon, half marathon, 10K, 5K, three-person marathon relay, Tailwind Trot 1K Kids Run, Fly! Fight! Win! Challenge Series and virtual races.
For more information and to register for the marathon, visit www.usafmarathon.com. For a list of event pricing and a schedule of discounted prices, visit https://www.usafmarathon.com/event-pricing.