2022 NAIA Men's Lacrosse Invitational Coming to Pensacola
May 5, 2022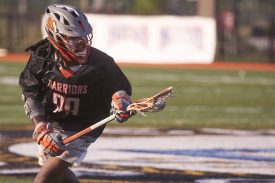 May 11-14, 2022, Pensacola, FL. /ENDURANCE SPORTSWIRE/ – Pensacola Sports is pleased to announce that Pensacola will be home to the National Association of Intercollegiate Athletics (NAIA) Men's Lacrosse Invitational through 2023. The event was previously hosted in Savannah, Ga.
"Lacrosse is a growing sport and Pensacola is the ideal backdrop for hosting the NAIA Men's Lacrosse Invitational," said Ray Palmer, President and CEO of Pensacola Sports. "This gives us an opportunity to showcase the Pensacola community and our beautiful sugar-white beaches to these student athletes, coaches, support teams and fans."
The year's tournaments are set to take place May 11-14 at the Ashton Brosnaham Soccer Complex in Pensacola. Eight teams will compete in a single-elimination tournament starting Wednesday, May 11. The semifinals will take place Thursday, May 12 and the championship game will be Saturday, May 14.
Currently, Indiana Technical College (14-0) leads in the rankings for the coaches' poll with 66 points, followed by Reinhardt University (10-1) and St. Ambrose University (14-2) which are tied for second place. University of the Cumberlands (12-4) and Aquinas College (10-3) hold the number four and five spots in the rankings, while Tennessee Wesleyan University (13-3) sits at number six.
Tickets are on sale now at pensacolasports.org/naia/. Individual tickets are $10 for adults and $5 for students, this includes college students with a valid university ID. All tournament passes are $20 for adults and $10 for students. This pass grants access to all seven games played during the tournament.
"This event will be a make a significant positive economic impact in Escambia County and help drive future travel to Pensacola," furthered Palmer.
Pensacola, Florida is The Way to BeachTM and offers great views, affordable stays, and events for all to enjoy. During the tournament, Pensacola Sports invites attendees to stay awhile and discover all Pensacola has to offer. Visit the sugar-white sand beaches, indulge in the freshest seafood, and embrace the culture of this historical port city.
For more information about the Lacrosse Invitational and hotel accommodations visit www.pensacolasports.org/naia/
##
About Pensacola Sports
Pensacola Sports is one of the oldest sports commissions in the United States, beginning in 1954. Today, Pensacola Sports manages and assists in numerous events a year throughout the Escambia, Santa Rosa, and Okaloosa County areas. Pensacola Sports is dedicated to enhancing the quality of life, health, wellbeing and economic development of the Pensacola and surrounding regions through sports and recreation.
About the National Association of Intercollegiate Athletics (NAIA)
The National Association of Intercollegiate Athletics (NAIA), headquartered in Kansas City, Mo., is a governing body of small athletics programs that are dedicated to character-driven intercollegiate athletics. NAIA members provide more than 77,000 student-athletes with opportunities to play college sports, earn $800 million in scholarships and compete in 28 national championships. naia.org | @NAIA
###
Domonique Whitehurst
Marketing Manager
Pensacola Sports
dwhitehurst@pensacolasports.org
(850) 434-2800