Zoot Sports adds 5x Ironman Champion Matt Hanson to Their Roster
January 12, 2022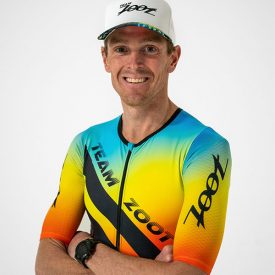 Carlsbad, CA /ENDURANCE SPORTSWIRE/ – Zoot Sports, the industry leader in triathlon apparel, is proud to welcome professional triathlete Matt Hanson to their Elite roster. Hanson will train and compete in Zoot apparel during his multi-year partnership.
Hanson, a 5x Ironman and 5x 70.3 champion residing in Castle Rock, CO, boasts an impressive resume. He holds the fastest marathon split recorded in an Ironman as well as being a 3x Ironman North America Champion. He will focus his efforts on becoming the first U.S. athlete to win the Ironman World Championships in Kona, HI since 2002. In addition, Hanson coaches the Matt Hanson Race Team.
Zoot Sports leads the triathlon apparel industry with high-quality, technical garments built for real-world speed and comfort. Zoot Sports will also be outfitting the Matt Hanson Race Team of age group athletes in custom racing and training apparel.
"I am beyond excited to be partnering with Zoot Sports in 2022. After getting to test their gear as a result of their support of Team USA at the Collins Cup Triathlon, I knew they would make a great partner. I am looking forward to revealing the Matt Hanson Race Team kit and my personal kit design very soon! Stoked to be a part of the Zoot Ohana!"
Shawn O'Shea, President of Zoot Sports, said "We are excited to bring this U.S. Kona hopeful to our professional roster. Matt brings professionalism to the sport of triathlon and shares Zoot's passion for creating industry-leading products to help triathletes of all abilities."
For more information on Zoot Sports, visit zootsports.com. For more information on Matt Hanson, visit matthansontri.com.
###
Founded in Kona, Hawaii, in 1983, Zoot Sports specializes in triathlon training and race day apparel. Zoot has grown to be a global premier endurance sports brand, distributed worldwide and is the creator of the first triathlon-specific footwear line. Zoot continues to draw on its history in the sport and its athletes to deliver the most comprehensive, technologically-advanced, and complete multisport product line in the world. Visit Zoot online at zootsports.com.