Zambrano and Molineros win 4th GFNY Ecuador Manta
September 27, 2022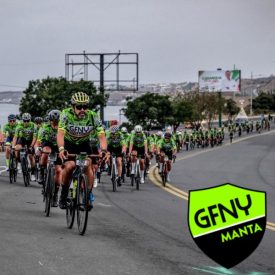 The race brought $2.5m into the local economy according to the sports minister
New York City, September 27, 2022 /ENDURANCE SPORTSWIRE/ – Manta, located on the coast of Ecuador, hosted the 4th edition of GFNY Ecuador Manta 2022 this past Sunday. The racecourse was 142.2 km long with 2030m of climbing.
The race started off at Barbasquillo Manta, where the first 5km were neutralised allowing the peloton to group until Piedra Larga. By Santa Marianita, fifty racers formed the lead group.
During the 7km climb of El Aromo, Jean Paul Aguirre (Ecuador) put in an attack which was matched by locals Renzo Molineros and Javier Fiallo. Molineros was racing his sixth GFNY but was yet to crack the top 10.
With 25 km to go, descending to Manta, Molineros put in the decisive attack and took the solo win in 3:58:43, followed by Cornejo (4:00:33) and Fiallo (4:00:34) who rounded out the all Ecuadorian podium.
In the female race, local Daniela Zambrano took the win in 04:18:12. Estefania Rivera (Ecuador) and Diana Cano (United States) rounded out the podium.
"It is the 4th time for GFNY in Manta. The event has resulted in an economic benefit of 2.5 million dollars for the city with hundreds of visitors. Manta is, without a doubt, the sports capital of the country", said Mario Álava, Manta's Sports Minister.
Next up on the GFNY calendar is the inaugural GFNY Zapopan – Guadalajara in Mexico this Sunday, October 2, 2022.
About GFNY Global Endurance Sports Series
GFNY Global Endurance Sports Series is a sports event company with three decades of experience in racing, planning and organising events. The global endurance sports brand hosts multiple events throughout the year around the world on five continents.
Working with partners around the world to deliver a first-class experience, GFNY Global Endurance Sports Series puts their athletes first.
Cycling
30 plus events around the world. View the latest calendar here
Riders get to BE A PRO FOR A DAY ® by competing against others, themselves and the clock in a personal endurance challenge.
Top 10% (20% at regional championships) of finishers in each age group qualify for the Racer Corral at every GFNY World event.
GFNY World Championship NYC
The 11th annual GFNY World Championship New York will be held on May 21, 2023. The race features the world's most international peloton with riders from over 90 countries. Athletes take on a challenging 100-mile route from NYC to Bear Mountain to Fort Lee to compete against each other, the clock and themselves in a personal endurance challenge.
The official GFNY website is: www.gfny.com.
Further Material for Media Use
Official GFNY Manta Video: here
GFNY Press Images: here
GFNY Results: here
GFNY World calendar graphic: here
Previous GFNY press releases: here
Media Contact
Gran Fondo New York Inc.
Uli Fluhme, uli@gfny.com
Caroline Lindsay, caroline@gfny.com