Yinz Like to Run, N'at? Dress in Yer Finest Steel City Attire and Run the Yinzer 4.12K® on Aug. 20
May 20, 2022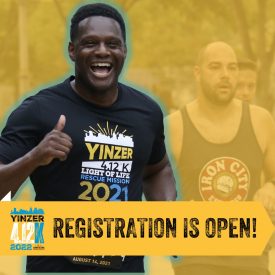 The family-friendly event encourages participants to show off their inner Yinzer and Pittsburgh pride while benefiting the Light of Life Rescue Mission
PITTSBURGH (May 20, 2022)/ENDURANCE SPORTSWIRE/ – Light of Life Rescue Mission, in partnership with P3R, will once again host the annual Yinzer 4.12K® and Lil' Yinzer Fun Run this year on Saturday, Aug. 20. The event welcomes runners from across the region to dress up in ways that represent Pittsburgh to them – anything from black and gold to their favorite Pittsburgh landmark.
Honoring the Steel City's famous area code, the 4.12K course wraps around the Northside and will take participants to PNC Park, round the home plate entrance and continue down West General Robinson Street. Participants will round the bend and pass the Light of Life Rescue Mission on Voeghtly Street.
All participants, including Lil' Yinzers, will receive a race shirt, medal and goody bag. Proceeds from the event benefit Light of Life Rescue Mission and its work for the homeless, addicted and those in need around Pittsburgh. Since 2018, Light of Life has raised $63,000 for the Mission through this event.
"This year we are celebrating the 10th anniversary of the race and are thrilled with how much the event has grown and how much impact it has had on our organization," said Jerrel Gilliam, Executive Director of Light of Life Rescue Mission. "The funds raised through this event help us reach more men, women and families experiencing homelessness, poverty, or addiction and offer them a place of hope and healing."
For the second year in a row, Light of Life Rescue Mission has partnered with P3R to produce and manage the event. In 2021, the event had the largest participation to-date with more than 700 runners and walkers.
"When we partner with organizations like Light of Life, our goal is not only to execute a premier event for our city but also give participants a fun experience to move with their friends and family while also making an impact in their community, " said Troy Schooley, P3R CEO. "Through our partnership, we hope to continue to grow this event while making it a must-do Pittsburgh event for movers of all ages."
This year's event is sponsored by Wheelhouse Family Foundation. The organization is honored to support the mission of Light of Life as it is practically and spiritually transforming the lives of men, women, and children, in the city they love. They are excited to be part of an event that brings Yinzers of all walks of life together to contribute toward Light of Life's upcoming projects.
Yinzers can register for the 4.12K event at early bird pricing through May 17 for just $35. Lil' Yinzers can register for the .412K for $25 throughout the registration period. For more information or to register, visit www.p3r.org/races/yinzer-412-k. Learn more about Light of Life Rescue Mission's work at www.lightoflife.org/.
# # #
About P3R
P3R is the engine behind Pittsburgh's greatest races. We strive to inspire any and all to MOVE with us. Best known for organizing the acclaimed annual DICK'S Sporting Goods Pittsburgh Marathon, P3R runs a variety of other high-quality races, events, and health and fitness programs throughout the Pittsburgh region. While many of our races attract some of the nation's highest-profile professional athletes, we offer activities for all ages and ability levels. Anyone and everyone is invited to #RUNwithP3R! Read more at: P3R.org
FACEBOOK: RUNwithP3R   TWITTER: @RUNwithP3R   INSTAGRAM: RUNwithP3R
About Light of Life Rescue Mission
Since 1952, Light of Life has been a place where hope and healing meet for men, women and families in need. Light of Life transforms lives through the love of Christ by providing food, shelter and hope to those experiencing homelessness, poverty or addiction to restore them as healthy members of our community.
WEBSITE: www.lightoflife.org