XTERRA Whistler this Weekend In Canada's Adventure Capital
September 15, 2023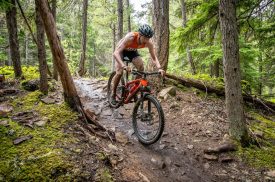 Whistler, B.C, Canada /ENDURANCE SPORTSWIRE/ – As the summer sun begins to set on the 2023 XTERRA racing calendar, the picturesque town of Whistler is gearing up to host the second edition of the XTERRA Whistler on September 16-17. This event not only marks the last stop on the 2023 Americas Tour Schedule but also serves as the fourth qualifying event in the XTERRA World Tour for the 2024 XTERRA World Championship.
With a $3,000CAD elite prize purse and 28 qualifying slots for the 2024 XTERRA World Championship up for grabs, the stakes are high. But beyond the competition, Whistler offers even more. Known as a "Disneyland for off-road athletes", Whistler is a haven for trail enthusiasts. Its vast landscapes, challenging terrains, and breathtaking views make it an unparalleled racing destination.
Following a successful debut last year, XTERRA Whistler promises an even more thrilling adventure this time around. The event not only gives Canadians a golden opportunity to secure their slot for the World Champs but also invites XTERRA's global elites to compete for the prize purse.
Swim: Athletes will dive into the pristine waters of Lost Lake Park for a 1.5K swim. With lake temperatures expected to be warm or slightly cool depending on overhead cloud formation, the swim promises to be a refreshing start to the race.
Bike: The 25.2K bike segment takes racers through a mix of gravel roads, double tracks, and traditional single tracks in the Lost Lake area, known as the Zappa trails. With no black trails on the course, racers can expect a challenging yet manageable ride.
Run: The 10K run is a blend of gravel, decommissioned logging roads, and tight single tracks. The highlight? A descent of the Green Lake Loop and a final stretch of elevated slatted woodwork trails.
XTERRA Whistler showcases several elite athletes vying for the top spot. Here's a closer look at some of the top contenders and their thoughts on the upcoming event:
World Ranking – Name, NAT
57 – Christy Drever, CAN: Hailing from British Columbia, Canada, Drever is no stranger to the XTERRA circuit. With a commendable 2nd place finish at XTERRA Whistler in 2022 and placing 1st this year at XTERRA Victoria, she's a strong contender for the podium. Drever's performance at the XTERRA World Championship in 2021, where she secured 15th place, is a reflection of her expertise.. "Whistler XTERRA is a stunning backyard event for me and I wouldn't miss it!" she exclaims.
91 – Joeri Deleebeeck, BEL: The Belgian athlete has consistently showcased his skills on the XTERRA circuit. His participation in the ELITE category with a commendable time of 03:06:56 and a 42nd place finish at the XTERRA World Championship in 2019 are notable achievements. Deleebeeck shares, "Since I was a kid I dreamt about riding and racing in Whistler after seeing a photo in a MTB magazine. Now in real life it's even better!"
275 – Nathan Killam, CAN: Killam's impressive 16th place finish at Ironman Mont-Tremblant 2022 speaks volumes about his capabilities. As a Canadian athlete, the home advantage might play in his favor, making him a key athlete to watch. Nathan shares, "The bike course is phenomenal, with a perfect mix of fast, flowy terrain and technical sections that force you to be on your game. The run course is challenging, with steep and technical conditions all the way through. Between designing and marking the course, the professional feel of the transition and finish area, and the good vibes all around, you'll find yourself wanting to come back again year after year. As a father and husband I LOVE that they have races for the kids and separate days for different events so the whole family can participate."
285 – Brian Summers, USA: Summers, with his vast experience, is one of the elites to watch out for. His 4th place finish at XTERRA Oak Mountain and his impressive stats, showcase his capabilities. Summers remarks, "It doesn't get any better than this! A nice, cold open water swim followed by a true cross country mountain bike course with just the right amount of climbing, descending and technical features followed by a playful run with a good climb to test competitors true endurance. The views, scenery, and wildlife are unparalleled. This is XTERRA Racing at its finest!"
341 – Humberto Rivera, USA: Rivera's participation in multiple XTERRA events, including the XTERRA Dominican Republic in 2022, highlighting his dedication and skill. Rivera shares, "It's perfect race prep for World Champs!! Canada has the top MTB trails in the World, there's good competition, and Canadians are genuinely good people!"
733 – Evan Girard, CAN: Girard's 2nd place finish at XTERRA Victoria in 2021 makes him a strong contender for the top spots. As a local, he might have the added advantage of familiarity with the terrain.
In the men's category, the competition between Nathan Killam, Joeri Deleebeeck, Evan Girard, and Brian Summers is anticipated to be fierce, given their vast experience and previous achievements. With these athletes having consistently performed in the ELITE category, it will be interesting to see who comes out on top.
For the women, all eyes will be on Christy Drever, given her previous performances. Her race strategy and performance in XTERRA Whistler will be keenly watched by fans and competitors alike.
As for predictions, while the race's outcome is uncertain, given the athletes' previous performances and the challenging nature of the XTERRA Whistler course, we can expect some thrilling moments and unexpected turns.
What the Organizers and XTERRA Team Are Saying:
Kristian Manietta from Endurance Specific, endurance athlete, coach and event producer expressed his passion for the return of XTERRA Whistler for a second straight year, "I love the vibe surrounding XTERRA and Off-Road Triathlon. It's a spirit that not only unites our community here in Whistler but that of endurance athletes worldwide."
Emily McIlvaine, XTERRA's Event Services Manager, highlighted, "Canada is home to so many of our most enthusiastic competitors with eight races from coast to coast, all at uniquely amazing destinations."
Kirk Ermels, XTERRA Americas Technical Director, added, "The course is beautiful. Trail wise, both the run and bike courses get harder as you go. Early on, it's not very technical, but further in, it gets rockier with the single track getting tighter and more challenging."
A big shoutout to all sponsors, the organizers, and participants for making the return to XTERRA Whistler a reality. We invite everyone to join us in this celebration of endurance and adventure.
Find updates and highlights for XTERRA Whistler on the XTERRA Americas IG page.
XTERRA is more than just a brand; it's a way of life. For 27 years, XTERRA has been at the forefront of promoting the outdoor endurance lifestyle. With a rich history of off-road adventures, XTERRA has built a global community of passionate individuals united by their love for the outdoors. Whether it's sharing experiences, celebrating victories, or overcoming challenges, the XTERRA Community is all about living more and pushing boundaries.