XTERRA USA Championship Celebration July 16 in Avon, CO
July 8, 2022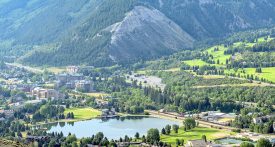 A new course, new format, and free community concert are generating a lot of excitement for the XTERRA USA Championship off-road triathlons at Beaver Creek Resort with its accompanying outdoor festival at Nottingham Park in Avon, Colorado on July 15-16, 2022.
July 8, 2022 /ENDURANCE SPORTSWIRE/ – A new course, new format, and free community concert are generating a lot of excitement for the XTERRA USA Championship off-road triathlons at Beaver Creek Resort with its accompanying outdoor festival at Nottingham Park in Avon, Colorado on July 15-16, 2022.
Thousands of participants are expected for the weekend of events that kicks off with SunsetSUP! races, free yoga, and Moana on the big screen at the Lakeside Cinema on Friday night.
The event continues Saturday with XTERRA triathlons in the morning that finish at Beaver Creek Resort, then the post-race festival at Nottingham Park & Pavilion opens at 4pm with the XTERRA awards ceremony, free kids run & bike races, yard games, food trucks, beer and wine gardens, a mechanical bull, chair massages, and live music featuring The Proper Way and Trout Steak Revival.
"We have athletes and their families coming in from more than 30 states and a dozen countries for the weekend, and we can't wait to show them all that Beaver Creek Resort and the Town of Avon has to offer," said XTERRA U.S. Tour Manager, Steve Andrus. "We also want the community to come down to Nottingham Park on Saturday afternoon and join in the fun. The concert is free, so are the kids' events, and we've even got a bike valet set-up to park your ride."
To ensure that as much waste as possible is diverted and compost and recycling streams are free of contamination, XTERRA joined forces with the Walking Mountains Science Center in Eagle Valley to have a dedicated zero-waste coordinator on-site both days.
The main event has attracted some of the world's best amateur and professional off-road triathletes led by local legend Josiah Middaugh, the 2015 XTERRA World Champion who lives and trains just down the street from the course he helped design.
"I have approached training with more of a laid back attitude compared to previous years, but I have a pretty good idea of what I am capable of on this course so we will just have to wait and see if it is enough for me to be the first Middaugh in the race," said Middaugh, who has won six of the last eight races on his home course.
Incredibly, his toughest challenger is likely to be his 18-year-old son, Sullivan, who finished sixth overall at this race last year and went on to win the 15-19 division XTERRA World Championship in Maui last December.
"This will be Sullivan's first elite race and he has actually been training for triathlon, so look out," said Josiah. "It has been great watching him start his journey with the USA Triathlon Project Podium team. This will be a fun race for him and I think he will feel at home on the trails he grew up biking and running."
And don't count out Porter Middaugh (16), who finished 17th overall in this race last year.
"Porter dusted his mountain bike off today for his first ride of the year, so we will see if his procrastination in training works as well as it does for him in his school subjects," joked his Dad.
Middaugh was also instrumental in making improvements to the course, nicknamed "The Beast," which boasts the highest elevation of any major on the XTERRA World Tour.
It starts with a one-mile swim in the cool waters of Nottingham Lake situated at 7,400-feet elevation, follows with a 16-mile mountain bike boasting 3,000-feet of elevation gain (tops out at 9,400-feet), and finishes with a six-mile trail run through the aspens then down to the bricks at Beaver Creek Resort.
"I am excited about the new course," said Middaugh, who helped the XTERRA crew link the area's best trails to give the race a fresh new look for the USA Championship race.
"This route utilizes some new single track that was added a few years ago in the Arrowhead area and flows a little better. The goal was to increase the "fun" factor by linking several of my favorite local trails. There is a similar amount of climbing as years past, but it's not all at once like before."
There will be $25,000 in prize money awarded equally to the top 10 elite men and women, plus XTERRA USA Championship crowns to age group division winners along with 51 qualifying spots into the 2022 XTERRA World Championship to be held in Trentino, Italy on October 1.
Tentative Men's Elite Start List
XWR – Name, NAT
6 – Josiah Middaugh, USA
24 – Brian Smith, USA
26 – Kieran McPherson, NZL
40 – Elliot Bach, USA
56 – Samuel Jud, SUI
80 – Colin Szuch, USA
90 – Sullivan Middaugh, USA
91 – Branden Rakita, USA
144 – Benny Smith, USA
149 – Brad Zoller, USA
181 – John Wiygul, USA
399 – Brian Summers, USA
In the women's race, Suzie Snyder is looking to reclaim the Beaver Creek crown she captured in 2019 and win her fifth XTERRA U.S. Elite Women's title along the way.
"My goal and plan is to just have fun and leave it all out there," said Snyder. "The body may not be 100% but I don't know how to give any less than 110% on race day, so we'll just have to see what happens!"
To win it all, Snyder will have to fly past the "Scottish Rocket," – three-time XTERRA World Champ Lesley Paterson.
"Excited to race! I miss the XTERRA family and all the athletes," said Paterson, who has done more movie producing than racing in recent years.
"It's super nice now because I'm not racing full time so I can smell the roses and look at the view a bit more," she said. "I love the Beaver Creek course, it's so gorgeous and inspirational for my film scripts, but at that altitude I might be too dizzy to get any good ideas!"
Another speedster to watch out for is Maeve Kennedy, an Australian living in Wanaka, New Zealand who won XTERRA Wellington last year.
"Heaps excited to be back at it, and it's my first time to America!" exclaimed Kennedy. "I've heard a lot of chatter about the altitude in this race, sounds hard, but racing is hard in general so I'll just have to give it my best go. I've been really looking forward to racing on an international stage, so I'm hoping I can keep it together and perform well."
Tentative Women's Elite Start List
XWR – Name, NAT
17 – Lesley Paterson, GBR
19 – Suzie Snyder, USA
25 – Maeve Kennedy, AUS
55 – Amanda Presgraves, USA
57 – Irena Ossola, USA
78 – Nicole Valentine, USA
156 – Chelsea Raymond, CAN
241 – Nickie Luse, USA
NR – Jennifer Wilke, USA
While this will be XTERRA's 13th year of racing in Avon, it's the first-time XTERRA has hosted its national championship in the Colorado Rockies, following 12 seasons at Snowbasin Resort in Utah (2009-2021) and eight years in Incline Village, Nevada (2001-2008).
The XTERRA USA Championship is supported by partners from the Town of Avon, Beaver Creek Resort, Gatorade Endurance, US Forest Service, Walking Mountains Science Center, Runners for Public Lands, Finish Line, Sierra Nevada, and Infinite Monkey Theorem.
The community outreach partner for the XTERRA USA Championship is The Cycle Effect, founded by Brett and Tamara Donelson. They empower under-privileged young women through mountain biking by focusing on physical wellness, community impact, and mentorship. See what they're all about at thecycleeffect.org.
Learn more, register, and find the full schedule of events at: https://www.xterraplanet.com/usachampionship
###