XTERRA Short Track France LIVE this Saturday
June 30, 2022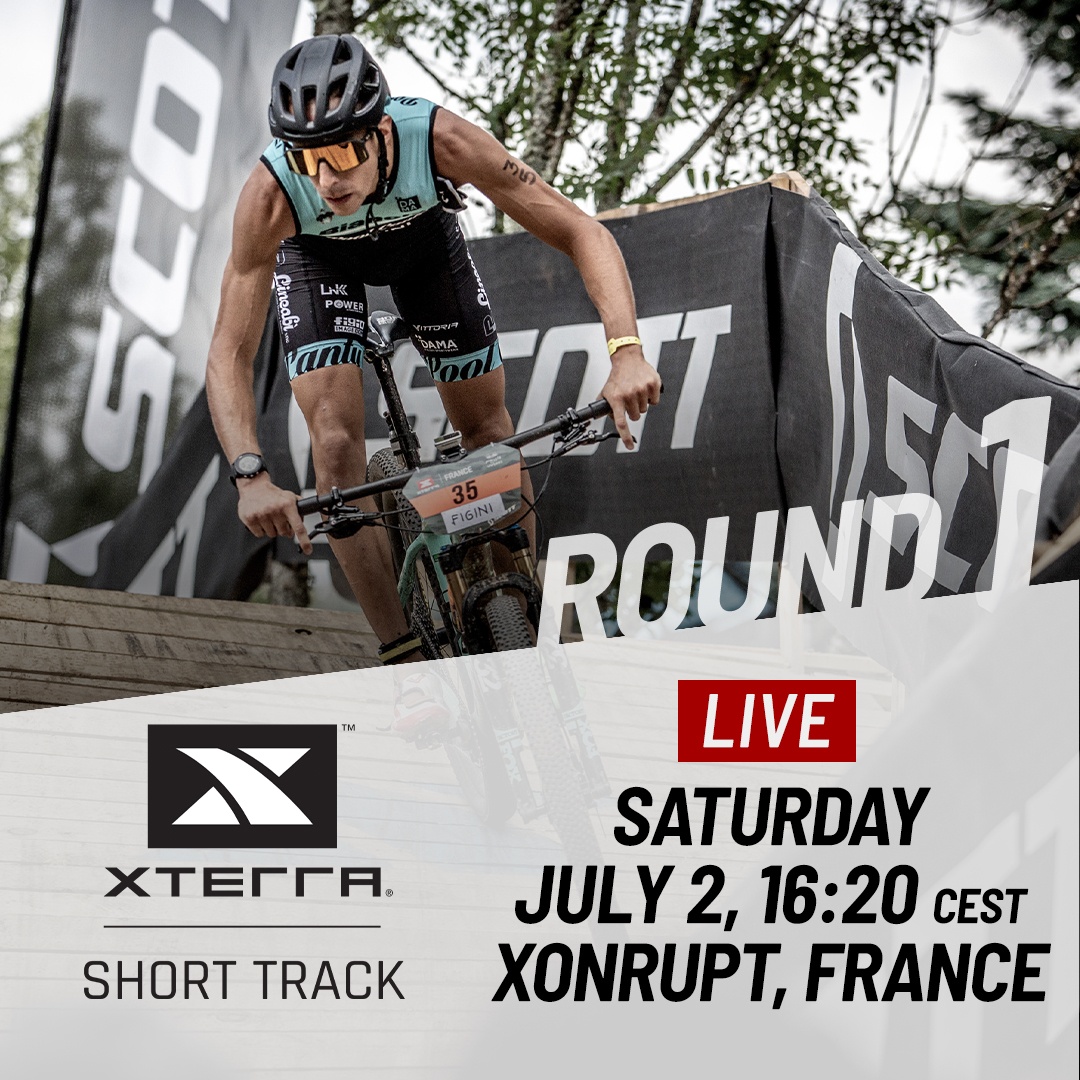 The 2022 XTERRA Short Track season gets underway this Saturday, July 2, in Xonrupt, France with the women's race at 16:20 CEST, and the men to follow at 17:20 CEST.
June 30, 2022/ENDURANCE SPORTSWIRE/ – The 2022 XTERRA Short Track season gets underway this Saturday, July 2, in Xonrupt, France with the women's race at 16:20 CEST, and the men to follow at 17:20 CEST.
Commentators Paul Groves, Roger Serrano, and Chun de Stockel will provide play-by-play and analysis during free, live coverage of the event here: https://www.facebook.com/events/1107434116842978
The XTERRA Short Track France format challenges competitors to a 200-meter swim, followed by an obstacle-filled, two-kilometer mountain bike and a one-kilometer trail run, each done three times in succession (swim-bike-run-swim-bike-run-swim-bike-run).
It's an invite-only event exclusive to the top 25 eligible men and women, the majority of whom earned their spot via XTERRA World Rankings status (see start lists below).
More than 5,000 spectators will be on-site at one of XTERRA's most iconic venues to create a roaring track-side atmosphere around the infamous bike park – an intricate series of wooden ramps and berms that up the action, speed, and adrenaline for athletes and fans.
The showcase race on Saturday is a prelude to the traditional full-distance XTERRA France off-road triathlon for amateurs and professionals on Sunday.. It's the first of four Short Track/Full-Distance weekends that will award €200,000 to the world's fastest XTERRA racers.
July 2-3: XTERRA Short Track – France
August 13-14: XTERRA Short Track – Czech Republic
August 19-20: XTERRA Short Track – Germany
October 1-2: XTERRA Short Track – Italy
The event has attracted the world's best off-road triathletes to France.
The women's race is led by the 2021 World Cross Triathlon Champion, Loanne Duvoisin of Switzerland, who finished second to only Flora Duffy at the XTERRA World Championship last December.
Duvoisin won the first-ever XTERRA Short Trace race in 2019, and captured XTERRA Short Track Lake Garda last year. Marta Menditto from Italy, who just won the u23 World Cross Triathlon Championship title, is the only other woman in the field to have won two Short Track races before.
Samantha Kingsford from New Zealand, who swept all three majors in the U.S. last season, will be making her Short Track debut on Saturday.
"It's a really different format than usual so I'll be going into the unknown a bit," she said. "It'll be fast and furious for sure, and will make for really good watching. It'll be cool to have the age groupers watch the race unfold too because they usually don't get that opportunity."
Elite Women
Bib# / XWR* – Name, NAT
1/2 – Loanne Duvoisin, SUI
2/4 – Samantha Kingsford, NZL
3/5 – Alizee Paties, FRA
4/9 – Solenne Billouin, FRA
5/10 – Jindriska Zemanova, CZE
6/11 – Morgane Riou, FRA
7/15 – Marta Menditto, ITA
8/16 – Carina Wasle, AUT
9/22 – Segolene Leberon, FRA
10/23 – Amanda Felder, USA
11/34 – Hana Odlova, CZE
12/37 – Camille Jobard, FRA
13/38 – Evelyne Trepte, SUI
14/46 – Barbora Stupkova, CZE
15/51 – Bonnie Van Wilgenburg, GBR
16/53 – Gaelle Leduc, FRA
17/36 – Jacqui Allen, GBR
18/97 – Marine Echevin, FRA
19/NR – Maria Doring, GER
20/87 – Honorine Sulliot, FRA
21/172 – Katja Krenn, AUT
22/NR – Faustine Bachelet, FRA
23/235 – Lyson Dumont, FRA
In the men's race all eyes are on Arthur Serrieres from France, who has been dominant so far this year in winning the World Cross Triathlon Championship and all three XTERRA races he's lined up at in Portugal, Italy, and Belgium.
Serrieres won the last XTERRA Short Track race, which was held in Pujols, France last year. He also won XTERRA Short Track Czech Republic in 2020.
Nobody, however, has won more Short Track crowns than Arthur Forissier from France, who has three to his credit. The only other man on the start list with a ST title is Ruben Ruzafa, the 3-time XTERRA World Champion from Spain, who won ST Italy in 2020.
Elite Men
Bib# / XWR* – Name, NAT
1/2 – Arthur Serrieres, FRA
2/3 – Ruben Ruzafa, ESP
3/5 – Sébastien Carabin, BEL
4/7 – Felix Forissier, FRA
5/8 – Maxim Chane, FRA
6/9 – Sam Osborne, NZL
7/10 – Jens Emil Sloth Nielsen, DEN
8/12 – Panagiotis Bitados, GRE
9/15 – Arthur Forissier, FRA
10/19 – Xavier Dafflon, SUI
11/20 – Jens Roth, GER
12/21 – Francois Vie, POR
13/23 – Guillaume Meunier, FR
14/25 – Francois Carloni, FRA
15/28 – Michele Bonacina, ITA
16/31 – Federico Spinazze, ITA
17/32 – Mathias Cloostermans, BEL
18/41 – Geert Laryssen, BEL
19/42 – Lucas Van Deynze, BEL
20/51 – Jacques Martinez, FRA
21/33 – Rui Dolores, POR
22/36 – Andrea Zanenga, ITA
23/52 – Kristoffer Visti Graae, DEN
24/62 – Kieran Jackson, IRL
25/89 – Tom Fisher, AUS
26/NR – Krilian Le Bihan, FRA
Other helpful links:
Everything you need to know about Short Track
XTERRA France Weekend Overview
All-time XTERRA Short Track Champions
Date Location Men's Winner/Women's Winner
August 4, 2019 Prachatice, Czech Republic Arthur Forissier/Loanne Duvoisin
September 4, 2020 Prachatice, Czech Republic Arthur Serrieres/Laura Philipp
October 3, 2020 Trentino, Italy Ruben Ruzafa/Marta Menditto
June 5, 2021 Lake Garda, Italy Arthur Forissier/Loanne Duvoisin
June 20, 2021 Prachatice, Czech Republic Arthur Forissier/Marta Menditto
August 20, 2021 Zittau, Germany Lucas Kocar/Diede Diederiks
August 29, 2021 Pujols, France Arthur Serrieres/Michelle Flipo
About XTERRA
XTERRA is a global lifestyle brand that champions the outdoor endurance enthusiast in their pursuit of relentless adventure. With over 25 years of rich, off-road history, XTERRA has cultivated a passionate community of like-minded individuals who strive to be the best version of themselves in all aspects of life. XTERRA offers partners a globally diverse community of loyal consumers who connect through sharing experiences; victories, struggles, personal stories, adventures and much more.