XTERRA Québec this Weekend in Manoir du Lac Delage
July 11, 2023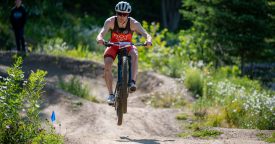 It's the 14th of 25 stops on the XTERRA Americas Tour and one of 22 majors in the XTERRA pro series, attracting a high quality elite field to the mountain biking mecca for the first time since 2019.
/ENDURANCE SPORTSWIRE/ – The 9th annual XTERRA Québec off-road triathlon takes place Sunday, July 16, at Manoir du Lac Delage in the French-speaking region of eastern Canada.
It's the 14th of 25 stops on the XTERRA Americas Tour and one of 22 majors in the XTERRA pro series, attracting a high quality elite field to the mountain biking mecca for the first time since 2019.
"The courses have greatly improved every year as millions of dollars in public funding have been invested in infrastructure and trail building at Empire 47 where we hold the event," said organizer, Christian Rodrigue. "All those elites that have not been back in a few years will do a double take when they see what it has become. We humbly believe it's one of the best courses in the world in terms of pure mountain bike and trail running flow and technical requirements."
In the men's elite race Sam Osborne (NZL) comes in looking for his 22nd career win on the XTERRA World Tour and could not be happier to race on real-deal singletrack trails.
"I've heard nothing but rave reviews about the trails in Québec and am excited to check them out for myself. I've only raced in Canada once before, in Victoria, and thought that was incredible and I'm told this might one up even that," he said.
Osborne finished fifth at the XTERRA World Cup at Oak Mountain in May, and mentioned a lot of the main players during the bike portion of that race will also be on the start line for this one.
"Edmond Roy (CAN) was sifting around in the lead group in Alabama in a race that was on from the get go, and Xavier Plouffe (CAN) fell foul to a flat but he was keeping good company too," said Osborne. "And you know the home race always brings something a little special out so I'm sure the Canadians will bring some heat. Of course, we've got another strong Kiwi too with Kieran McPherson, so there might be a good Canada/New Zealand battle out there."
There are some strong Americans as well, with veteran Branden Rakita alongside young guns Steve Croucher and James Kirschner.
"This is not a course for the faint of heart, it is always very challenging, and you will really leave it all out there by the end," said Rakita. "There is a great mix of trails that are used, from really good technical riding to more fast flow trails as well."
Rakita has raced in Québec several times, and says the evolution of the trail network has been amazing to see.
"Lac Delage is a beautiful lake to swim in and then the purpose built mountain bike trails at Empire 47 c'est magnifique! The trail system continues to grow year after year and the course really showcases what XTERRA is about, the mountain biking is phenomenal. The team takes suggestions from athletes to heart year over year so they continue to evolve and grow the race to make it a premier event."
Croucher, who finished third behind locals Roy and Plouffe at this race last year, is quick to agree.
"Empire 47's inventory of old-school East Coast tech and new-school flow trails make it the most complete bike course on Tour, and they keep getting better," he said.
Elite Men
XWR – Name, NAT
9 – Sam Osborne, NZL
12 – Kieran McPherson, NZL
49 – Edmond Roy, CAN
71 – Branden Rakita, USA
77 – Xavier Plouffe, CAN
84 – Steve Croucher, USA
116 – James Kirschner, USA
In the women's elite race Samantha Kingsford (NZL), who is sixth in the XTERRA World Rankings, won XTERRA Australia in April and finished third at the World Cup in Alabama in May.
"I've had three solid weeks of training in Boulder since my last race, so I'm looking forward to seeing where I'm at in my training," she said. "Racing the Canadians on their home turf will be tough, though, they know the trails and the flow so I will need to bring my "A game" to take the win there!"
Tough indeed, as the three Canadians in the field have won the last three XTERRA Québec races. Maud Plouffe won it last year, Carolyne Guay in 2021, and Katie Button (pictured) took the tape in 2019.
"I'm looking forward to getting back to Quebec as the events they've put on in the past were extremely well organized and the courses have been a solid test of skills and fitness," said Button. "It sounds like the course has morphed a bit for the better since I was last there in 2019, so I'm sure it'll be some existing racing in a competitive field.
For Guay, who just got back from five weeks of racing and training in Europe, competing in Québec is a homecoming of sorts.
"This is my favorite race of the season," she said. "Having the chance to race in Quebec surrounded by friends and family is so awesome! I have done this race for the last four years, since my beginning in XTERRA. I would say the bike and run courses are the best XTERRA courses I have ever done. Most of the trails are single tracks with a perfect mix of technical sections and fun, flowy trails."
Elite Women
XWR – Name, NAT
6 – Samantha Kingsford, NZL
32 – Katie Button, CAN
33 – Carolyne Guay, CAN
44 – Amanda Presgraves, USA
86 – Maude Plouffe, CAN
In addition to the main event, XTERRA Québec will host Night Runs, Night SwimRuns, Kids Trail Runs & Triathlons, Duathlons, and sprint, and super-sprint off-road triathlons.
There is a lot at stake for amateur racers as well, including the chance to secure qualifying slot into the XTERRA World Championship in Trentino, Italy this September, and for runners – the golden opportunity to secure qualifying spots into the XTERRA Trail Run World Championship half-and-full marathons which will be held just a few hours away in Carrabassett Valley, Maine on October 1.
Find event updates on Instagram.
All-time XTERRA Quebec Elite Race Champions
2018 – Josiah Middaugh/Fabiola Corona
2019 – Josiah Middaugh/Katie Button
About XTERRA
X marks the unknown. TERRA is earth. United, we are XTERRA – a brand born to discover unknown territory. Since our inception in 1996, XTERRA has been inspiring off-road adventure by connecting people with nature through events with a fun, family vibe. We offer 13 off-road race options, from triathlon-to-trail running, for participants of all ages and skill levels in 47 countries worldwide. We have a global perspective, we aspire to protect where we play, and live the XTERRA lifestyle everyday, everywhere we roam. Join us off-road at xterraplanet.com.