XTERRA North American Championship Debuts at Oak Mountain State Park in 2024
October 11, 2023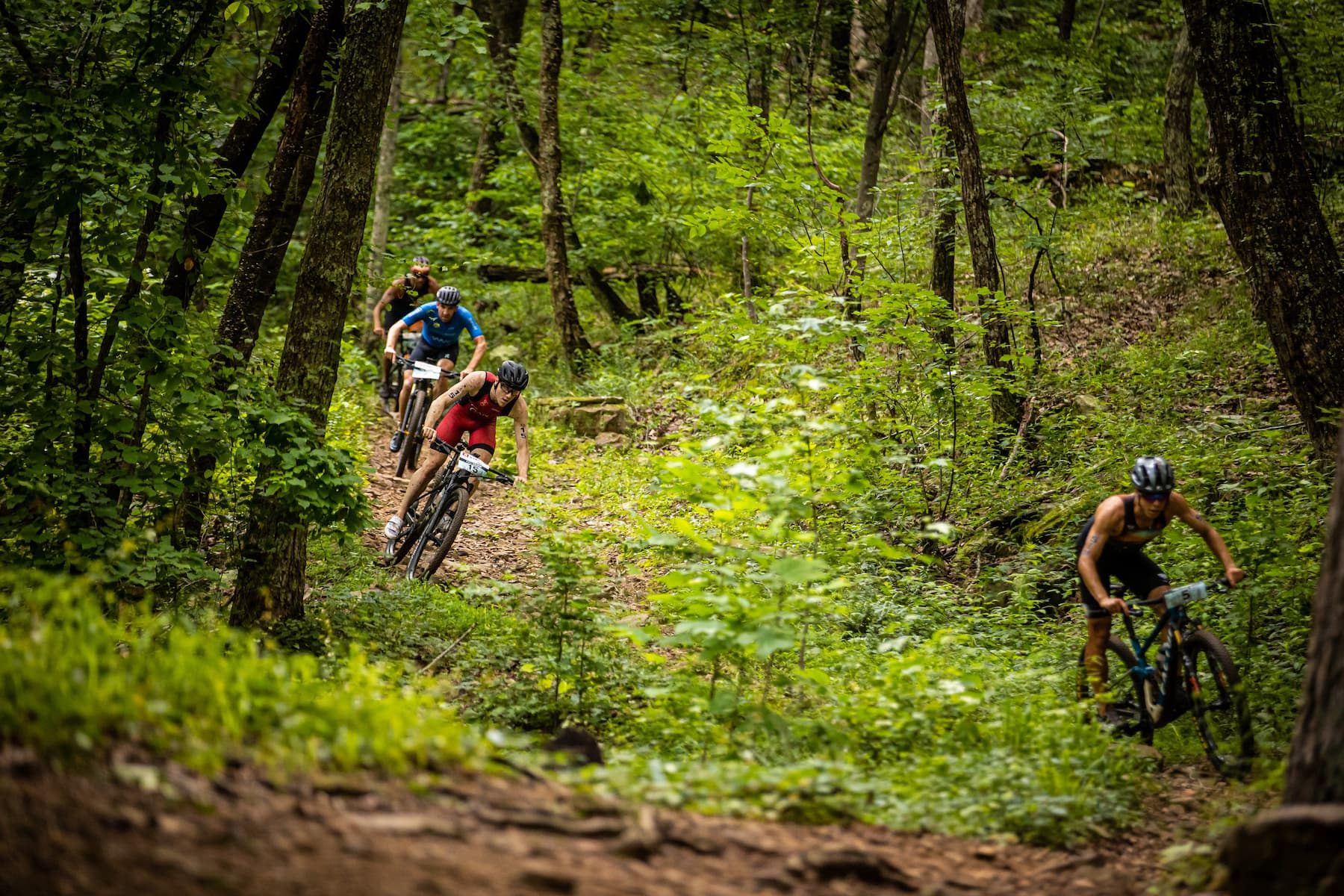 PELHAM, ALABAMA /ENDURANCE SPORTSWIRE/ – In a groundbreaking move, XTERRA is proud to announce that the inaugural XTERRA North American Championship will be held at the renowned Oak Mountain State Park in Shelby County, Alabama. This landmark event, scheduled for May 18, 2024, marks a major shift from an All-American XTERRA championship hosted in the Western U.S. to an expanded continental showcase that spotlights the Southeast's vibrant off-road racing scene.
Kirk Ermels, XTERRA US Technical Director, explains the venue choice: "Oak Mountain has one of the best trail networks we've ever found. Thanks to the amazing work of BUMP (Birmingham Urban Mountain Pedalers), the course showcases breathtaking scenery and diverse terrain with some of the best mountain biking around." He adds, "It's a fantastic mix of techy rocks and roots, as well as smooth flowy trails. It's so much fun."
The championship promises a weekend of thrilling competition, with the XTERRA Short Track off-road triathlon format, full and sprint distance off-road triathlons, and an Elite Prize Purse of $30,000 up for grabs. As part of the XTERRA World Cup, Oak Mountain will be an integral part of the 2024 season.
"After 16 years of Shelby County and Oak Mountain hosting XTERRA Oak Mountain and last year's World Cup Stop including the first ever Short Track on American soil, we knew it would be a good fit to bring the first ever XTERRA North American Championship here," adds Steve Andrus, XTERRA Americas Tour Manager.
"Of all the races I've done so far with XTERRA and cross-triathlons, this is at the top of my list of cool, mountain bike specific terrains. I would come here just to ride the trails and soak it all in," recollects 2023 XTERRA Oak Mountain runner-up, Eric Lagerstrom.
Kendall Williams, Manager of Tourism & Events at Shelby County Alabama, shared the county's anticipation: "We are thrilled to be hosting XTERRA's first ever North American Championship! XTERRA is the leader in outdoor events and we eagerly await showcasing our true Southern hospitality to athletes from around the globe."
From May 17-19, 2024, the XTERRA Oak Mountain Festival will offer more than just races. Attendees can immerse themselves in a vibrant atmosphere filled with live music, food trucks, beer gardens, and activities for all ages. Andrus emphasized the festival's community-centric approach: "Shelby County and Oak Mountain State Park have been great partners and have been working hard with the Local Organizing Committee. The festival promises enjoyment for all."
Registration is now open at https://www.xterraplanet.com/event/xterra-oak-mountain.
Alabama's largest state park, Oak Mountain, spans 11,632 acres, offering a diverse range of habitats from serene lakes to rugged terrains. Recognized by Runner's World as one of "America's Crown Jewels – 25 best trails in the nation," the park is a haven for outdoor enthusiasts.
Visitors can indulge in a plethora of activities, from mountain biking on the renowned Red Trail to hiking and fishing. The park also houses the Alabama Wildlife Center, a rehabilitation service for injured native birds, and the Oak Mountain Interpretive Center, offering interactive exhibits.
Events like the XTERRA championship highlight the park's versatility, accommodating both natural exploration and organized activities. With its proximity to Birmingham, Alabama's largest city, Oak Mountain is a convenient retreat for those seeking nature's embrace.
For more details about the XTERRA North American Championship at Oak Mountain State Park, visit xterraplanet.com/event/xterra-oak-mountain.
XTERRA is a global brand that champions the outdoor endurance enthusiast in their pursuit of relentless adventure. Going on three decades of events, XTERRA is a leading off-road multisport event series and an authentic, worldwide community with 13 off-road event categories spread across 47 countries.
As XTERRA looks to the future, the goal is to rotate the North American Championship every 2-3 years, allowing regions like Puerto Rico, Mexico, and Canada to host, further amplifying XTERRA's global presence.