XTERRA Lake Scanno this Saturday in Abruzzo
July 20, 2023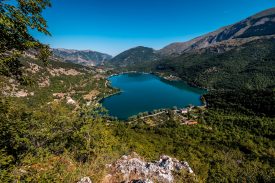 The 10th annual XTERRA Lake Scanno off-road triathlon takes place this Saturday, July 22, at the famous heart-shaped lake in Southern Italy's Abruzzo National Park.
/ENDURANCE SPORTSWIRE/ – The 13th of 21 stops on the 2023 XTERRA EMEA Tour has built a reputation for being one of the most dream-worthy races in all of Europe.
The challenge combines a 1.5K swim with a new and improved two-loop 30K mountain bike that climbs high into the hills and back down through the cobblestone streets of the historic village, and a 10K run that ascends up the staircases of Scanno and into pristine forest single tracks.
"It's the most amazing place ever," exclaimed three-time XTERRA World Champion, Lesley Paterson, following her win in 2015. "It goes through small villages, up steep climbs and down vertical cliffs, weaving in and out of wild horses and goats. It's a true slice of culture within an epic challenge."
XTERRA Europe technical director Nico Lebrun is quick to agree.
"I'm still in awe of this lake and beautiful old village, and even after all these years I'm still getting lost on these streets," he said. "The food is amazing, lots of local treats, and every time I come here I buy some olive oil, fresh tomato and basil, and the guy will tell me, "it's from Abruzzo!" They love their land, and it is easy to understand why. I can also see that XTERRA is part of their local life when July rolls around, as you can see pictures of XTERRA in the shop windows."
Lebrun also noted the new bike loop is not as steep as in previous years, and while still difficult, it's much more accessible for the every day rider and is certain to attract a broader reach of mountain bikers and triathletes alike.
XTERRA Lake Scanno is the second of four big races in Italy this year. The first, XTERRA Lake Garda, was won by Arthur Serrières (FRA) and Helena Karásková (CZE) in May. The next is the XTERRA World Championship which will be held in the Dolomites surrounding Trentino in September, and the finale is in Sardegna in mid-October.
In the men's elite race the top ranked elite in the field is Italian, Michele "The Shark" Bonacina, who is having a stellar 2023 campaign that has him ranked fourth in the XTERRA World Cup standings after the first five events. He's never won a major, and to do it in his home country would be quite special.
This is still a climbers course, however, and Xavier Dafflon (SUI) has proven time and again that he's one of the best in the world when the course goes vertical and as proof, he won this race in 2017.
Elite Men
XWR – Name, NAT
16 – Michele Bonacina, ITA
17 – Sebastien Neef, GER
20 – Xavier Dafflon, SUI
37 – Riccardo Ridolfi, ITA
38 – Karel Dusek, CZE
40 – Tom Fisher, AUS
41 – Dominik Wychera, AUT
46 – Wouter Dijkshoorn, NED
57 – Samuel Jud, SUI
68 – Matteo Sfregola, ITA
70 – Jacques Martinez, FRA
103 – Quirijn Waaijenberg, NED
NR – Lucas Goene, NED
NR – Diego Ras, ITA
In the women's chase Carina Wasle (AUT) will look to take advantage of both her XTERRA experience (18 years in the sport) and her power-to-weight ratio to capture her first big win since taking home the XTERRA Tahiti title in 2019.
Likewise, the young-gun Georgia Grobler from South Africa, who is racing in her rookie season as an elite after capturing the XTERRA World Championship in the 25-29 division last year, would like nothing more than to put a stamp of approval on her elite status by claiming her first XTERRA World Tour win on Saturday.
It'll be hot this weekend, so those who can handle the heat will have an edge on the field.
Elite Women
XWR – Name, NAT
14 – Carina Wasle, AUT
29 – Georgia Grobler, RSA
50 – Lorena Erl, GER
73 – Katja Krenn, AUT
Follow the race on Instagram and find live results here starting at 11:45am local time.
All-time XTERRA Italy Lake Scanno Elite Champions
Year – Man/Woman
2013 – Conrad Stoltz/Helena Karaskova-Erbenova
2014 – Ruben Ruzafa/Helena Karaskova-Erbenova
2015 – Ruben Ruzafa/Helena Karaskova-Erbenova
2016 – Mauricio Mendez/Lesley Paterson
2017 – Xavier Dafflon/Helena Karaskova-Erbenova
2018 – Roger Serrano/Eva Garcia Gonzalez
2019 – Ruben Ruzafa/Helena Karaskova-Erbenova
2021 – Maxim Chane/Sandra Mairhofer
2022 – Maxim Chane/Alizee Paties