XTERRA Italy – Lake Garda pits Serrières vs. Kulhavý
May 25, 2023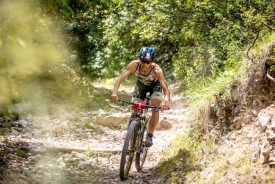 Reigning XTERRA World Champion Arthur Serrières will go up against the 2012 mountain bike cross country Olympic gold medalist, Jaroslav Kulhavý from the Czech Republic.
/ENDURANCE SPORTSWIRE/ – The sixth stop on the 2023 XTERRA EMEA Tour takes participants to the town of Toscolano-Maderno on the western shores of Lake Garda in Italy this Saturday, May 27, for one of the toughest off-road triathlon challenges on the global circuit.
"You cannot start this race hoping for a result if you are not ready with the whole Warrior package; fitness, strength, technical skills, and mental toughness," said XTERRA EMEA technical director Nicolas Lebrun, noting the course has very steep climbs and technical descents on both the bike and run. "If you win here, you are one of the fittest XTERRA athletes in Europe."
Reigning XTERRA World Champion, Arthur Serrières (FRA), is no doubt one of the fittest athletes on the planet, but is also just a few days removed from sweeping the full-distance and XTERRA Short Track races on a grueling weekend of races at Oak Mountain State Park in Alabama 5,000 miles away.
"I wanted to race in Garda to have one more race under my belt before the XTERRA European Championship in Belgium so I could be in perfect shape," said Serrières, who won this race last year. "And when I don't race, I end up training too much, so it's good for me."
And what's good for XTERRA fans around the world will be to see Serrières go up against the 2012 mountain bike cross country Olympic gold medalist, Jaroslav Kulhavý from the Czech Republic (pictured above at XTERRA Malta earlier this year).
Garda is just the course for mountain bike specialists like Kulhavý, and XTERRA's own top rider over the last six months, Sébastien Carabin (BEL).
Carabin (pictured above at Garda 2022) did a triple in Alabama last weekend. He was sixth in the full-distance on Saturday then won the XTERRA Americas Half-Marathon Trail Run Championship before competing in the XTERRA Short Track race in the afternoon.
Elite Men
XTERRA World Rank – Name, NAT
1 – Arthur Serrières, FRA
5 – Sébastien Carabin, BEL
22 – Federico Spinazzé, ITA
35 – Karel Dušek, CZE
39 – Andrea Zanenga, ITA
53 – Samuel Jud, CHE
69 – Matteo Sfregola, ITA
242 – Danali Velinov, BGR
NR – Thomas Epton, GBR
NR – Jaroslav Kulhavý, CZE
NR – Anthony Pujades, FRA
In the women's elite race, home country triathlon star Marta Menditto, the u23 World Cross Triathlon Champion, ran her way to a second-place showing at XTERRA Oak Mountain on Saturday to move into the No. 2 spot in the XTERRA World Cup standings.
"With Oak Mountain being just last weekend, Garda wasn't originally on my schedule, but everyone has said what a good race it is. I've never done it before and it's in Italy, so I decided to make the trip," said Menditto. "Racing at home is always nice, and to win here would be special, but I am tired from some difficult travel home and a cold. I still hope to put together a good race even if I'm not in my best shape."
A pair of XTERRA veterans – Helena Karásková Erbenová (CZE) and Carina Wasle (AUT) – will hope to show her that experience matters. Karásková Erbenová won the first-ever XTERRA Italy – Lake Garda race in 2018 and Wasle has raced in more places around the world than anyone in the sport.
Elite Women
XTERRA World Rank – Name, NAT
5- Marta Menditto, ITA
12 – Helena Karásková Erbenová, CZE
13 – Carina Wasle, AUT
26 – Carole Perrot, CHE
44 – Camille Jobard, FRA
51 – Irena Ossola, USA
73 – Rea Kolbl, USA
NR – Maisie Aubrey, GBR
NR – Charlene Clavel, FRA
Live Timing / Live updates starting at 12:30pm, Saturday.
Read the Full Event Preview here.
All-Time XTERRA Italy – Lake Garda Elite Champions
2022 – Arthur Serrières / Jindřiška Zemanová
2021 – Arthur Forissier / Loanne Duvoisin (Short Track)
2019 – Arthur Forissier / Morgane Riou
2018 – Arthur Serrières / Helena Karásková Erbenová
About XTERRA
X marks the unknown. TERRA is earth. United, we are XTERRA – a brand born to discover unknown territory. Since our inception in 1996, XTERRA has been inspiring off-road adventure by connecting people with nature through events with a fun, family vibe. We offer 13 off-road race options, from triathlon-to-trail running, for participants of all ages and skill levels in 47 countries worldwide. We have a global perspective, we aspire to protect where we play, and live the XTERRA lifestyle everyday, everywhere we roam. Join us off-road at xterraplanet.com.