XTERRA Fall Championships unfold in Utah, Italy this weekend
September 23, 2021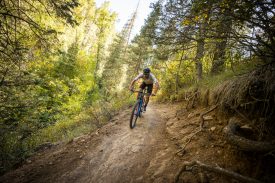 The first days of Fall bring championship racing to the U.S. and Europe
September 23, 2021 /ENDURANCE SPORTSWIRE/– This weekend, September 25-26, the best amateur and elite off-road triathletes, duathletes, and trail runners will spring into action at the XTERRA USA Championships in Ogden, Utah and XTERRA Trentino Dolomiti Paganella in Molveno, Italy, which will double as the Europe Cross Duathlon and Triathlon Championships.
The USA Championship course, which was switched to a run-bike-run duathlon format after the swim was canceled due to Harmful Algal Blooms (HABs), features a 2.5-mile trail run, transitions to a 19-mile mountain bike, and finishes up with a 5.5-mile trail run.
"Duathlon changes the game a bit, it will bring in some guys very early on who aren't usually factors until the back end of races, which I am sure will create some fireworks early," said Sam Osborne from New Zealand, who won this race in 2019, and as one of the best mountain bikers on the XTERRA Planet looks well positioned to take the tape once again.
His chief competitor looks to be 14-time XTERRA USA Champion, Josiah "Beast Mode" Middaugh.
"I am feeling charged to race a new format and new course route," said Middaugh, who won four titles at Snowbasin Resort through the years, his last in 2018.  "I used to race a lot of duathlons and they are tough, the run on the front end can really do some damage later in the race and make for a very tough second run. It'll be a different dynamic for sure. Hard to say how it will all play out, but it'll be hot from the gun and make for some exciting racing."
XTERRA USA Championship Elite Men, as of 9.22.21
Position at 2019 USA Championship – Name, NAT
1 – Sam Osborne, NZL
3 – Branden Rakita, USA
5 – Brian Smith, USA
15 – Andy Lee, USA
NA – Nathan Cohen, USA
NA – Steve Croucher, USA
NA – Eric Lagerstrom, USA
NA – Daniel Reyes, USA
NA – Garen Marter, USA
NA – Kieran McPherson, NZL
NA – Josiah Middaugh, USA
NA – Keller Norland, USA
NA – Humberto Rivera, USA
NA – Hans Ryham, USA
NA – Colin Szuch, USA
In the women's race Lesley Paterson is back to defend her title, Suzie Snyder is eager to steal a win, Amanda Felder is fresh off her first XTERRA World Tour win in Victoria, and Samantha Kingsford from New Zealand is on a mission.
"In 2019 I wanted to win the tour, this year I want to win all three of the U.S. races. To take three would be absolutely amazing," said Kingsford, the reigning XTERRA Pan Am Tour Champion.
"A duathlon is not my first pick to be racing for the title, I think my one and only attempt at a du was about 10 years ago! But as elite athletes we have to learn to roll with the punches and adapt to whatever is thrown at us, and I can't wait to see the new mountain bike course! If rumors live up to what is being said, it will be a fun technical mountain bike course which will be awesome because I think XTERRA needs to showcase proper mountain biking in our racing."
At the XTERRA USA Championship two years ago, Kingsford took a big lead into the run, but Paterson, aka the "Scottish Rocket," kicked it into another gear to take the win, her fifth in Utah and third straight. Two weeks ago she won XTERRA Laguna Beach in her first race since Worlds in 2019.
"It was just so fun to be back in the community," said Paterson, who wrote a feature film for Netflix, All Quiet on the Western Front, that is in post-production and will debut next summer.  "With the focus on our film career, I'm not going to be racing and training full time anymore, but with races like Utah, I just love the location and miss my XTERRA peeps so much that I said f%*# it!"
The three-time XTERRA World Champ is just about to start production on another film, but rest assured she's still in racing shape.
"I've been biking and running, though not with the same intensity and commitment as previously so not at my usual spunky fit self, but also, not unfit either.  I'll be breathing out my arse, no doubt, but will just be so happy and content to be out there suffering with my fellow gals and guys!"
XTERRA USA Championship Elite Women, as of 9.22.21
Position at 2019 USA Championship – Name, NAT
1 – Lesley Paterson, GBR
2 – Samantha Kingsford, NZL
5 – Suzie Snyder, USA
NA – Amanda Felder, USA
NA – Kirsty Jahn, USA
NA – Jessica Koltz, USA
NA – Irena Ossola, USA
NA – Rebecca Zitnay, USA
The XTERRA USA Championship race starts 9am MDT on Saturday, September 25. Follow the updates on instagram.com/xterraplanet.  Learn more about the course at xterrautah.com.
The fastest racers in each five-year age group will be honored as the XTERRA USA Champion. Elites will be competing for $25,000 in prize money, and cameramen will position themselves around Wheeler Canyon and the Wasatch Range to capture all the action for a internationally broadcast TV show.
"We love bringing the XTERRA Tribe together in Utah, the energy level is just incredible," said Janet Clark, president of XTERRA. "Ogden and Snowbasin are simply the best – between the facilities at Snowbasin, the great restaurants and atmosphere along Historic 25th Street in Ogden, and the unbelievably supportive community – we can't ask for a better venue."
The triathlons are Saturday, September 25 and on Sunday, the 26th, it's the trail runners turn on the mountain at the XTERRA Trail Run National Championship half-marathon.
Across the ocean in Italy, Sunday's off-road triathlon will be streamed live on Facebook.com/XTERRAEurope at 10:45am CEST. The elite and under-23 men's race kicks off at 11am, with the elite and under-23 women's race starting shortly after at 11:03am CEST.
The all-star cast of competitors include current and past XTERRA European Champions and previous XTERRA and ITU World Champions, a virtual who's who of European elite off-road racing talent.
Read more on all of this weekends events at xterraplanet.com/news.
About XTERRA
XTERRA® is a global lifestyle brand and off-road race series. What started in 1996 as the world's first off-road triathlon in Maui, Hawaii, is now an endurance sports lifestyle with a racing presence in over 30 countries worldwide and expanding. XTERRA® cultivates a passionate and dedicated community, celebrated by intrepid triathletes, trail runners and outdoor adventurists around the globe.  Learn more at www.xterraplanet.com.