XTERRA European Championship Rotates to Belgium
December 8, 2022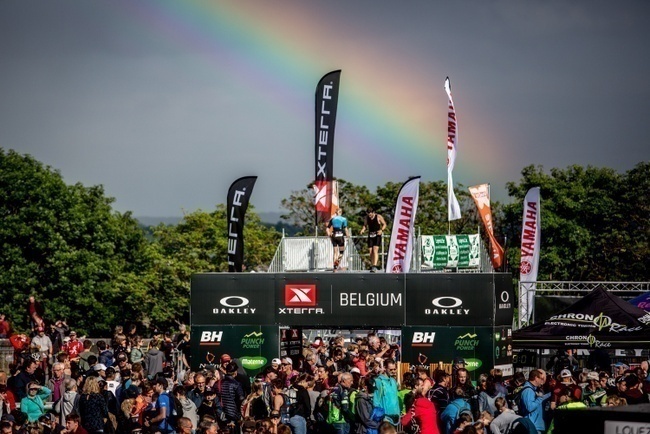 The 14th annual XTERRA European Championship off-road triathlon will be staged at The Citadel of Namur in Belgium on Saturday, June 10, 2023, for the very first time.
December 8, 2022 /ENDURANCE SPORTSWIRE/ – The 14th annual XTERRA European Championship off-road triathlon will be staged at The Citadel of Namur in Belgium on Saturday, June 10, 2023, for the very first time.
The move, part of a global initiative to regularly rotate XTERRA's championship venues, provides a spectacular new experience and challenge for athletes chasing the continental crown.
The iconic Citadel, a fortress originally built in the 900s, hosted XTERRA Belgium for four years from 2016 to 2019 and the inaugural event in 2016 was the biggest first-time XTERRA race ever with more than 1,000 entries. In 2023, following a two-year stint at the nearby Port of Beez, XTERRA will return to its historic home in grand fashion.
"We couldn't be more excited to partner with XTERRA Belgium to host the European Championships," said Doug Hall, XTERRA EMEA General Manager. "A big part of XTERRA's future growth is sharing our exciting sport with as many people as possible, and with the news that XTERRA Belgium was returning to The Citadel and bringing the event back to the heart of a city with more than 100,000 people, it just made sense for this race to host the biggest event of the XTERRA EMEA Tour."
The race starts with a 1.5 kilometer swim around an island in the middle of the Meuse river, follows with a twisting 37-kilometer mountain bike through city streets, past the Citadel, and into fabulous forest trails, and finishes with a hilly 10-kilometer trail run.
There will be €25.000 in prize money awarded equally to the top 10 elite men and women, plus XTERRA European Championship crowns to age group division winners along with 58 qualifying spots into the XTERRA World Championship to be held in Trentino, Italy on September 23, 2023.
In addition, on Sunday, June 11, the top 25 elite men and women will go head-to-head for another €5.000 in prize money in the action-packed, invite-only XTERRA Short Track competition.
Belgian event organizers Denis Detinne and Florian Badoux, both long-time XTERRA racers themselves, are passionate about designing great courses while also providing a truly exceptional event experience for athletes, their families, and the city itself.
"As an XTERRA organizer and athlete, I am proud to host the 2023 XTERRA European Championship in my city," said Badoux. "Belgium is a land of cycling and triathlon, which placed XTERRA Belgium on the world map from its first edition in 2016 and we can't wait to return once again to The Citadel of Namur. This historic site is a monument of sports in Belgium, it's one of the most emblematic and unmissable places on the XTERRA World Tour, and the perfect place for the European Championship."
Maxime Prévot, the Mayor of Namur, is quick to agree.
"We are delighted to see the attractiveness for The Citadel and City of Namur for major sporting events like XTERRA and the UCI Cyclo-Cross World Cup," said Prévot. "It's one of the most beautiful places for sporting exploits in the world, and I know Florian Badoux's team will do wonders to enhance our capital's image with this beautiful sport. The organizers and athletes, both professional and amateur sportsmen and women, will have the full support of our City."
In addition to the main event, XTERRA will host sprint and relay races along with a variety of other endurance events for the whole family including kid's races, vendor booths, food trucks, beer gardens, and live music at one of the most famous after-parties in all of XTERRA.
"I am convinced that the Citadel of Namur and its spectacular course will offer athletes great moments of thrills and a unique experience," said Badoux. "Namur is ideally located in the heart of Europe, and has a large offering of amazing hotels, restaurants, shops, and museums. Its ease of access will allow athletes all around Europe and across the globe to experience this championship. To the whole XTERRA Family, the XTERRA Belgium team is looking forward to seeing you in great shape for an edition that promises to be crazy!"
From its inception, XTERRA Belgium's motto has been "Where Sport Meets Party," and those lucky enough to have experienced the magic of previous years can attest to the electric atmosphere.
"It's definitely not all about the racing," exclaimed Hall. "The party is next level, and beyond that, Namur is a spectacular city to visit. The history, culture, food and drinks all create the perfect setting for athletes to really enjoy themselves both before and after the race."
Learn more and register at xterraplanet.com.
The XTERRA European Championship, one of 19 events in 12 countries on this year's XTERRA EMEA Tour, is being held in Belgium for the first-time. Last year's race was in the Czech Republic and previous editions were hosted in Germany, Denmark, England, Italy, and Austria.
All-time XTERRA European Championship Elite Race Winners
Year Location – Men/Women
2006 Villacidro, Italy – Nicolas Lebrun/Renata Bucher
2007 Sardinia, Italy – Olivier Marceau/Eszter Erdelyi
2008 Sardinia, Italy – Olivier Marceau/Sibylle Matter
2009 Klopeinersee, Austria – Franky Batelier/Renata Bucher
2010 Sardinia, Italy – Franky Batelier/Melanie McQuaid
2011 Zittau, Germany – Olivier Marceau/Marion Lorblanchet
2015 Cranleigh, England – Ruben Ruzafa/Lesley Paterson
2016 Zittau, Germany – Ruben Ruzafa/Michelle Flipo
2017 Mons Klint, Denmark – Bradley Weiss/Brigitta Poor
2018 Zittau, Germany – Bradley Weiss/Brigitta Poor
2019 Prachatice, Czech Republic – Arthur Serrieres/Morgane Riou
2021 Zittau, Germany – Arthur Serrieres/Sandra Mairhofer
2022 Prachatice, Czech Republic – Arthur Serrieres/Sandra Mairhofer
2023 Namur, Belgium
About XTERRA
X marks the unknown. TERRA is earth. United, we are XTERRA – a brand born to discover unknown territory. Since our inception in 1996, XTERRA has been inspiring off-road adventure by connecting people with nature through events with a fun, family vibe. We offer 13 off-road race options, from triathlon-to-trail running, for participants of all ages and skill levels in 47 countries worldwide. We have a global perspective, we aspire to protect where we play, and live the XTERRA lifestyle everyday, anywhere we are. Join us off-road at xterraplanet.com.