World's Sports Group Co-hosted the 2022 Edition of the European Running Business Conference
October 11, 2022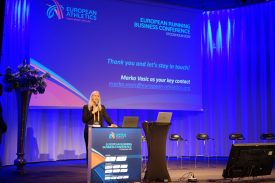 One of the most influential occurrences in the industry, the European Running Business Conference brought to light some of the most pressing topics in the modern world of running as well as potential solutions and paths moving forward
/ENDURANCE SPORTSWIRE/ – European Running Business Conference is a biennial event organised by European Athletics, one of the six Area Associations of World Athletics. This year's Conference was held in Stockholm, Sweden, on the 15th-17th of September. World's Sports Group, the company behind the marketplace World's Marathons and the endurance event calendar Ahotu, along with MarathonGruppen (organisers of the Adidas Stockholm Marathon and other events) have been the official partners this year and were co-hosting the event.
The 2022 edition of ERBC saw race organisers of mass participation events and sports federations, as well as top industry experts from all over the world, attending the conference to ponder on the future of the sport. Some of the widely discussed subjects were: the challenges of pricing the events and the importance of correct pricing, diversity in the world of endurance sports and the ways to attract younger generations. This year the topic of trail running has also been thoroughly explored due to its booming popularity. There have also been talks on a more general matter, such as getting the running industry as a whole back on track.
Attendees all shared an optimistic outlook, agreeing upon the notion that despite the devastating effect the pandemic had on endurance sports and mass participation events, the recovery from it went much better than the general community expected. After the Conference, everyone's impression was that the industry is now much better prepared for similar hindrances and shows no signs of sizing down.