World's highest bike race: GFNY Peru in the Andes this Sunday
April 6, 2022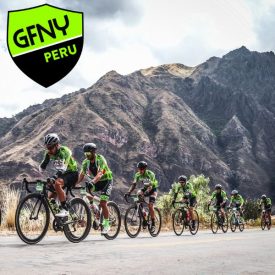 The second edition of GFNY Peru will be held again in historic Cusco
New York City (April 6, 2022) /ENDURANCE SPORTSWIRE/ – As race season commences, GFNY Endurance Sports Series continues with the second GFNY Peru this Sunday, April 10. The host village of Cusco is an old Incan city located in the Peruvian Andes. The course crosses archaeological Incan ruins and landscapes, such as The Sacred Valley and Puka Pukara.
The GFNY Peru racecourse covers 128.6km with 1729m of climbing, reaching up to a staggering 3780m above sea level.  This makes the race world's highest mass participation road cycling race.
"Racing at such high altitude has its particular fascination," says GFNY CEO Uli Fluhme. "And doing so in this historical setting in the footsteps of Incans from thousands of years ago, is extra inspiring."
Website: peru.gfny.com
About GFNY Global Endurance Sports Series
GFNY Global Endurance Sports Series is a sports event company with three decades of experience in racing, planning and organising events. The global endurance sports brand hosts multiple events throughout the year around the world on five continents.
Working with partners around the world to deliver a first-class experience, GFNY Global Endurance Sports Series puts their athletes first.
Cycling
30 plus events around the world. View the 2022 calendar here
Riders get to BE A PRO FOR A DAY ® by competing against others, themselves and the clock in a personal endurance challenge.
Top 10% (20% at regional championships) of finishers in each age group qualify for the Racer Corral at every GFNY World event.
GFNY World Championship NYC
The 10th annual GFNY World Championship New York will be held on May 15, 2022. The race features the world's most international peloton with riders from over 90 countries. Athletes take on a challenging 100-mile route from NYC to Bear Mountain to Fort Lee to compete against each other, the clock and themselves in a personal endurance challenge.
The official GFNY website is: www.gfny.com.
Further Material for Media Use
Official GFNY Cusco video: here
GFNY Press Images: here
GFNY Results: here
GFNY World calendar graphic: here
Previous GFNY press releases: here
Media Contact
Gran Fondo New York Inc.
Uli Fluhme, uli@gfny.com
Caroline Lindsay, caroline@gfny.com