World Class Cyclists and Triathletes Chosen by Spirig And Matthews to Deliver Them Sub8 Performances
May 16, 2022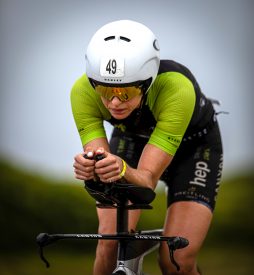 The women have stacked their bike pacing teams with talented cyclists and triathletes.
Sydney, Australia 16 May 2022/ENDURANCE SPORTSWIRE/ – The Pho3nix Foundation today announced the bike pacing teams selected by Nicola Spirig and Kat Matthews for the Pho3nix Sub8 Project, Powered by Zwift.
To go faster than eight hours over the full distance of triathlon and overcome physical and mental barriers never before breached, teams of pacemakers chosen by these champion athletes will keep them on pace to Defy The Impossible.
To assist Matthews on the 180-kilometer bike leg, the Ironman vice world champion has gone with a core group of professional cyclists. From UK domestic cycling team The Independent Pedaler Nopinz, she has recruited two-time Scottish national champion Jennifer George, Irish national record holder Kelly Murphy, and three-time vice national champion Alex Clay. Joining them are their fellow cyclists multiple British national champion Emily Meakin of AWOL O'Shea and Frankie Hall, a student athlete with British Cycling elite development team Loughborough Lightning. Rounding out the team is Leah Dixon is the 2021 Welsh national road race champion, national closed circuit champion, and a professional cyclist riding for TIBCO – Silicon Valley Bank.
Matthews has rounded out her roster with triathletes who will also pull double duty on the bike and run legs: multiple Ironman champion and bike course record holder Ruth Astle, and two-time European and three-time Ironman 70.3 champion India Lee who will also pace Matthews on the swim.
Matthews says, "Selection for my Sub8 team has been challenging and very whirlwind-esque. However I have not had to compromise at all on the absolute dream team that I had wanted, which was incredible… Selection obviously was based on performance predominantly, but there's been a big factor of communication and the relationship between me, them, and the team as a whole. That's been really important to me because I think that's such a key element of the whole day and the week in the build-up to this."
Fresh off Matthews' runner-up and Astle's fourth-place finishes at the Ironman World Championship in St. George, they can now dedicate the next few weeks to focusing fully on Sub8. Astle will act as the main domestique for Matthews to keep her in touch with the riders in front as they rotate in and out. She says, "As Kat is a great friend of mine, being able to work closely with her to think about the best strategy to go as fast as possible has been a fun challenge. We have a hugely talented, brilliant team, and a super-talented athlete in Kat for us to help go as fast as possible. I have no doubt Kat will go Sub8. It is just about how fast she can go and how much she can beat Nicola by."
Meanwhile, dual Olympic medalist Spirig has selected a greater proportion of multisport athletes to cyclists for her bike pacemaker team. Only Irish national champion Joanna Patterson (also from The Independent Pedaler Nopinz) and five-time Ironman 70.3 champion Imogen Simmonds are doing cycling-only duties.
Spirig's pacemakers for cycling and running include: Ironman 70.3 Oman and Ironman Tallinn winner and five-time UK time trial course record holder Lizi Brooke of Wahoo Le Col, professional cyclist and two-time Powerman vice world champion Melanie Maurer, Ironman Maastricht champion and Queensland ITT series winner Els Visser, Olympian and Pan American, South America, and Brazil national triathlon champion Luisa Baptista, Ironman Asia Pacific Champion Amelia Watkinson, and Olympian and two-time mixed relay world champion Lucy Buckingham.
Spirig initially looked at recruiting more from professional cyclists and mountain bikers; due to scheduling conflicts with their racing calendar, she had to look elsewhere. She says, "That led me to looking at the strongest female triathletes, and also some duathletes; I started to ask athletes who I know and train with. I was very lucky to be training on an international squad." Visser and Baptista are two of Spirig's training partners on this squad.
"In the end I am very happy with my team. I think it's a great mix. I have strong riders; I also have tall riders, which is important to get a good draft behind them. I have three or four riders who can actually hold the required pace over a longer time so we don't have to switch every two minutes."
Matthews' and Spirig's swim and run pacemakers will be revealed soon alongside the pace targets and strategies that will bring them under that landmark seven-hour time.
About the Pho3nix Sub7 and Sub8, powered by Zwift
The Pho3nix Sub7 and Sub8, powered by Zwift will set a new world standard of human physical achievement as we set out to do what many believe is impossible. Featuring the world's greatest triathletes, the Pho3nix Sub7 and Sub8, powered by Zwift will deliver an unprecedented level of planning and world-best content and programming, engaging a global audience in this historic, sophisticated, audacious project that showcases human progress and inspires generations. The 18-month project will culminate with race day in 2022. More information is available at www.sub7sub8.com.
About Mana Global
Mana stands for power and prestige, with an unparalleled network and credentials in the wide world of sports and entertainment. We deliver our projects, programs and services with pride, boldness and authority. Led by two-time Ironman World Champion, Chris McCormack, the Mana team has been responsible for some of the most important innovations in triathlon, including Super League Triathlon, the Bahrain Endurance 13 Team, and now the creation and delivery of Pho3nix Sub7 and Sub8, powered by Zwift. More information is available at www.manaseg.com.
About The Pho3nix Foundation
The Pho3nix Foundation is a not-for-profit organisation created to promote physical activity as a way to improve the health and wellbeing of children, especially those from disadvantaged backgrounds.  Pho3nix Foundation's flagship programs fall under the Participation, Progression and Performance pathway. The Pho3nix Kids program motivates and inspires children to participate in physical activity; Pho3nix Future is a mentoring and educational program supporting the sports careers and long-term development of young athletes; the Pho3nix Athlete Program aims to support athletes looking to qualify for an Olympic Games; and the Pho3nix Elite program (which includes the Pho3nix Team and Pho3nix Sub7 and Sub8, powered by Zwift) supports and promotes athletes reaching for the pinnacle of their sporting careers. More information is available at www.pho3nixfoundation.com