World Champion Triathlete Holly Lawrence Partners with Fuelin
February 28, 2023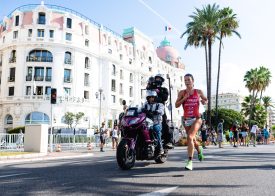 San Francisco, CA /ENDURANCE SPORTSWIRE/ – Nutrition coaching app, Fuelin, announced today that it has partnered with professional triathlete and 2016 IRONMAN 70.3 World Champion, Holly Lawrence. Fuelin will be providing Lawrence with expert performance nutrition coaching for training and racing via a first of its kind nutrition coaching app.
Fuelin's app and nutrition coaching program syncs directly with the Today's Plan training program prescribed by Lawrence's triathlon coaches. The program makes detailed recommendations around daily nutrition and fueling so that Lawrence knows how to fuel before, during and after every workout, as well as throughout the day.
Lawrence started working with Fuelin in 2022. "Before finding Fuelin I wasn't aware that a system existed that could accurately account for my training on a day to day basis based on the workouts my coaches set me," she explains. "It just takes the guesswork out of the whole process and has empowered me to properly fuel my body so I can nail my training sessions."
"We are thrilled to partner with Holly Lawrence, one of the most talented and accomplished triathletes in the world," said Scott Tindal, co-founder and Head of Performance Nutrition for Fuelin. "Holly is a consummate professional who is constantly looking to learn and improve. Working with her is a delight and Fuelin is very excited to see the progress she has already made. This will be a great season!"
When asked how working with Fuelin had changed her approach to nutrition, Lawrence acknowledged: "I'm eating more carbs! I now realize I've likely been underfueling for many years of my career and had developed false truths about myself and my body, which sadly I think is all too common in the endurance field."
Fuelin's world-class nutrition coaches work with professional and amateur athletes, including Lawrence, to dial in their nutrition and fueling to optimize performance and health. Not only does the Fuelin program offer guidance around how to fuel and hydrate during workouts, it also includes recommendations on what to eat for every single meal and snack throughout the day.
"Using Fuelin couldn't be easier," says Lawrence. "I check the Fuelin app to see an overview of my nutrition for the week and how it maps to my training schedule. I can plan meals and snacks accordingly either using the target macronutrients or the specific recipes in the app designed for my personal needs." Following the program, Lawrence has "felt increased energy, better recovery and more consistency" in her training.
With a library of 700+ recipes, across a range of dietary preferences, Fuelin athletes are never at a loss to know what they should eat to support their training, recover faster, stay healthy and perform their best.
ABOUT FUELIN
Fuelin is the world's first training-based nutrition app. It takes the guesswork out of daily nutrition, fueling and hydration for endurance athletes. It syncs directly with your training plan, uses a simple traffic light system & allows tracking of macros. The Fuelin app provides athletes with a personalized nutrition program, including practical guidance on when, how much, and what type of nutrition to consume for optimized performance and health.
For more information visit fuelin.com
ABOUT HOLLY LAWRENCE
Holly Lawrence is a professional triathlete from the United Kingdom. She is firmly established as one of the top triathletes in the world, consistently delivering strong performances and earning numerous victories at the sport's highest level. She is the 2016 IRONMAN 70.3 World Champion and 2019 IRONMAN 70.3 Vice World Champion. Throughout her career, she has won 17 IRONMAN 70.3 events, including four IRONMAN regional championship events in a single season (North American, Asian-Pacific, Middle Eastern and European) in 2019.
For more information visit hollylawrence.net
Media contact: Jordan Blanco
Email: media@fuelin.com
Phone: (415) 465-3665