Williams Fourth in Scratch Race at Track World Championships
October 12, 2022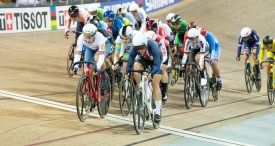 Women's Team Pursuit moves onto Round 1, while Men's Team Pursuit returns after a four year hiatus, and the Team Sprint squads come to Worlds together for the first time.
October 12, 2022 /ENDURANCE SPORTSWIRE/ – Women's Team Pursuit moves onto Round 1, while Men's Team Pursuit returns after a four year hiatus, and the Team Sprint squads come to Worlds together for the first time.
Saint-Quentin-en-Yvelines, FRA – The first day of the 2022 UCI Track World Championships went off with a bang, as fourteen athletes donned the red, white, and blue at Le Vélodrome National in Saint-Quentin-en-Yvelines. The riders took to the start line for the Men's & Women's Team Sprint and Team Pursuit events, as well as the first mass start race, the Women's Scratch Race.
Women's Scratch Race
In her fourth-ever international-level mass start race, Lily Williams (Tallahassee, Fla.; Human Powered Health) put on quite a show for the crowds. Taking regular pulls at the front of the event through the first 30 laps, the event was mostly a waiting game to see which rider would make the first move. With twelve laps remaining, Williams narrowly missed being taken out by a rider coming down on top of her. Her bike handling skills kept her upright, and she recovered quickly. She pushed her way forward, and at five laps to go, Williams was at the front and attacking. The event became a drag race, with Michaela Drummond of New Zealand countering her attack. Martina Fidanza (ITA) and Maike van der Duin (NED) sprinted out of the field in the last 500 meters to take it to the line. Williams held her place and ended in fourth.
When talking about her performance today, Williams said, "It's kind of bittersweet. It's fourth, which is great, but it's still not the podium." She continued speaking about how she has progressed in the sport, "A year ago, I had just done my first ever massed start race on the track, and today I got fourth at Worlds, so I can't be upset with that."
Results
1. Martina Fidanza (ITA)
2. Maike vand der Duin (NED)
3. Jessica Roberts (GBR)
4. Lily Williams (USA)
Team Sprint
For the first time ever, Team USA fielded both a Men's and Women's Team Sprint for the UCI Track World Championships. As the team looks towards Paris 2024, which will be held at the same venue as Worlds, these results are a first step to creating a team and program that can compete with the best squads in the world.
The Women's Team Sprint team, comprised of Keely (Kortman) Ainslie (Fullerton, Calif.), Kayla Hankins (Scottsdale, Ariz.), and McKenna McKee (Vancouver, Wash.; Team Novo Nordisk), toed the start line first. The trio stopped the clock at 49.873 seconds, ranking them ninth in the qualifying round of the team sprints. However, with eight teams advancing, this was the end of their competition.
Evan Boone (Phoenix), Geneway Tang (Queens Village, N.Y.), and Dalton Walters (Dallas; Richardson BikeMart) made the Men's Team Sprint squad. The crew began in the second heat of 17, making their run early in the program. They worked to come in at 45.483, placing them fifteenth. Like the Women's Team Sprint competition, the top eight teams advanced out of qualifying, so this was the end of the road for the Men.
Women's Team Sprint Results
1. Team GER – 45.967
2. Team CHN – 46.631
3. Team GBR – 46.596
9. Team USA – 49.873
Men's Team Sprint Results
1. Team AUS – 41.600
2. Team NED – 41.643
3. Team GBR – 42.844
15. Team USA – 45.483
Team Pursuit Qualifying
The day began with the women's and men's team pursuit squads taking on their qualifying rounds. The women's team of Colleen Gulick (Long Beach, Calif.; Team Skyline), Megan Jastrab (Apple Valley, Calif.; Team DSM), Jennifer Valente (San Diego; TWENTY24 Pro Cycling), and Williams started eighth of sixteen teams, giving them the advantage of seeing what earlier teams did, and altering their pace as necessary. The squad stopped the clock at 4:19.119, seeding them in eighth and pushing forward into the Round 1 competition on Thursday.
After four-years off the international racing scene, the Men's Team Pursuit program came back with a fresh team in the pursuit of Paris 2024. The team of David Domonoske (Menlo Park, Calif.; Alto Velo), Anders Johnson (Huntsville, Utah), Grant Koontz (Nederland, Colo.; Star Track), and Brendan Rhim (Norwich, Vt.; Wildlife Generation Pro Cycling) started in the third heat. The group rode well, stopping the clock at 4:01.660. Unfortunately, teams like Great Britain, Italy, France, and New Zealand threw the hammer down, and all posted times in the three minutes and fifty-second range. As a result, the team ended up in fourteenth and did not move on to the next round of competition.
Up Next
Tomorrow the Hankins and McKee both take on their first-ever Elite Women's Sprint tournament. Next, the Women's Team Pursuit squad takes on Round 1 of their competition, with Omnium Olympic Champion Valente also tackling the Women's Elimination Race. Finally, UCI Track Champions League winner Gavin Hoover (Manhattan Beach, Calif.; L39ion of Los Angeles) takes on his first event with the Men's Scratch Race.
Visit USACycling.org for more information on the athletes, events, and membership programs, and follow @USACycling across all channels for the latest on Team USA.
For more information, contact Tom Mahoney at tmahoney@usacycling.org.
ABOUT USA CYCLING (usacycling.org)
USA Cycling is the national governing body for the sport of cycling and oversees the disciplines of road, track, mountain bike, cyclocross, and BMX. USA Cycling's mission is to grow participation and engagement with the sport of bicycle racing and achieve sustained international success across all cycling disciplines. USA Cycling supports cyclists of all levels and abilities, from those just beginning in the sport to international caliber athletes. The organization identifies, develops, and selects cyclists to represent the United States in international competition through the support of youth and interscholastic programs, amateur and grassroots bike racing events, athlete development programs, and operational support for cycling clubs, racing teams, and event organizers. USA Cycling has a membership of 80,000, sanctions over 2,500 events annually, and is a member of the Union Cycliste Internationale (UCI) and United States Olympic & Paralympic Committee (USOPC).