Wearable Tech Brand INCUS Partner with Professional Triathlete Beth Potter
March 9, 2022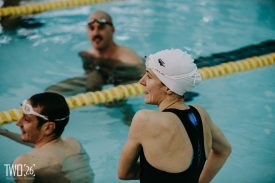 Accomplished professional triathlete and Olympian Beth Potter joins a community of rising stars and established names across triathlon sports to become an INCUS Enabled athlete.
/ENDURANCE SPORTSWIRE/ – INCUS are delighted to be adding Beth Potter to an already impressive roster of INCUS Enabled athletes, including IRONMAN World Championship podium finisher David McNamee, paratriathlon World Champion Claire Cashmore, and three-times Ironman 70.3 champion Kimberley Morrison.
INCUS' mission is to push the boundaries of triathlon sports through technology and to help unlock athlete potential with world-first measurement and analysis. INCUS provides wearable tech to give athletes real-time analytics and data measurement to enable problem solving and marginal improvement in the pursuit of excellence. The partnership between INCUS and Beth Potter will initially last 2 years and will end in December 2023. INCUS will act as a training aid for Beth as she strives to improve her performance and achieve her best results to date in triathlon.
Beth Potter is a British runner turned triathlete who competed for Great Britain in athletics at the 2016 Summer Olympics in Rio de Janeiro and has since set her sights firmly on the triathlon world stage. Beth is widely known for her blistering run speed – drawing media attention after a 14:41 5km run in 2021 that would have been a World Record-beating time, but unfortunately the event didn't hit the ratification requirements. Beth has won a number of Super League Triathlon races and events, such as the SLT Arena Games London, and has won both European Triathlon Championship and World Triathlon Cup events.
Chris Ruddock, the founder and lead engineer at INCUS Performance said "We're so proud to be working with an athlete of Beth's calibre. We're excited about the INCUS Performance team working closely with her as she moves towards race season to ensure she's swimming and running as fast and efficiently as possible. In elite sport, microscopic changes can be the difference between winning and losing. With the INCUS | NOVA on her back, Beth will be able to track these changes and help herself become the best athlete she can be."
Beth Potter said "I'm really excited for the next few years with INCUS Performance. A particular focus for me over the winter has been looking at my swim, and how I can improve my strength and technique within my stroke. Making the front pack after the swim in elite triathlon racing can be the difference between a podium and not, so I'm looking forward to seeing the gains that INCUS can enable me to achieve in the water in particular."  
For more information on INCUS, please visit www.incusperformance.com. The team can also be found on Facebook, Twitter, Instagram and YouTube.