Vittoria Group Brands Vittoria and A Dugast Win 58 Medals Out of 66 at UCI Track World Championships
October 21, 2022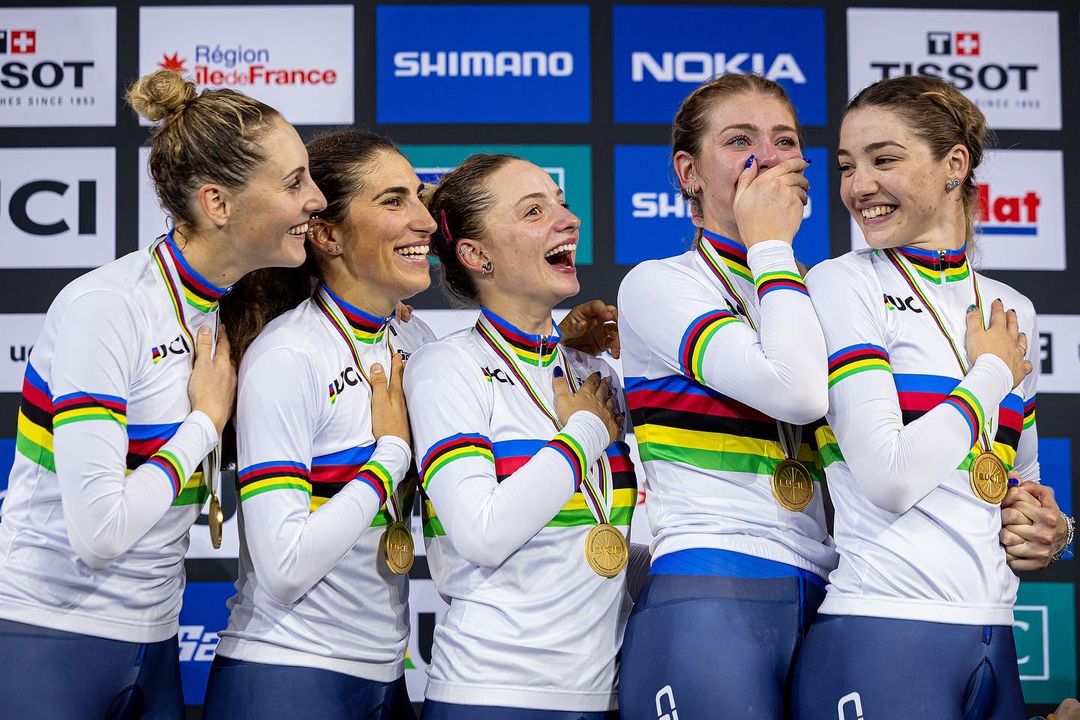 Vittoria and A Dugast won 4 times more gold medals (18) than all other tire brands combined. More than 20 national teams relied on Vittoria Pista Oro and A Dugast Piste Latex tires for the most important track racing event of the year.
Oklahoma City, OK /ENDURANCE SPORTSWIRE/ – The UCI Track World Championships saw countless athletes winning on Vittoria and A Dugast tires, achieving 18 gold medals out of the 22 that were awarded in Paris. More than 20 national teams including the USA, Australia, France, Italy, Japan, Netherlands, and United Kingdom, relied on high-performance cotton tires made by Vittoria Group. Athletes on Vittoria tires gained at least one medal in all men's and women's disciplines.
| | | | |
| --- | --- | --- | --- |
| | Gold | Silver | Bronze |
| Vittoria | 14 | 15 | 18 |
| A Dugast | 4 | 4 | 3 |
| Vittoria Group | 18 | 19 | 21 |
All these medals show the high performance and reliability of Vittoria and A Dugast cotton tires. With a long history of working with the best athletes in track cycling, Vittoria Group has gathered technology advancements and know-how that are employed in all its products.
Cotton and graphene:
Vittoria Pista Oro winning mix for the best track performance
There is no other cycling discipline where speed, suppleness, and lightweight are so crucial in bike tire performance as track. The combination of these traits can make a big difference between success and failure. When fighting for a medal, the bicycle equipment must be perfect to not throw away months of hard work and training due to a technical failure.
Pista Oro has been developed with all of this in mind. Starting from the best track tires from Vittoria – Pista Speed and Pista Control – Pista Oro combines years of track experience at the highest levels. It features the most updated graphene-enhanced compound to deliver ultimate speed and reliability. The special version of Vittoria's ground-breaking Graphene compound technology, specifically made to reduce tire rolling resistance for track applications, is coupled with the trademark supple cotton casing. Cotton makes the casing very flexible, allowing the tire to conform closer to the ground, providing a smoother ride, easier rolling, and better grip. To boost the overall strength of the Pista Oro, Vittoria uses Corespun yarn, a particular type of yarn made by cotton and aramid fibres combined. In addition, the slick tread profile makes the Pista Oro the fastest rolling tubular available for wooden track surfaces.
Latex and silk:
A Dugast Piste Latex combo for extreme speed and lightweight
The Dutch tire maker is leader in the handmade construction of cotton and silk tubulars, and Piste Latex is their masterpiece tire for track applications. Piste Latex uses the best technologies and materials for extreme speed and light weight, which makes it the go-to tire choice for the most important racing events. The extremely thin tread and casing of Piste Latex allows for optimal acceleration and the lowest rolling resistance possible. The latex tread and the cotton/silk yarn offer unmatched riding performance on wooden tracks.
Ernesto Garcia Domingo, Vittoria Chief Commercial Officer, commented: "At Vittoria Group, we work hard to make the most advanced bicycle tires on the planet. We are very pleased to see so many athletes winning on those tires. We want to say thank you to all of the national teams that relied on Vittoria and A Dugast for their trust and inputs to help improving our products every day."
Vittoria Industries North America
Oriol Brull
1-800-223-3207