Virginia's Blue Ridge TWENTY24 Melisa Rollins Wins Belgian Waffle Ride Utah
August 30, 2023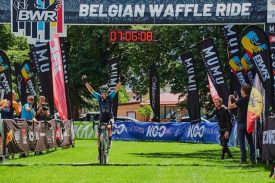 Pivoting, patience, and trusting in the process provide perfect recipe for Rollins
ROANOKE, Virginia — August 30, 2023/ENDURANCE SPORTSWIRE/ – The Belgian Waffle Ride, affectionately known as the BWR, is undoubtedly the most unique cycling event series in North America. The Cedar City race was the fifth of seven BWR events in 2023 and offered the essential elements of a proper BWR with waffles, cycling at its extreme, and beer. Coined the "Hell of the South (Utah)," the Cedar City edition offered up the same type of insanity, challenge, and the unparalleled experience that has made the BWR notorious and noteworthy.
BWR Utah has drawn world-class cyclists from across the globe, often including former World Tour riders and defending champions of the notorious BWR California event held near San Marcos. On Saturday, August 26, competitors lined up for the full Waffle course to tackle 132 miles and 6,847 feet of climbing over gravel, sand, and rock.
Riding for Virginia's Blue Ridge TWENTY24, Melisa Rollins took the overall win for women, finishing 10 minutes over second place finisher Tiffany Cromwell (AUS) UCI Canyon/SRAM. In a race like this, trusting the equipment is paramount and Rollins dominated the course on her Felt Carbon Breed gravel bike outfitted with Kenda tires, SRAM components, Zipp wheels, bars and stem, Arundel cages, and a Velo saddle.
A Utah native, Rollins balances her blossoming cycling career with her work as a chemist based in Salt Lake City, UT. She swam competitively in high school, establishing school records in the 100 breaststroke, 200 freestyle relay, and 500 freestyle. Her road to the bike began in 2016 when her stepdad won a mountain bike in a raffle.
Cranmer recruited Rollins in 2021 following her Leadboat second place finish, and she competed in the LifeTime Grand Prix series in 2022. Rollins completed the series feeling dissatisfied and unmotivated although she produced a strong fifth place at Unbound that same year. A strategic plan was put into play for 2023.
Virginia's Blue Ridge TWENTY24 team manager, Nicola Cranmer shared her keen insights on Rollins following the BWR win:
"I could not be more thrilled for Melisa. It's been a tough year of learning for her. I saw her struggling in gravel last year, and it was apparent that she needed to add speed and tactical savvy to her solid endurance base. She trusted in our collaborative recommendations; and is coached by the KX3 team of Emma White and Kristin Armstrong. Melisa has been fully committed to a new training regime, which includes plenty of above-threshold training, sprint training, and a road racing campaign where she truly excelled."
"She raced to the podium including a second place in the Individual Time Trial and third in GC at the Redlands Bicycle Classic in March, while assisting her teammates to single-day and GC wins," said Cranmer. "We encouraged Melisa to reframe her barometers for success. Even though she wanted that elusive win, there are steps required that build to a performance like the Belgian Waffle win—it requires patience and trust. To be honest it was really challenging sometimes to see Melisa be so disheartened with her performances knowing that she was right on track. I knew this huge result was coming for her and there will be more, but it's hard to see an athlete not see their own potential. I think this victory will elevate her confidence and belief in herself. I share this as a lesson to many young athletes… Patience, grasshopper!"
The race in Utah fielded some powerhouses on the gravel scene. Rollins was right there with Flavia Olivera Parks and Tiffany Cromwell as they rolled out and pulled away from the field early on, then it soon became a battle between Cromwell and Rollins for the long haul.
"I was quickly realizing how evenly matched the two of us were on this day," said Rollins. "Tiff and I traded pulls for the next 15 miles, the two of us adding and losing members of our group periodically. But unspoken, the two of us knew this race was between us."
After summiting the penultimate climb at mile 85 together, Cromwell crashed. Rollins checked in with her before continuing, although she was soon to have her own mishap. "As I descended, it sunk in that I was leading the race," said Rollins. "But just as this feeling of excitement began, it started to shift into worry as I started to cramp severely—everywhere. I don't often cramp so I wasn't sure what to do. I started smacking my legs, I coasted, I soft pedaled. I would look back to check. Where's Tiffany? Still not there. I finally made it to a flatter section and forced a little more power and a miracle happened. The cramps vanished as quickly as they appeared."
Rollins would spend the final 40 miles solo, wondering whether Cromwell was just behind. On the final major climb of the day, a 2.5-mile sandy dirt road averaging nine-percent, but with pitches upwards of 20 percent, she was forced to walk her bike due to a bent derailleur hanger from an earlier crash on the single track, leaving her with fewer gears.
"I crested the climb and made my way to the final single track sector solo, and then on to the finish. With a few miles to go, the lead moto told me I had seven minutes and I cried. I did it!"
BWR Utah Women's Results
Melisa Rollins (USA) UCI Virginia's Blue Ridge TWENTY24
Tiffany Cromwell (AUT) UCI Canyon SRAM
Flavia Oliveira Parks (BRA) EXCEL SPORTS p/b SPECIALIZED
Sarah Jarvis (USA) Multisport Mastery
Chelsea Bolton (USA) Ventum / Eliel / KAV / IRC
Rollins shared a bit more about her journey to the top step at BWR:
"Winning Belgian Waffle Ride Cedar City signifies much more than just the top step of the podium to me. It required many months of sacrifice, belief, persistence, trust, pivoting, and failing to get there. After joining Virginia's Blue Ridge TWENTY24 as a mountain biker with limited experience racing anything shorter than six to seven hours, I was encouraged to take a step away from the dirt and focus on exploring my depth and continuing to build my engine by racing on the road. I changed my training and adapted quickly, really embracing the struggle of learning a new discipline."
"Over the last nine months I have fought for a yellow jersey in a stage race, supported teammates to win both single day stages and overall stage races, and battled 150+ women pelotons on narrow roads in Europe," said Rollins. "I've also had to have patience when I've had races end due to mechanicals and crashes outside of my control. Every experience I've faced has taught me new lessons that led me to my performance finally coming together at BWR Utah."
Finally Rollins shared, "I'm so thankful for this team of people I get to have in my corner who encourage me to dream big and believe in myself. I'm excited for more opportunities to learn about myself and push myself to new limits and to achieve new goals!"
Up next for Melisa is the USA Cycling Gravel National Championships on September 9 in Gering, NE.
About Virginia's Blue Ridge TWENTY24
When the team was formed in 2005, the goal was to create a pathway for athletes to the 2012 London Olympics. In 2009, the team's name became Twenty12, changing every four-year cycle, followed by Twenty16, Twenty20, and now Twenty24, representing the Paris 2024 Olympics. The Twenty24 program is responsible for developing many of the most successful American female cyclists to date. It has created opportunities for elite, junior development, and para-cycling athletes. Twenty24 has established a consistent athlete talent pipeline for road and track cyclists and additionally provides opportunities for athletes who excel in the virtual world of Zwift eSports and the new dynamic discipline of gravel racing. The team identifies and develops high-performance athletes and the next generation of competitive cyclists. Successfully aligning student-athletes with college scholarships through cycling and academics.
###