Vermette and Morrison Win 2023 Pro Enduro National Titles
July 16, 2023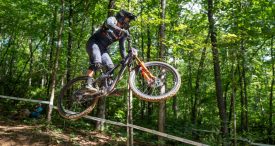 16-year-old Asa Vermette wins the Pro Men's race, and Amy Morrison successfully defends the title she's held since 2019.
RIDE ROCK CREEK, N.C. /ENDURANCE SPORTSWIRE/ – The 2023 USA Cycling Gravity Mountain Bike National Championships continued on Saturday in Zirconia, North Carolina. The national championship has attracted hundreds of top professional mountain bike racers from across the country. Stars-and-Stripes jerseys will be awarded in three disciplines, Downhill, Dual-Slalom, and Enduro.
Enduro
The Enduro had an early start Saturday morning, with the Pros starting their day racing the Pro Downhill Course to start. Asa Vermette (Durango, Colo.; Frameworks Racing) had the fastest time on this stage with a 2:15.3, with Richie Rude (Golden, Colo.; Yeti / Fox Factory Race Team) three seconds back. Vermette and Rude both spent a fair amount of time on this course practicing for the Downhill race on Sunday. Vermette and Rude battled back and forth all day for the lead. Rude won Stage 1, Vermette won Stage 2 by a tenth of a second, Rude beat him on Stage 3, then Vermette won Stage 5. At the end of the day, Vermette won with a time of 14:30.3, beating Rude by a tenth of a second. Russell Bobbitt (Jefferson, Ga.; RBRC Bike Fettish/ Transition) finished only 10 seconds back, taking the bronze medal.
In the Pro Women's class, Amy Morrison (Carson City, Nev.; Transition Bikes) defended her National Title, winning by nearly 30 seconds over Kathryn Lawrence (Boulder, Colo.; Yeti / Fox Factory Race Team). Morrison had the fastest time on every stage except for Stage 2, where Lawrence beat Morrison by six seconds. Morrison made up enough time on every stage to take the gold, with Lawrence taking second and Isabella Naughton (Flagstaff, Ariz.; Liv Racing) rounding out the podium. Morrison is now a four-time champion in the Enduro.
In the Junior categories, racers as young as 13 were racing the four-stage Enduro. In the 13-14 class, Mitchell Rodwell (Signal Mtn, Tenn.; HBC) took the win in the boys' class, with Kallie Stewart (Livingston, Texas; Monster, Boone Cycles, Pedro's, Continental, Revel) taking the girls' win. In the 15-16 class, Colt Coffman (Morgantown, W.V.; Cycle Strategies Devo Team) won by two seconds for the men's category. For the women, Mary McLarnon (Steamboat Springs, Colo.; WE Development) won by nearly 20 seconds.
The 17-18 class was the fastest of all the amateur categories. Henry Rapinz (Boulder, Colo.; Boulder Junior Cycling) set a total time of 13:03.4, beating Austin Haessly (Mooresville, N.C.; Xtreme Gravity Racing) by a second. Rapinz was fastest on every stage except for Stage 2, making up time on Haessly. Tj Hyser (Huntsville, Ala.; Dirt Camp Racing) took the bronze medal finishing 8 seconds back.
Lacey Dobbs (Chattanooga, Tenn.; Huck and Braaap) was the winner of the Junior Women's 17-18 event with a total time of 17:29.6. Maylei Leaneagh (Frederick, Colo.; Boulder Junior Cycling) finished second at 17:46.7, and Janelle Soukup (Centennial, Colo.; Ibis, Trestle, Fasthouse, BC Goggles) was third finishing at 18:23.4.
In the 19-29 category, Levi Smith (Morgantown, W.V.) and Avah Cherry (Knoxville, Tenn.; Dirt South Racing) won their respective classes, both winning every stage of the day.
For the Masters, Willem Cooper (Newport, R.I.; CCF Devo) and Ginny McFall (Roanoke, Va.) won the Men's and Women's 30-39 categories, respectively. Petr Hanak (Winter Park, Colo.; Elevated Roofs) was victorious in the Men's 40-49 category, with Miki Razo (Tryon, N.C.; Team Jtree) winning the women's. For the 50-59 age group, Jason Cyr (Davis, W.V.; Cycle Strategies Coaching) took the win for the men, and Amy Haggart (Durango, Colo.; Durango Devo) for the women. In the Men's 60+ race, Troy Zimmerman (Palm Beach Gardens, Fla.; Zboys Racing) won the National Title.
Amateur Downhill Finals
Storms rolled in Friday night, canceling the seeding rounds for the Masters and Junior Downhill Categories. With some practice laps on the track Saturday morning, riders were ready to lay down their fastest runs of the weekend for the Finals.
Griffin Clayton (Mooresville, N.C.; Xtreme Gravity Racing) set the fastest time for the Amateurs riding to a 2:51.17, winning the Junior Men's 13-14 race. Hendersonville local Eric Burgalia (Gravity Academy) took second, and Asheville local Eli Bernard (Angry Bear/ 100%/ Arma/ ODI) rounded out the podium.
In the women's Junior 13-14 race, Ainsley Wolf (Winter Park, Colo.; Mojo Wheels/ Trestle Gravity) took the win with a 3:10.96 with Victoria Zenoni (Short hills, N.J.; Deity, O-Chain) took silver, and Opal Barber (Durango, Colo.; Durango Devo)
In the Men's 11-12 category, Silas Feiner (Charlottesville, Va.; Seven Rivers Enduro Team) took the championship.
In the Master's categories, Donald Fritts (Arvada, Colo.; Intense Cycles) set the fastest time with a 3:01 to take the Stars-and-Stripes in the 55-59 class. Di Wood (Austin, Texas; Santa Cruz) claimed silver, and Troy Lenderking (Roanoke, Va.; Roanoke Valley Gravity) with bronze. Troy Zimmerman (Palm Beach Gardens, Fla.; Zboys Racing) went on to win the National Title for the 60-64 class. In the next category up, Jeff Sims (Knoxville, Tenn.; Southern Gravity Parks) won the 65-69 class. Scott Lideen (Phoenix, Ariz.) was the oldest rider of the event, winning the Men's 70+ category. The only Master's woman of the day was Michelle Tischler (Grapevine, Texas; Bike Mart/Liv), who won the 55-59 category.
Elite Downhill Seeding
With such a short track, times are guaranteed to be tight, making for some exciting racing. Reigning two-time National Champion Dakotah Norton (Clinton, Tenn.; Intense Factory Racing) had the fastest time on the track at 2:06.48. Luca Shaw (Hendersonville, N.C.; Canyon Cllctv) finished less than a second behind with a 2:07.05, and teammate Dante Silva (Chula Vista, Calif.; Canyon Cllctv) at 2:08.81. For the Junior 17-18 Men, Ryan Pinkerton (Aliso Viejo, Calif.; GT Factory Racing) has proven to be one to watch as he lays down almost the same time as Norton riding to a 2:07.35.
In the Elite Women's event, Anna Newkirk (Riehen, Switzerland; Beyond Racing) made the trek over from Europe to attend her first Elite National Championship. She laid down the fastest time for the women riding to a 2:28.60. She put 8 seconds on reigning National Champion Kailey Skelton (Rancho Santa Margarita, Calif.; KHS Factory Racing), who was second fastest on the day.
Next Up
Sunday is the last day of the 2023 USA Cycling Gravity Mountain Bike National Championships, and it's all about the Downhill racers. Practice starts early in the morning, from 8:00 am-10:45 am, with the Cat 1 Finals running from 11:00 am-1:00 pm. The Elites and 17-18 Juniors will take to the track from 1:30 pm-3:00 pm for the weekend's main event.
Event Page
Visit USACycling.org for more information on the athletes, events, and membership programs, and follow @USACycling across all channels for the latest on Team USA.
For more information, contact Angelina Palermo at apalermo@usacycling.org.
ABOUT USA CYCLING (usacycling.org)
USA Cycling is the national governing body for the sport of cycling and oversees the disciplines of road, track, mountain bike, cyclocross, and BMX. USA Cycling's mission is to grow participation and engagement with the sport of bicycle racing and achieve sustained international success across all cycling disciplines. USA Cycling supports cyclists of all levels and abilities, from those just beginning in the sport to international caliber athletes. The organization identifies, develops, and selects cyclists to represent the United States in international competition through the support of youth and interscholastic programs, amateur and grassroots bike racing events, athlete development programs, and operational support for cycling clubs, racing teams, and event organizers. USA Cycling has a membership of 80,000, sanctions over 2,500 events annually, and is a member of the Union Cycliste Internationale (UCI) and United States Olympic & Paralympic Committee (USOPC).