Ventures Endurance Partners with Special Olympics as Official Charity Partner for 2023-2024 Hot Chocolate Run Series
September 15, 2023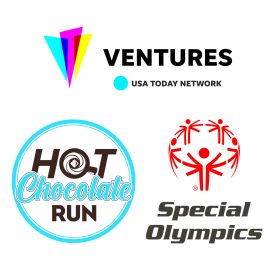 McLean, VA – September, 2023 /ENDURANCE SPORTSWIRE/ – Ventures Endurance, part of Gannett's (NYSE: GCI) USA TODAY NETWORK Ventures, today announced Special Olympics as the official charity partner for the 2023-2024 Hot Chocolate Run series. With 5K, 10K and 15K distances and a virtual race option, the run series attracts over 115,000 runners. The series kicks off on October 1 in Denver, CO and continues across 17 cities including Chicago, Philadelphia, Houston, San Francisco, Nashville, Phoenix, Denver and Seattle through April 2024.
Each Hot Chocolate Run participant will be given the option to donate to Special Olympics during the registration process. A fundraising page will automatically be generated for each runner upon completion of their registration for peer-to-peer donations. In addition, each running bib will have a tear off tab, allowing participants to donate an additional $3 to Special Olympics at the run. As the charity partner, Special Olympics will have a presence at the race Expos or on race day highlighting the organization's mission and how to become better engaged with the organization's programming and events.
"We are thrilled to have Special Olympics as our charitable partner for the upcoming Hot Chocolate Run series," said Kaitlyn Greenleaf, Vice President, USA TODAY NETWORK Ventures. "We value their partnership and dedication to creating a better world by fostering the acceptance and inclusion of all people – encouraging others through the power of sport and programming in education, health, and leadership."
"Ventures Endurance's Hot Chocolate Run series is a one-of-a-kind invitation to inclusion," said Shira Mitchell, Senior Vice President of Development, Special Olympics. "Through this partnership, Ventures Endurance will raise funds for critical Special Olympics programming while giving friends, families, and communities a chance to connect and have fun. We are profoundly grateful to Ventures Endurance, who shares Special Olympics' spirit of joy and the understanding that sport has the power to bring us together and remind us that we are more alike than we are different."
Every dollar donated to Special Olympics can significantly change the lives of people with intellectual disabilities by helping them discover new strengths and abilities, skills and success. A $5 donation can provide one week of training for a Special Olympics athlete while a $75 donation can provide one year of support for an athlete. For more information about Special Olympics, visit https://www.specialolympics.org/.
To learn more about the Ventures Endurance Hot Chocolate Run series and how to register, visit https://www.venturesendurance.com/hot-chocolate/. If you are interested in becoming a volunteer, contact volunteer@venturesendurance.com.
ABOUT USA TODAY NETWORK VENTURES
USA TODAY NETWORK Ventures creates impactful consumer engagements and experiences through world-class events, promotions, races, and technology. The Ventures portfolio includes the largest high school sports recognition program in the country, USA TODAY High School Sports Awards, and other celebrated brands including the Official Community's Choice Awards, American Influencer Awards, Rugged Maniac, Hot Chocolate 15k/5k, Blockbuster Bucket List sweepstakes, Amazing Teachers contest, and more.
ABOUT GANNETT
Gannett Co., Inc. (NYSE: GCI) is a subscription-led and digitally-focused media and marketing solutions company committed to empowering communities to thrive. With an unmatched reach at the national and local level, Gannett touches the lives of millions with our Pulitzer Prize-winning content, consumer experiences and benefits, and advertiser products and services. Our current portfolio of media assets includes The USA TODAY NETWORK, which includes USA TODAY, and local media organizations in 43 states in the United States, and Newsquest, a wholly-owned subsidiary operating in the United Kingdom. We also own digital marketing services companies under the brand LocaliQ, which provide a cloud-based platform of products to enable small and medium-sized businesses to accomplish their marketing goals. In addition, our portfolio includes one of the largest media-owned events businesses in the U.S., USA TODAY NETWORK Ventures.
ABOUT SPECIAL OLYMPICS
Founded in 1968, Special Olympics is a global movement to end discrimination against people with intellectual disabilities. We foster acceptance of all people through the power of sport and programming in education, health, and leadership. With more than six million athletes and Unified Sports partners in over 190 countries and territories and more than one million coaches and volunteers, Special Olympics delivers more than 30 Olympic-type sports and over 100,000 games and competitions every year. Engage with us on: Twitter, Facebook, YouTube, Instagram, LinkedIn and our blog on Medium. Learn more at www.SpecialOlympics.org.
 # # #
MEDIA CONTACTS
Gannett
Robyn Watson Daniella Sinofsky
VP, Corporate Communications Communications Coordinator
(845) 596-6559 (904) 881-3895
RAWatson@gannett.com dsinofsky@gannet.com
Special Olympics
Megan Gausemel
Senior Director, Athlete & Partner Communications
(202) 570-8628
mgausemel@specialolympics.org