Velous Footwear Launches Its First Line of Sandals Designed to Optimize Athlete Recovery
April 5, 2022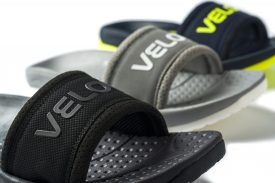 Developed by footwear industry veterans and endorsed by a board-certified podiatrist, new recovery shoes were made with the company's patent pending TriMotion Technology
PORTLAND, Ore., April 5, 2022 /ENDURANCE SPORTSWIRE/ – Velous Footwear, founded by three footwear industry veterans from the athletic and outdoor industries, has launched its first line of sandals designed to promote and optimize active recovery for athletes of all levels. Created to help feet, ankles, knees and legs recover quickly from participation in sports or strenuous activities, Velous Footwear's sandals incorporate the company's patent pending TriMotion Technology to create the most comfortable, supportive and stable recovery footwear on the market.
"We developed Velous Footwear because we saw there was a gap in the market for active recovery footwear that was more than just soft unstable foam. We designed Velous with a thoughtful approach of what your feet need, post workout, that has both maximum cushioning with ultimate underfoot support and stability. Our mission is to help athletes of all levels recover faster while alleviating strained and tired muscles so they can get out tomorrow and do their activity again pain free," said Tim Bartels, Velous Footwear CEO. "Whether for use post-run, ride, high intensity training or other active workouts, people will find our recovery sandals provide exactly what your feet need at each part of the foot strike motion to enhance recovery."
The new recovery sandal line includes the unisex Laguna Slide, Oceanside Flip and Pacific Flip. Each element of the sandals was thoughtfully designed, with a lightweight and breathable upper to help feet feel their best faster after a long workout, TriMotion Technology and unique FOAMOTION Foam Formula. 
TriMotion Technology
The company's patent pending TriMotion Technology offers a three point solution – from a supportive heel cup with side stabilizers, to optimal arch support and forefoot flexibility for comfortable toe-off to the next step, the sandals offer a stable platform. Velous Footwear's unique design features maximum cushioning for shock absorption and a smooth heel strike, lateral support to prevent ankle rolls and sprains, and an ergonomic contour for a comfortable standing position. Top and bottom flex grooves aid in flexing the forefoot without resistance for a natural feel underfoot. 
Foamotion Formula
With a smooth transition to the forward of the shoe, Velous Footwear's custom triple density Foamotion Formula provides an optimal combination of cushioning throughout the foot. This creates the right amount of rebound to allow for healing and recovery.
In addition to the incorporation of Velous Footwear's patent pending technologies, the sandals are made of lightweight materials and also feature outsole reverse lug and grooved lines to provide great traction, inverted box nodes to stimulate blood flow and offer a tactile feel, and perforated upper for maximum breathability and quick drying.
Velous Footwear was created by Tim Bartels, Damon Butler and Brad Bischel, footwear industry veterans with decades of experience in product design, product development and general management at brands including Nike, Adidas, Columbia Sportswear, TEVA, KEEN Footwear, SAXX Underwear and more. In launching Velous Footwear, they are committed to creating the most comfortable, supportive and stable recovery footwear for athletes of all ability levels.
"Velous Footwear's recovery sandals allow athletes to experience less joint pain and stiffness while improving the motion of ankle and foot joints," said Dr. Tim Mineo DPM, a board-certified podiatrist and competitive cyclist. "Wearing these sandals post-workout can help mitigate injuries and give athletes the ability to resume training or compete again the next day by keeping feet in a relaxed position while promoting healing."
Velous Footwear's line of recovery sandals are available for purchase now at www.velousfootwear.com.
About Velous Footwear
Founded by footwear industry veterans who recognized a gap in the market for shoes that provide sport recovery for active athletes, Velous Footwear was purposefully designed to blend healing comfort with forward-thinking technology. Using its patent-pending TriMotion Technology and Foamotion Formula, the company's design philosophy applies across a spectrum of footwear options and was developed to reduce joint pain and stiffness and allow for active participation in activities the next day with less built-up fatigue. Learn more at www.velousfootwear.com.
Press Contact:
Kate Lessman, Think Big Media PR for Velous Footwear
kate@thinkbigmediapr.com or (970) 333-3395