Velocio Launches 2022 UNITY Jersey to Benefit Ukrainian Refugee Efforts & Humanitarian Aid
July 7, 2022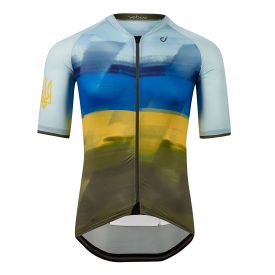 One hundred percent of the profits will support refugees affected by the war in Ukraine
/ENDURANCE SPORTSWIRE/ – Velocio Apparel revealed their 2022 UNITY Jersey design and corresponding charities today with this year's campaign supporting Ukrainian refugee efforts and humanitarian aid.
Founded in 2017 with the goal to "Make a difference at least in some small way," Velocio's UNITY project develops a new jersey annually that speaks to a chosen initiative, an issue that requires the world to come together to work for a greater good. One hundred percent of the profits from UNITY Jersey sales are donated to charities that embody this mission.
"There's no escaping the effects of the war in Ukraine in 2022 and we have friends and colleagues who have been directly impacted. Their pain is real and their hardship makes a better way very clear: to that end, we're focusing this year's fundraising efforts directly into the hands that help," described Velocio co-founder and Director of Marketing, Andrew Gardner.
War is often spoken about as a far off or historic act, the benefit of distance softening the loss of life and the loss of unity armed conflict creates. Reports from early June of this year highlight nearly five million Ukrainians who had fled their country, in many cases leaving behind other family, long held homes and lives built for decades.
As with every UNITY campaign, 100 percent of the proceeds will support this year's cause: aid for refugees affected by the war in Ukraine. To ride in solidarity with our friends and to support these non-profits, this year's UNITY Jersey is available for pre-order at velocio.cc/unity with delivery set for mid-October.