Velocio launches 2021 Unity Jersey to support climate focused non profit partners
May 24, 2021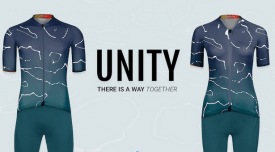 100% of the profits will go to climate focused non profits
Velocio Apparel, a New England-based cycling brand specializing in performance apparel, announced today the launch of a benefit jersey to benefit climate focused non profit partners.
Founded in 2017 with the goal to "Make a difference at least in some small way," Velocio's Unity project develops a new jersey annually that speaks to a chosen initiative, an issue that requires the world to come together to work for a greater good. 100% of the profits from Unity Jersey sales are donated to charities that embody their mission.
The time is ripe for a coalescing of all the efforts to mitigate climate change. It's a cause that demands unity, not just due to its complexity but because of its unjust effects around the world: food security, waterborne illness, air pollution are only a few results that will widen the gaps between rich and poor, between the healthy and the sick.
This year's Unity project highlights those gaps. 100% of the profits of this year's jersey will support one of three climate focused non profit partners; The Environmental Justice Foundation, 350.org and Protect Our Winters each share in a mission to address the climate crisis.
Environmental Justice Foundation — The Environmental Justice Foundation focuses on the climate crisis through the lens of human rights. They aim to mobilize concern, gain support, aid the affected and drive international action for lasting change.
350.org — 350 is the number. Named after the safe limit of CO2 parts per million in the atmosphere, it's the line we're driving to get back to. (We're currently sitting at 410ppm.) 350.org uses it's considerable organizing clout to build international action for climate change activism. Their focus is the end of the fossil fuel era.
Protect Our Winters — Protect Our Winters was born from the very real connection to the outdoors driving active people. With an aim to protect outdoor spaces and lifestyles from climate change. POW is a community of athletes, scientists, creatives, and business leaders advancing non-partisan policies that protect our world today and for future generations.
Taking design inspiration from the receding land masses affected by rising sea levels, the 2021 UNITY Jersey is a physical representation of our collective ticking clock, the losses we all face. The pre-order opens May 17th, 2021 and closes May 31st, 2021. All preorders are expected to ship by mid-August 2021. Velocio encourages customers to strongly consider just donating for UNITY if there isn't a need for a new jersey. Customers who prefer to purely donate to the causes and skip the energy required to make another jersey can donate directly to the non profit partners.
For more information on the UNITY project, log onto www.velocio.cc.
About Velocio Apparel
That there is a better way to make kit, ride, work and design is the thread running through Velocio. Launching with a women's collection in 2014, their approach is driven by three pillars: Design, Responsibility, and Culture.