VALR Fitness Welcomes Two-time Olympic Gold Medalist and World Champion Triathlete Alistair Brownlee to Team
May 18, 2023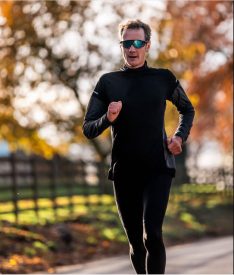 Brownlee to advocate for VALR's surprising approach to fitness coaching with its emphasis on training at lower levels of intensity
RESTON, Virginia – May 18, 2023 / ENDURANCE SPORTSWIRE / – VALR, a fitness training technology company based in the Washington, DC area, announces the addition of Alistair Brownlee to its team as Senior Advisor. The first triathlete to successfully defend an Olympic Gold Medal, Alistair will advise on training best practices and represent VALR in the athletic community as Brand Ambassador.
VALR technology seeks to democratize elite fitness training by bringing elite athletes' training methods to recreational athletes. Top athletes spend up to 90% of their training time at surprisingly lower levels of effort. Co-founder and Chairman Paul Guthrie describes, "We help people to train at proper intensity levels to achieve results. We're seeking a revolution in the performance and wellness effects we all expect to receive for our workout efforts, and are delighted to have Alistair aligned with us as he personifies persistence, performance, intelligence, and heart. He's inspired millions with his approach to life, sport, science, competitiveness, and family. We can't wait to work together to bring the joy and health benefits of exercise to everyone."
Alistair is probably best known as a two-time Olympic Gold medalist and multiple World and European Champion Triathlete. But deep down, he's a lifelong endurance athlete with a passion for health and fitness who loves helping others to be more active. As he describes, "VALR removes a significant barrier to activity by delivering simple and motivational training coaching straight from a smartwatch that aligns with my most fundamental belief for training and health: that the majority of activity has to be low intensity. I look forward to helping as many people as possible improve their health and fitness using VALR."
"We've seen first-hand the phenomenal gains that come from training at lower intensities, and have built that approach into our technology platform," said Co-founder and CEO Ken Gordon. "We're excited to work with Alistair and share his enthusiasm for helping people break through plateaus to see the gains that come from training effectively."
About VALR
VALR offers endurance athletes a smarter training platform to help them actually get results from the time they spend training. Located in the Northern Virginia tech corridor of the Washington, DC area, the privately funded company combines AI analytics with the biometrics gold standard for customized, easy-to-follow, live coaching that's based on science. VALR currently offers its initial product for runners on Apple's App Store, in some cases already helping people to more than double their measured performance. For more information or to contact the company please visit withvalr.com.
-30-
For further information, please contact Ken Gordon at 703-774-8278 / ken@withvalr.com.