USA Triathlon and USA Cycling Collaborate to Increase Educational Opportunities at Endurance Exchange 2024
October 12, 2023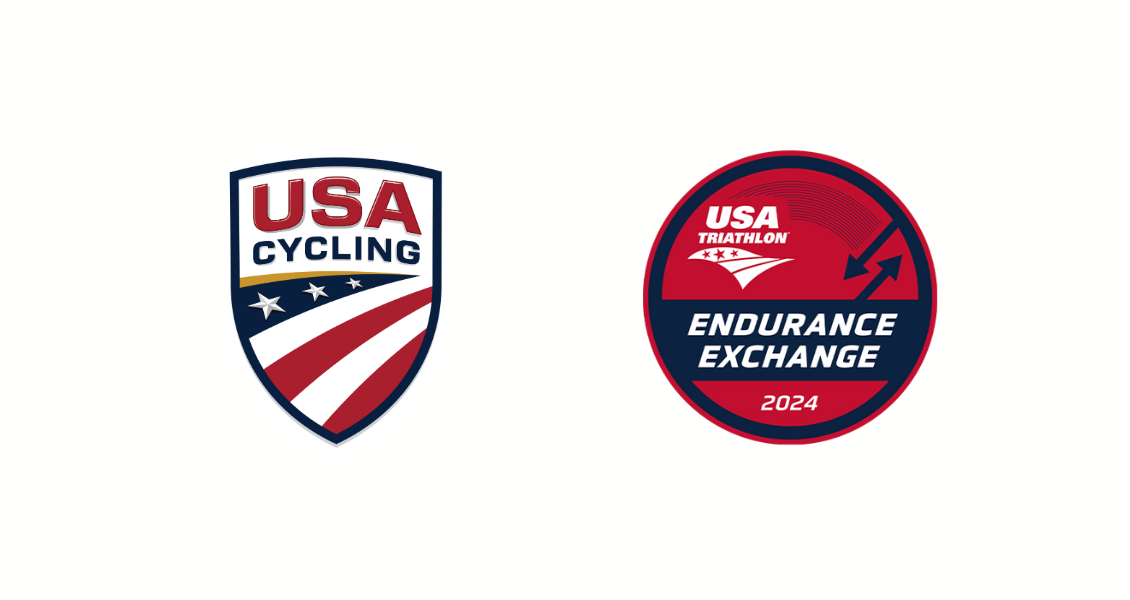 Colorado Springs, Colo. /ENDURANCE SPORTSWIRE/ – USA Triathlon announced its collaboration with USA Cycling to provide exceptional educational and networking opportunities at USA Triathlon's upcoming Industry Conference, Endurance Exchange. This collaboration aims to unite the endurance sports community and encourage coaches and other endurance industry professionals to continue expanding their knowledge base. By combining their resources, expertise, and passion for fostering athletic communities, USA Triathlon and USA Cycling are taking a significant step forward in their shared vision of achieving greatness on the International Stage through professional development for coaches and expanding the reach of endurance sports across the nation.
"We are thrilled that USA Cycling and its coaching community will be joining us at Endurance Exchange this year," said USA Triathlon CEO, Victoria Brumfield, "By nature of our sports, triathlon and cycling community several overlaps, making this collaboration a great opportunity for cross-training, knowledge-sharing and networking."
"USA Cycling is excited to collaborate with USA Triathlon on the Endurance Exchange Conference.  This is as an outstanding opportunity to help elevate the endurance sports coaching industry in an effort to grow bicycle racing and multisport in the U.S. We are confident this conference and future editions will play a role in helping prepare both our sports to capitalize not just on our Paris 2024 Olympic successes, but the opportunities coming with the 2028 Olympic Games in Los Angeles," said Jon Tarkington, Director of Coaching Development & Education.
USA Triathlon hosted its inaugural Endurance Exchange conference in January 2020 in Tempe, Arizona to offer endurance sports professionals and athletes the best educational and networking opportunities in the industry. After hosting 2021 and 2022's conferences virtually, Endurance Exchange returned to in-person in 2023 in Austin, Tex. The 2024 conference will take place January 4-7, 2024, at the University of North Carolina, Charlotte.
The 2024 Endurance Exchange will cover three educational pathways for coaches, Technical Knowledge, Growth and Development, and the Business of Coaching, with cycling-specific curriculum and speakers incorporated throughout each track.
With USA Triathlon and USA Cycling's professional communities coming together, it's an opportunity for our collective coaching community to expand their horizons into new areas and explore new avenues for professional growth within the endurance sports community while enjoying the advantages of a shared network. Together, these two national governing bodies are forging a path toward increased performance, participation, and inspiring athletes of all levels to embrace the transformative power of endurance sports.
USA Cycling Certified Coaches can take advantage of $100 off their admission to the 2024 Endurance Exchange by contacting coaches@usacycling.org.
ABOUT ENDURANCE EXCHANGE
USA Triathlon's annual Endurance Exchange endurance sports industry conference offers endurance sports professionals and athletes the best educational and networking opportunities in the industry. The in-person conference features a mix of hands-on, experiential learning workshops and lecture experiences presented by the industry's top coaches, race directors and industry professionals to educate athletes, coaches, race directors and other members of the multisport community. More information about session topics and speakers is available at enduranceexchange.com. Brands and retailers interested in sponsoring the event or reserving an expo spot at Endurance Exchange can reach out to partnerships@usatriathlon.org.
ABOUT USA TRIATHLON (www.usatriathlon.org)
USA Triathlon is proud to serve as the National Governing Body for triathlon, as well as duathlon, aquathlon, aquabike, winter triathlon, off-road triathlon, paratriathlon, and indoor and virtual multisport events in the United States. Founded in 1982, USA Triathlon sanctions more than 4,000 events and connects with more than 400,000 members each year, making it the largest multisport organization in the world. In addition to its work at the grassroots level with athletes, coaches, and race directors – as well as the USA Triathlon Foundation – USA Triathlon provides leadership and support to elite athletes competing at international events, including World Triathlon Championships, Pan American Games and the Olympic and Paralympic Games. USA Triathlon is a proud member of World Triathlon and the United States Olympic & Paralympic Committee (USOPC).
ABOUT USA CYCLING (usacycling.org)
USA Cycling is the national governing body for the sport of cycling and oversees the disciplines of road, track, mountain bike, cyclocross, and BMX. USA Cycling's mission is to grow participation and engagement with the sport of bicycle racing and achieve sustained international success across all cycling disciplines. USA Cycling supports cyclists of all levels and abilities, from those just beginning in the sport to international caliber athletes. The organization identifies, develops, and selects cyclists to represent the United States in international competition through the support of youth and interscholastic programs, amateur and grassroots bike racing events, athlete development programs, and operational support for cycling clubs, racing teams, and event organizers. USA Cycling has a membership of 80,000, sanctions over 2,500 events annually, and is a member of the Union Cycliste Internationale (UCI) and United States Olympic & Paralympic Committee (USOPC).