USA Cycling Partners with the EuroCrossAcademy for 2023-2024 Cyclocross Season
November 9, 2023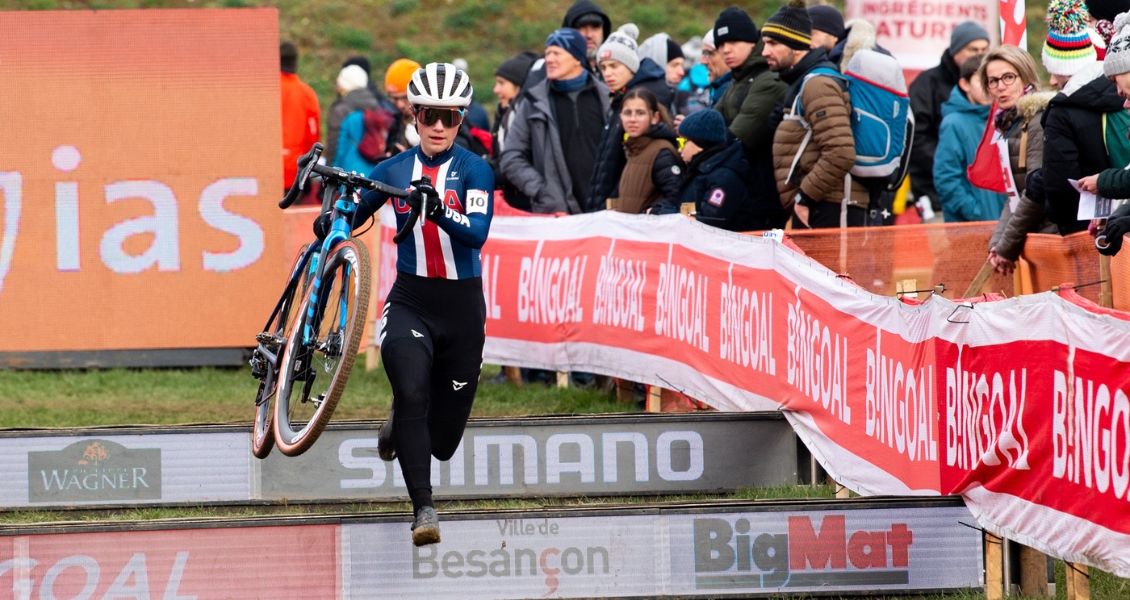 EuroCrossAcademy is set to partner with the USA Cycling National Team competing in European cyclocross racing blocks during the 2023-2024 season.
COLORADO SPRINGS, Colo. /ENDURANCE SPORTSWIRE/ – USA Cycling and EuroCrossAcademy (ECA) will partner for cyclocross junior development throughout the 2023-2024 season. The common goal of USA Cycling and ECA is to focus on long-term, holistic development for junior athletes through a character-driven curriculum and a process-to-performance philosophy.
The partnership will kick off for the team's first race at the Troyes World Cup in France on November 19th. The team will finish their first block the following weekend at the Dublin World Cup in Ireland and return home to finish preparing for the 2023 USA Cycling National Championships in Louisville, Ky. held December 5-10. Then, it's back across the pond for the Americans to compete in the traditional December block with two UCI Cyclocross World Cups in Namur and Antwerp and a few other high-level European events. The season will conclude at the 2024 UCI Cyclocross World Championships in Tabor, Czech Republic on February 3-4.
Jim Miller, USA Cycling's Chief of Sport Performance, said, "This collaboration with EuroCrossAcademy will be crucial in the development and guidance of young cyclocross athletes for this upcoming season racing in Europe. We're excited to once again work alongside Geoff Proctor and ECA."
Founded by Geoff Proctor in 2003, ECA strives to develop strong cyclocross student-athletes, both domestically and in Europe. Proctor and his team have been hosting summer domestic training camps and European competition programs for nearly two decades in an effort to bridge the gap between domestic racing and international competition for young athletes.
Proctor, Founder of ECA, said, "Gaining World Cup experience is an important development step for our aspiring junior riders. ECA looks forward to this opportunity to collaborate with USA Cycling and provide these junior race blocks in Europe. We're all excited to help these athletes learn and grow."
Follow @eurocrossacademyig and @usacycling throughout the year to keep up on roster announcements and race updates as the season progresses.
For more information, contact Angelina Palermo at apalermo@usacycling.org.
ABOUT EUROCROSSACADEMY (eurocrossacademy.com)
EuroCrossAcademy (ECA) is a highly regarded cyclocross student-athlete development program, based both in the U.S. and in Europe. Founded by Geoff Proctor in 2003 and now a non-profit 501(c)(3), ECA trains aspiring, young student-athletes, ages 14-20, through summer domestic preparation camps and European competition opportunities.
We focus on long-term, holistic development through both a character-driven curriculum and a process-to-performance philosophy.
Sequentially, ECA provides a critical experiential step in the cyclocross development pathway, from domestic racing to international competition. In this way, ECA acts as a bridge to, potentially, the national team and U23 and professional opportunities.
ECA's overarching charge is to use the forum of bike racing to teach valuable life-skills and cultivate a spirit of giving back that student-athletes can then apply to their professional and community lives. Through this process, ECA encourages its alumni to act as life-long participants, ambassadors, and advocates for cycling sport.
ABOUT USA CYCLING (usacycling.org)
USA Cycling is the national governing body for the sport of cycling and oversees the disciplines of road, track, mountain bike, cyclocross, and BMX. USA Cycling's mission is to grow participation and engagement with the sport of bicycle racing and achieve sustained international success across all cycling disciplines. USA Cycling supports cyclists of all levels and abilities, from those just beginning in the sport to international caliber athletes. The organization identifies, develops, and selects cyclists to represent the United States in international competition through the support of youth and interscholastic programs, amateur and grassroots bike racing events, athlete development programs, and operational support for cycling clubs, racing teams, and event organizers. USA Cycling has a membership of 80,000, sanctions over 2,500 events annually, and is a member of the Union Cycliste Internationale (UCI) and United States Olympic & Paralympic Committee (USOPC).