USA Cycling Announces Collaboration with Major Taylor Iron Riders, New York Cycle Club, and Equity Design to Promote Diversity in Cycling
June 22, 2022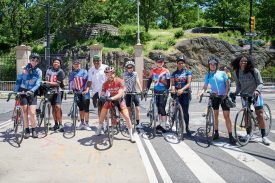 Starting in New York City, Free Bikes 4 Kidz will help provide bikes to the underserved youth.
NEW YORK /ENDURANCE SPORTSWIRE/ – In an effort to close the equity gap in youth cycling, USA Cycling is excited to announce a collaboration with the Major Taylor Iron Riders, New York Cycle Club, and Equity Design to provide bikes to underserved youth in the New York metro area.
Through this joint effort, 75 bikes were gifted to Harlem-area youth, courtesy of Free Bikes 4 Kidz. Six bikes were distributed to middle school students from the Future Leaders Institute Charter School in Harlem during the Harlem Skyscraper Classic on June 19. The remaining inventory were gifted to P.S. 18X United Community School and the New York Cycle Club (NYCC). USA Cycling's partner POC helmets showed support for the initiative by donating 150 helmets.
The bikes allocated to P.S. 18X, a local Harlem-area elementary school, will be used as a part of a physical education cycling and community ride unit, where all 444 Pre-K to elementary school students will learn how to safely ride and maintain bikes.
The remaining allocation of bikes will go to the New York Cycle Club (NYCC) who will be partnering with the Major Taylor Iron Riders to start a youth training program this Fall. Targeting youth 14-17, this program will focus on Black, Latine, and Asian youth, coaching them through bicycle safety, training, and competition. "The bikes USA Cycling and Free Bikes 4 Kidz have donated to the program are invaluable to getting their inaugural year underway," said Kym Blanchard, NYCC Board Member.
Equity Design, a New York State and New York City certified Minority/Women Business, is a social enterprise that looks to close the gap in health, wealth and life expectancy in underserved communities by using data and an equity lens to design sustainable physical activity programming. Equity Design will be working closely with P.S. 18X, New York Cycle Club, and the Major Taylor Iron Riders to carry out these efforts.
David Lipscomb, USA Cycling's Director of Diversity, Equity and Inclusion, said, "This is just the beginning. It is the power of diversity when like-minded individuals and organizations work together in New York to establish a bike community that significantly boosts the area. We are committed to diversifying American bike racing and it starts here – in elementary schools, local bike clubs, and minority-owned local businesses."
"USA Cycling is thrilled to support these clubs and organizations. As an organization we are determined to share the thrill of bicycle racing across the country, reaching the next generation of athletes to inspire their cycling dreams. The more people involved in the sport, the more truly representative of America we can be," said USA Cycling Director of Membership, Eric Bennett.
Visit USACycling.org for more information about athletes, events, and membership programs. Follow @USACycling across all channels for the latest on Team USA.
For more information, please contact Eric Bennett at ebennett@usacycling.org.
ABOUT USA CYCLING
USA Cycling is the national governing body for the sport of cycling and oversees the disciplines of road, track, mountain bike, cyclocross, and BMX. USA Cycling's mission is to champion accessibility, participation, and excellence in the sport of cycling to make more Americans healthier, happier, and better on two wheels while achieving sustained international racing success. USA Cycling supports cyclists at all levels, from those just beginning in the sport and participating in fun rides to international caliber racers. The organization identifies, develops, and selects cyclists to represent the United States in international competition through the support of kids' and interscholastic programs, amateur bike racing and grassroots development programs, and the provision of critical infrastructure to run organized racing. USA Cycling has a membership of 100,000, annually sanctions over 2,500 events, and is a proud member of the Union Cycliste Internationale (UCI) and United States Olympic & Paralympic Committee (USOPC).