USA Blind Soccer National Team Hosting Clinics at Angel City Games
June 26, 2023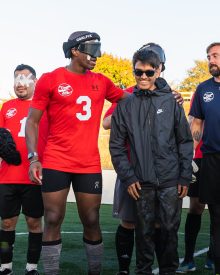 (June 26, 2023) /ENDURANCE SPORTSWIRE/ – The U.S. Association of Blind Athletes (USABA) is hosting two blind soccer clinics on Sunday, July 2, as part of the 2023 Angel City Games. The clinics will be conducted by members of the USA Blind Soccer Men's National Team at the University of Southern California. The morning session will take place from 9:30 a.m.-12:00 p.m., and the afternoon session will be held from 1:30-5:00 p.m.
USABA, the National Governing Body for the Paralympic sport of blind soccer in the United States, named the first-ever USA Blind Soccer Men's National Team in November of 2022 and the team played its first international friendlies in March, winning both matches against Canada.
Blind Soccer, also known as Blind Football, is an adaptation of soccer for athletes with a visual impairment. Blind soccer debuted at the Athens 2004 Paralympics Games and has been contested at every Paralympics Game since. It has become the fastest-growing Paralympic sport in the world, played in over 60 countries. The U.S. has never fielded a Blind Soccer team at the Paralympics, but that will all change in 2028 when the Games will be held in Los Angeles and the U.S. will receive an automatic berth in the tournament as the host nation.
In 2022, USABA introduced blind soccer clinics to the Los Angeles area as part of the City of Los Angeles Department of Recreation and Parks' PlayLA Adaptive Youth Sport Program. The partnership between USABA and PlayLA was recently extended to provide blind soccer programming through 2024.
The Angel City Games, held June 29-July 3, are the largest Paralympic-style adaptive sports event in the Western United States, offering clinics and competitions for people of all ages and skill levels who have a physical disability or visual impairment.
WHAT:  Blind Soccer Clinics at Angel City Games
WHEN:  Sunday, July 2, from 9:30 a.m.-12:00 p.m. & 1:30-5:00 p.m.
WHERE: University of Southern California
About USABA
The mission of USABA is to empower Americans who are blind or visually impaired to experience life-changing opportunities in sports, recreation, and physical activities, thereby educating and inspiring the nation. A member organization of both the United States Olympic & Paralympic Committee (USOPC) and U.S. Soccer, USABA is certified by the USOPC as the national governing body for the Paralympic team sports of goalball and blind soccer. Since its founding in 1976, USABA has reached more than 100,000 individuals through its multi-sport programming. The organization has emerged as more than just a world-class trainer of blind athletes, it has become a champion of the abilities of Americans who are legally blind. Learn more at www.usaba.org/.