unPAved of the Susquehanna River Valley Returns for Fourth Year
October 23, 2021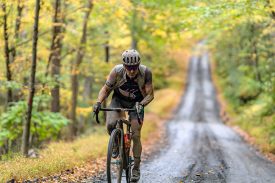 Rain and mud give this year's premiere gravel event a "PAroubaix" vibe.
/ENDURANCE SPORTSWIRE/ – After a dramatically scaled back event in 2020, unPAved of the Susquehanna River Valley returned on Sunday, October 10th with a field of 825 participants, tackling distances ranging from 20 to 125 miles, and its signature celebration-style aid stations and DONEpaved Party, this year toasting riders with its own unPAved-inspired beer, Leaf Tunnel Brown Ale by Rusty Rail Brewing Company.
Carried over from 2020 was the relaxed start times and enduro style segment racing format. Riders could choose to start anytime within a 2-hour window and the 125-mile race featured more than 10,000 feet of climbing and 5 timed segments on the course totaling 35 miles, buffered by long neutral segments, which gave even the elite riders a chance to partake in the party vibe of the event.
Those riders included men's winner Brett Beard of Stan's NoTubes, who enjoyed a mini-Coke and a nip of whiskey at the first aid station while he and his crew enjoyed some snacks and warmed up by the firepit before hammering on. "I thought, 'Maybe I could just stay there and party, but I'm glad we pushed on," Beard said, noting that he'd forgotten his Wahoo at home, so he was just riding without heart rate, power, or any metrics.
"I just tried to have as much fun as I could without worrying about it. My favorite part was 'The Difference' [a 21-mile timed segment that includes a notoriously rowdy descent with large rocks and wheel-swallowing puddles]. Those are the sections where you don't realize you're fatigued, your mind is clear and you're focused and just having so much fun," he says.
This year's women's winner Kelly Catale, of Seven Cycles, who defended her win from last year, was also happy to see the segment-racing format return. Like last year, when Catale spent the day riding with a duo who would ultimately round out the women's podium, this year she also rode with two other elite women—Hayley Wickstrom (3rd place this year) and Stehanie Sydlik—racing the segments and regrouping for the neutral sections. "Overall, it was a phenomenal day. It's so nice to have this community in racing."
The weather was the surprise guest of the day. Rain threatened and retreated in the forecast leading up to the event. Then it fell in the early hours before the start and persisted well into the morning, leaving riders splattered and in some cases encased in so much mud, many referred to the event as this year's "PAroubaix."
The damp chill in the air made the hot food served up at the aid stations all the more popular. "We were slammed all day," said Evan Gross of unPAved sponsor Nittany Mountain Works who is well known for serving up delicious local fare. By day's end Gross had gone through 960 pierogies, 35 pounds of bacon, 30 pounds of potatoes, and 10 pounds of smoked cheese.
"The Ranch" aid station, which riders hit twice reported similar chow stats. "We went through over 40 pounds of bananas, 720 half hot dogs, and three gallons of pickles," says Tanya Campbell of Happy Valley Women's Cycling, who helps oversee the aid station.
One trio who not only didn't mind the mud and the muck, but actually embraced it as others watched them whiz by in slack jawed awe were three-time Olympian Bobby Lea, his wife Shelby, and their two-year old son Sy, who Bobby pulled in a trailer for the full 95-mile "Plenty" course, which included nearly 7,000 feet of climbing.
"I've never been so continuously happy for so many hours on a bike. The course was awesome, just beautiful and the rain and mud just added to the atmosphere and adventure. Every aid station was like a mini-celebration and that beautiful, downhill run to the finish makes you feel like a million dollars, no matter how hard your day might have been," said Bobby.
Shelby echoed those sentiments over a plate of food at the DONEPaved party at the Miller Center courtyard. "One of the best rides I've ever done, start to finish. I never even looked at my watch. The miles just flew by."
New this year was an Overnight Category where riders geared up and pedaled half of the course on Saturday, camping out in the Poe Paddy State Park halfway mark, before completing the course and ending up back in Lewisburg for the finish line party on Sunday. Fifty-three riders opted for the two-day adventure.
"It was such a fantastic vibe at the campground," said Ted Redmer, beaming over his new Rodeo Labs Flaanimal 5, which he had custom painted with unPAved's colors and tagline: Easy on the Eyes. Hard on the Legs. "Doing 125 miles and 10,000 feet over the two days really gives you a chance to soak it in and enjoy the full experience. Having 64 other people to swap war stories with, share food and drink, and bond within our collective misery was a really special experience."
unPAved sponsors were also happy with the event. Executive Director Andrew Miller of the Susquehanna River Valley Visitor Bureau said, "I'm so happy with this event. We get to share our special area with people from all over the country. It's a wonderful time every year."
"This community is so cool. Everyone is laid back and nice. We're excited to get our products into the cycling community, and this has been a great venue to do it," said new sponsor Chris Stamm co-founder of Earth Fed Muscle
"unPAved is the perfect kind of event for Ritchey to connect with its fans, customers, and friends," noted Jeff Lockwood, international marketing manager at Ritchey. "With a challenging course, a festival atmosphere, and a very welcoming and comfortable vibe, unPAved is a shining example of what makes gravel events so much fun."
Event organizer Dave Pryor was also happy to see the gravel cycling community back in full force. "This event showcases the best of Pennsylvania—our beautiful roads, farmlands, forests and how special the people of PA are. We know how to throw a big bike party and make every one of every ability feel welcome. I'm so grateful for the amazing volunteers, sponsors, and locals at Lewisburg that help make this event happen."
Next year's unPAved of the Susquehanna River Valley will be on October 9, 2022 and registration is scheduled to open in April.
——-
PHOTO: unPAved21-1-PAroubaix.jpg
Over 800 participants faced grueling, and rewarding conditions, at the 2021 unPAved of the Susquehanna River Valley.
Credit: Firespire Photography
LINKS
FOR MORE PHOTOS, INTERVIEWS OR MORE INFORMATION:
Dave Pryor
Promoter of unPAved of the Susquehanna River Valley
dave@unpavedpennsylvania.com
610-737-0216