Ultra Marathon Legend Charlie Engle's 'Movement For Recovery' July Event Draws Star-Studded Participation
July 15, 2022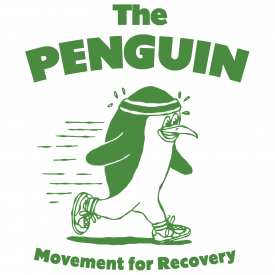 Havre de Grace, Md. (July 15, 2022) /ENDURANCE SPORTSWIRE/ – The Penguin: Movement for Recovery – a live and virtual event held July 23-24 – launches a worldwide campaign to celebrate addiction recovery using movement as a tool to not just survive but to thrive. In the middle of an international addiction epidemic brought on by challenges from COVID, celebrities from the wellness and fitness industries are showing up both live and virtually to share their personal struggles, elevate awareness, and create a global impact to raise funds for innovative addiction medicine research.
Ashley Addiction Treatment (Ashley), one of the world's most recognized and respected names in the substance use disorder treatment industry, invites the public to move their bodies and share their stories of recovery at The Penguin: Movement for Recovery. Special guests Deepak Chopra, Dean Karnazes, Desmond Howard, Adam Sud, Chris Herren, All Sober, Sofia Castro and more will join Legend Charlie Engle in-person & virtually as he runs for 30 consecutive hours to celebrate his 30 years of sobriety.
"I'm excited to spend my 30th sober re-birthday with so many old and new friends. Running for 30 hours sounds hard, but honestly, it's nothing compared to the years I spent struggling as an addict," said Charlie Engle. "Movement For Recovery and this event are not just an opportunity for me to honor my own sobriety- but to also thank my family and friends who have stood by me for so long. I could not have made it this far without my sober fellowship and my running community. Along with my friends at Ashley, myself and millions of others around the world know the power that movement provides in a recovery process. We are committed to furthering the scientific research and spreading the impact movement has in order to save as many lives as possible."
Charlie Engle is known as one of the world's top extreme adventure athletes. In 2007, he became the first person to run more than 4600 miles across the entire Sahara Desert, averaging two marathons per day for 111 straight days. Matt Damon produced a film about the expedition. In 2016, Charlie Engle published Running Man, a memoir on how he overcame his struggles with addiction and pushed forward to create a better life for himself and others.
Whether it's for 3 minutes, 3 miles, or up to 30 hours like Charlie, participants can join this movement on Ashley's private campus in Havre de Grace, Maryland. Those unable to attend in person can participate virtually at the same time through various movement activities like running, walking, dancing, biking, golfing, yoga, and everyday activities. "The Penguin: Movement For Recovery" welcomes all ages and abilities, encouraging people to celebrate their recovery, the recovery of a loved one, or honor someone who was lost to the disease of substance use disorder. Additionally, there will be a virtual telethon featuring special celebrity guests and addiction survivors sharing their personal stories during the 30-hour fundraiser. Follow @charlieengle and @ashleytreatment to watch and donate to this worthy cause.
Substance use disorder is a disease that impacts everyone, whether directly or indirectly. In Maryland, overdoses rose 21% from April 2020 to April 2021, according to the latest data from the U.S. Centers for Disease Control and Prevention, and by more than 28% nationwide. Alcohol-related deaths in 2020 outnumbered COVID-19 deaths among adults younger than 65, the New York Times notes. The landscape of substances and how people use them continues to change as we tackle record levels of mental health challenges.
"We always look for new ways to inspire and motivate people to follow a lifestyle that will help their recovery. A part of this is movement. Movement is a great self-care practice and an important part of a recovery-oriented lifestyle. From my experience as a passionate runner — and seeing it in Ashley patients and the recovery community — I know movement can make a big difference. With Charlie on board and his 30th sobriety anniversary on July 23rd, it is the perfect opportunity to engage people in a fun event using movement to celebrate their own or a loved one's recovery." said Alex Denstman, co-CEO and president of Ashley Addiction Treatment.
Register for an in-person or virtual event, or donate to support a worthy cause at thepenguinevents.com
###
CONTACT:
Travis Ford, Endurance Town USA
805.235.8463 • travis@endurancetownusa.com
Ultra Marathon Legend Charlie Engle's 'Movement For Recovery' July Event Draws Star-Studded Participation